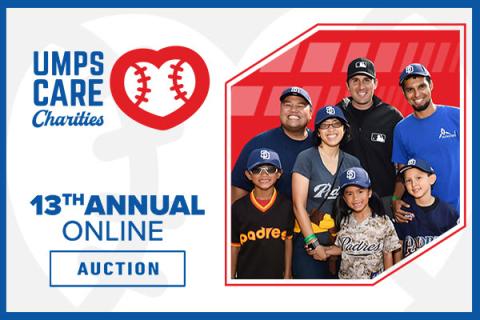 Major League Baseball-affiliated UMPS CARE Charities is raising money for several worthwhile initiatives via an online auction of a variety of items and experiences that runs through 10 p.m. EDT on Sept. 20.
The 13th annual auction will help provide:
•    furry friends, clothing and accessories from Build-A-Bear Workshop for children in hospitals in Major League Baseball (MLB) markets;
•    college scholarships for young adults adopted later in life;
•    unique on-field and online baseball experiences for youth-based organizations and military families;
•    umpire skills and leadership training for teens in underserved communities.
Edgewater, Md.-based UMPS CARE Charities was founded in 2006 to provide financial, in-kind and emotional support for youth and families in need. Its creed is "Helping People is an Easy Call."
Four programs will benefit from money raised through the auction.
The BLUE for Kids Program involves umpires and MLB team mascots providing gifts from Build-A-Bear Workshop for children with cancer and other serious illnesses. Each event includes a supply of pre-stuffed Build-A-Bear furry friends, various outfits, cub condos, birth certificates and baseball-themed stress balls, and team photographers capture memories for the children. Since the program started in 2006, MLB umpires have hosted more than 180 children's hospital events across the United States and Canada where more than 18,000 bears have been given out.
The BLUE Crew Ticket Program offers baseball experiences virtually or on the field for: children awaiting adoption; at-risk youth in mentoring programs; children battling serious illness; and military families. MLB umpires and corporate partners provide kids with an experience that includes seats to a game, a baseball goody bag and the opportunity to step on to the field for a souvenir baseball and photo. Umpires have welcomed more than 9,220 guests to MLB and Triple-A games since the program started in 2006.
The All-Star Scholarship Program was created for children adopted later in life in order to help provide a college education for promising students with a financial need. Students are paired with an MLB umpire mentor to help ensure their long-term success. Close to $300,000 has been awarded since the program's inception.
The Official Leadership Program began this year to encourage, engage and mentor teens and train them to umpire games. The course includes social emotional learning classes that focus on leadership, mentorship and sportsmanship, as well as umpiring mechanics in field classes. Pilot programs launched this summer at MLB youth academies in Washington, D.C. and Houston as well as the DREAM Charter School in New York.
Among the items that can be bid on in the online auction are:
•    a private tour of the National Baseball Hall of Fame and golf passes for four people;
•    a tour for four people of the Negro Leagues Baseball Museum;
•    baseballs autographed by MLB stars Trevor Story, Freddie Freeman, Cedric Mullins, Miguel Cabrera, Aaron Boone, Tyler Glasnow, Mark Melancon, Cal Ripken Jr., Joe Torre and Shohei Ohtani, as well as actor Bill Murray and sportscaster Vin Scully;
•    footballs signed by former National Football League (NFL) stars Dick Butkus and Tony Romo;
•    signed photos of MLB stars Kenley Jansen and Paul Goldschmidt;
•    a photo set signed by former NFL star Joe Theismann;
•    a Chicago White Sox jersey signed by former MLB star Frank Thomas;
•    bats signed by MLB stars Matt Chapman and Andrew McCutchen;
•    bobbleheads of MLB stars Anthony Rendon, Jayson Werth, Max Scherzer, Daniel Murphy, Ivan "Pudge" Rodriguez, Ryan Zimmerman, Bryce Harper, Dusty Baker and Stephen Strasburg;
•    and a variety of different apparel.