Call it a case of comic relief. Famed Canadian comedy veteran Mike MacDonald recently went public with the news that complications from Hepatitis C have seriously jeopardized his health and forced him to stop work while awaiting a possible liver transplant. Media outlets gave the story plenty of play, and his Canadian comedy peers immediately rallied in support in highly impressive fashion.
An online fund established to assist MacDonald with his medical and living expenses raised over $36,000 in just a few weeks, and a series of fundraising events are being planned in the weeks ahead. MacDonald told Samaritanmag the response has been "humbling and overwhelming. When the big message [his eloquent plea for help] was released on Facebook, I was hoping a few people would respond, but I had no idea that this would happen in my wildest dreams."
The donations list on the website includes the names of such prominent peers as The Frantics, Ron James and Jon Dore, alongside younger comics citing MacDonald as an inspiration and influence.
"They say I was a reason they decided they wanted to do comedy-full-time. That is flattering, but don't blame me. It's a tough gig and times are tough out there," he says with a chuckle.
It may be currently derailed because of his precarious health, but MacDonald's career is worth celebrating. For the past three decades, he has been recognized as one of Canada's most talented and popular stand-up comedians. He has also found a fan base in the U.S., and has appeared on such TV shows as Late NightWith David Letterman, The Arsenio Hall Show, Just For Laughs, Showtime's Comedy Club All-Star Show, A&E's An Evening At The Improv and Comedy Central's The A List. As a comedic actor, he starred on CBC sitcom Mosquito Lake, and his one-hour specials On Target, My House! My Rules!, Happy As I Can Be notched high ratings on CBC and Showtime.
MacDonald was diagnosed with Hepatitis C in March 2011, and was placed on medications and a special diet. His condition worsened rapidly earlier this year, however, as he explained on Facebook. During a performance on a gruelling Blackjack Comedy Tour in B.C., MacDonald recalls "just flipping out on stage to the point where [fellow comedian] Matt Billon had to pry the microphone out of my hand to stop me from repeating the set up for a joke for the umpteenth time. I was rushed by ambulance to the hospital where the doctors speculated it was some kind of liver poisoning."
Things got worse upon his return to Ottawa, and an infection shut down his liver and kidneys, necessitating a three-week stay in Ottawa General Hospital's ICU. Subsequent tests brought, in MacDonald's words, "devastating news. I was told the recent infection was so severe I couldn't wait two years for a liver transplant." The diagnosis and his poor health has necessitated relocation back to Ottawa from his home in California.
The next step in MacDonald's medical fight is an imminent trip to Toronto for medical evaluation. "That's for the cadaver donation list," he explains. "So far at least 10 people have seriously expressed interest in being part of the living donor program. They're waiting for the initial assessment by the team of doctors whether to be included and go to the next step. It is a slow process but at least it's under way."
Thrilled by the North American comedy community's response to MacDonald's plight is comedic actor/producer Rick Wharton (Conspiracy Guy). "Everyone is trying to make a living in this thing we call showbiz in Canada and it's not easy. So it is amazing to see the family spirit shown here," he told Samaritanmag. "People are banding together to make a difference and hopefully help him."
Wharton has known MacDonald for many years. "Mike paved the way for many many standup comedians and comedic actors. I've always admired his approach to performing and writing, and right now I admire him for coming out and telling people what is happening before it is too late. I'm amazed by his grace about the whole thing. He's very together and that's inspiring."
Wharton plans on performing improv in a Toronto or Ottawa comedy club, to be determined, in the major national day of support for MacDonald on June 21 (by coincidence, this will be MacDonald's 57th birthday). He's also looking to organize a fundraising night at a leter date at the Festival Hall in Pembroke, near Ottawa (Wharton was recently named the venue's director).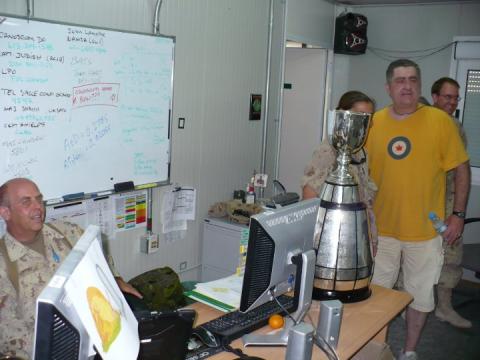 Organizing the nationwide benefits for MacDonald are comedy peers Matt Billon and Chris Heward. "The goal has been to get every comedy club and one-nighter rooms onboard for the fundraiser across Canada on June 21 -- by coincidence, this will be MacDonald's 57th birthday. We have come very close," Billon tells Samaritanmag. "From Victoria to Halifax and Los Angeles, clubs are participating. We have over 20 shows going on that day. Mike is 'The King of Canadian Comedy' and it's just great to see him getting the love and well-deserved respect for everything he has given us over the past 35 years. I've never seen him more positive and full of life, which I'm sure sounds weird given his condition."
L.A.-based Canadian comedian Heward tells Samaritanmag that "I just got the World Famous Laugh Factory in Hollywood doing a show on June 20 to kick things off. Mike has been a great friend, mentor, and inspiration to me. Getting to know Mike over the years has been some of the funniest times a person could enjoy. Although he has faced some very large challenges in his life, he has always 'played the hand that was dealt' and tried to make the best of it."
MacDonald's hometown of Ottawa has also stepped up. MacDonald's former musical comrades there (he was active on the original punk scene) have already held a benefit night at The Elmdale Tavern, with another one planned for The Rainbow Bistro for June 25.
The reaction to his plight has led MacDonald to pledge to support efforts to educate the public on liver disease and the need for organ donors. "To go through all this then turn my back and not do anything for it would be appalling to say the least. I told the head of The Canadian Liver Foundation [Gary Fagan] that when I get back onstage, I'm prepared to put my foot in the motivational speaker category. I'd love to speak out for the donor program and do as many events as possible."
He also intends to keep supporting the Standup for Mental Health cause. MacDonald has been candid about his own bipolarism and manic depression. "I'm trying to help eradicate the stigma of mental health," he says.
The recent avalanche of publicity around MacDonald's situation has attracted the attention of The Canadian Liver Foundation. "We've never really had a public spokesman or someone of his prominence talk about liver transplantation. I think it would be very helpful," CLF chairman Dr. Morris Sherman tells Samaritanmag.
The growing problem of liver disease in Canada certainly merits more attention. "Mortality statistics for liver disease and liver cancer are climbing," says Sherman.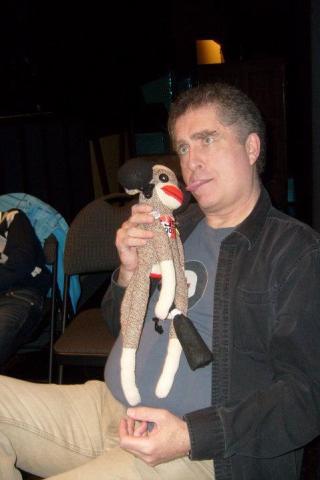 The increased incidence of Hepatitis C is of special concern. Government estimates are of more than 1,000 deaths annually here. "I would say it is an epidemic," explains Sherman. "If you see that there are more than 300,000 people in Canada with it, that's an epidemic. The problem with the term epidemic is that it suggests something that starts suddenly, spreads quickly and it is over. Hepatitis C is a much slower developing condition, but if 1 percent of the population has it, that's a huge number of people."
A similar number of Canadians have Hepatitis B. "We are looking at over half a million people with viral hepatitis who are likely to run into future trouble with their liver," says Sherman. He considers his field both under-manned and under-funded. "I believe the federal budget for HIV is $47 million. For HepC it is 10 million; for HepB there is no specific budget; yet those two will kill more people in the next year and over the next 10 years than HIV. The priorities just haven't been reordered yet."
Based on his own experience, MacDonald predicts Hepatitis C "is going to be the epidemic of this decade. About 10 people have cropped up from this one scene we hung out in in Ottawa around 1979-80."
Hepatitis C is spread through blood on blood contact, with causes including intravenous drug use and blood transfusions. The virus stays in the liver, causing chronic inflammation. Most of those infected do not notice symptoms for years, but it's a chronic illness that can lead to cirrhosis (scarring of the liver) and liver cancer.
A practising hepatologist, Dr. Sherman is frustrated that promising new treatments for Hepatitis C are not yet being fully approved and funded. "A lot of the patients that have currently failed treatment or are yet to be treated will be able to be successfully treated in the future with these new drugs. A limiting factor is getting them in front of a physician who can treat them, and there are certainly not enough of us to do that. The new drugs are not universally available. Many of the reimbursement agencies have not yet considered all the new drugs or have put restrictions on them which severely limit who we can treat."
Liver transplantation is viewed as a last resort. "Liver transplants are fully funded, as are most of the drugs directly related to transplants," says Sherman. Medical and living costs for patients can be huge, however, "drugs needed for other conditions that may complicate a transplant are not necessarily covered. Many people are out of town so it means travel for them and their family, and it means a period of time off work."
MacDonald has not been able to work or travel since his health worsened, and if and when he is approved for a liver transplant, he and his wife would need to relocate to Toronto. "I'm sure OHIP does not cover all those expenses," he says. "I'm setting up a high-interest savings account for the money raised, and I will try not to touch that money until hopefully I do get a donor."
No member of his immediate family is eligible for liver donation, and a donor would need to share MacDonald's blood type of O-negative. Liver transplantation is a highly successful therapy for patients with end-stage liver failure. There is unfortunately a severe shortage of donors to meet the increasing demand for liver transplants. The liver is an organ that can be transplanted from both live and deceased donors, but Sherman notes "We have a long way to go in terms of getting donors." He cites the lack of presumed consent in organ donations as a factor, along with the fact many faiths and cultures of Canadian residents view organ removal following death as a desecration.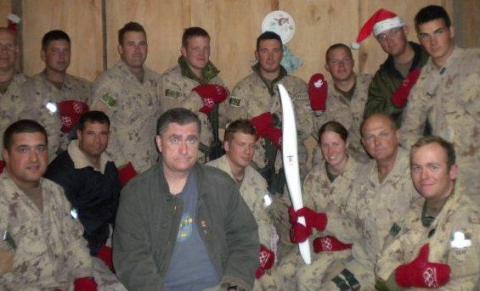 Aiming to increase public awareness of the need for donors is The Living Donor Liver Transplant program set up by The University Health Network and Toronto General Hospital. They have performed over 450 donor procedures since 1990, without any of the living donors experiencing major health problems as a result. Those wanting to learn more about the program or to receive an information package can do so by phoning (416) 340-4800 Ext 6581 (also, do an Internet search for a program in your area).
Waiting times for liver transplants can be long. "If you get onto the list and remain stable you can be on the list for a long time before you get a transplant," explains Sherman. "It is not how long you're on the list; it is how bad is your liver disease. The patient with the most advanced disease gets the next liver."
Dr. Sherman notes that more specialists in this field are required " to manage the patients with Hepatitis C and B so they don't require transplants. That is clearly the better way to go."
The medical outlook for Mike MacDonald remains uncertain, but he is taking a very positive approach. "Before all this happened [the public support], I wasn't feeling very funny at all, but because of all this positive outpouring and responses I have no choice but to be funny again. I'm committed to doing something to give back. The brain is like a muscle and I'm starting to exercise it again. It 's running on all cylinders right now. I've been approached to do a book and stuff keeps flowing out."
MacDonald credits his manager Howard Lapides with a perceptive observation on the situation. "He said to me, 'Most people have to die before they get their life celebrated.' I'm fortunate to get to see that while I'm still alive."
Nike Shoes