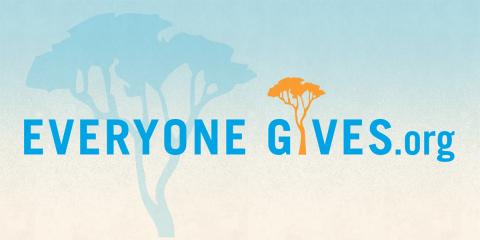 The first annual Everyone Gives is a worldwide social giving campaign that runs for eight days in more than 60 countries, involving hundreds of charitable organizations.
Created by Colliers International, one of the world's largest commercial real estate firms, participants make a small donation to a charity of their choice through the Everyone Gives website and then use their social networks to invite friends, co-workers, clients and family to give.
Launched on February 22, 2012, it is intended to empower the giver to support his or her cause and then multiple their gift through personal networks. "This revolutionary initiative harnesses the power of multi-level marketing and social networks to benefit hundreds of charities worldwide," the press release explains.
For example, participants make a small donation – such as $5 – to a charity that's important to them, tell five friends and ask those friends to each tell five more.
100 percent of each donation goes directly to the charity a participant selects.
If participants are passionate about a charity not listed on the Everyone Gives website, they can submit the name by email to info@everyonegives.org. Charities can email info@everyonegives.org to add themselves to the website. 
"We're very excited to embark on this campaign that's the first of its kind," David Bowden, CEO of Colliers International in Canada, said in a statement. "Social media has literally changed the way we communicate, relate, and conduct daily business and activities. Everyone Gives taps into the power of this medium to allow people to incite their networks to give – exponentially – to causes they care about. "
"I think of it as a giving tree," Doug Frye, President and CEO of Colliers International said in a statement. "One donation becomes five, five becomes 25 and 25 can become hundreds. And you can track your giving tree and your friends' giving trees on the Everyone Gives website."
While Everyone Gives was founded by Collliers, the idea grew through collaboration with other like-minded organizations seeking to create sustainable good. Tony Blair Faith Foundation, established in 2008 by former British Prime Minister Tony Blair, is one such charity.
"It's not about how much you donate," said Blair in a statement. "It's about making a difference by engaging as many people as possible in the act of giving. While none of us can solve the world's challenges on our own, Everyone Gives helps us see how much we can do when we all work together."
Mens Nike Sneakers