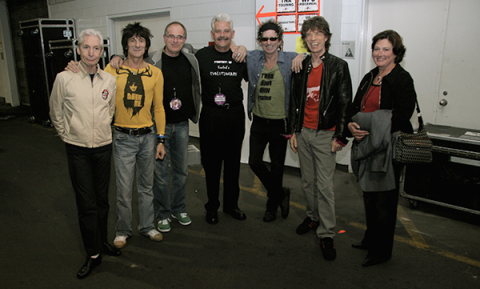 Some artists and members of the music industry have become a little tearful at MusicCounts Band Aid presentations, watching the ecstatic reactions of school children as they receive brand new musical instruments and equipment or by recounting their own stories about the impact of music on their own lives. Since launching 20 years ago, CARAS' music education charity has awarded a staggering $9-plus million to 850 schools and communities across Canada to ensure that kids can enjoy music classes, alongside the mandatory Three Rs.
The charity, which continues to expand and presently includes five programs— the MusiCounts TD Community Music Program, The Fred Sheratt Awards in partnership with Bell Media, the MusiCounts Teacher of the Year Award, the MusiCounts Band Aid Program and the MusiCounts Scholarships — has come a long way since a small group of CARAS board members gathered in the '90s to discuss the dire shape of music education in Canadian schools and how it's often the first subject to suffer from budget cuts.
"Peter [Steinmetz] was the man with the germ of the idea and then Ross [Reynolds] had all these statistics and they were brought up in a CARAS general board meeting," recalls Deane Cameron, president and CEO of The Corporation of Massey Hall and Roy Thomson Hall, and former president of EMI Music Canada, who as a kid took music in high school with his friend, musician Tom Cochrane.  "I remember they were astronomical percentages of how many schools had completely dropped music and eliminated music teachers. It just hit me. 'You're kidding? That's how much music has been cut?'"
Steinmetz got the ball rolling with some "one-off donations," says Cameron, and in 1996, the first charity initiative was the sale of 1996's 25th Anniversary JUNO Awards CD box set, Oh What A Feeling, with proceeds directed to the newly established CARAS Music Education Program and Band Aid. In 2005, it was renamed MusiCan before the final change to MusiCounts in 2008.
"MusiCounts has been one of the most satisfying things that I've ever done in this industry. Period," says Cameron who was president of EMI Music Canada for 24 years. "Every one of the Band Aid presentations I've gone to, I leave with a lump in my throat and my eyes misted up. Every one.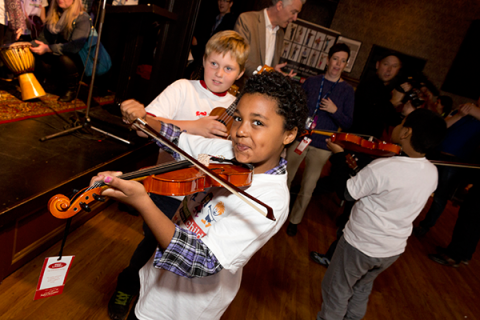 "I've been to the teacher presentations and there is a power that just doesn't exist with other things. When you're doing evaluations and you get letters from schools, 'Five years ago, we got our first MusicCounts grant and it saved my life,' you just can't imagine anything better. I'm sitting at my kitchen table with the tears running down my face.  It's very powerful.
"We're very fortunate to be doing what we do and be involved in music," he adds. "Some days you think 'Maybe I should be doing a real job?' and when you do this [MusiCounts], you do feel like you are doing a real job, a real grown-up contribution to society. Maybe there's a little bit of that — certainly for me. I feel all grown up. I'm doing the right thing here."
Other key players in MusiCounts 20-year history have equally poignant memories.
Bob Ezrin, world renowned producer (Alice Cooper, KISS, Pink Floyd) and 2004 Canadian Music Hall of Juno Hall of Fame inductee, was instrumental in launching the MusiCounts Teacher of the Year Award and called upon one of the world's greatest rock 'n' roll bands to help:
"In 2005, we instituted the MusiCan Teacher of the Year Award, as it was called then, to honour the entire music teaching profession by selecting one of them as a symbol of their dedication and sacrifice and a thank you for the lives they changed, making our country stronger and healthier.  The idea was to get a major artist to agree to sponsor the prize and to present it to the teacher, preferably at the JUNO Awards.  I called my friend Michael Cohl, the manager of the Rolling Stones, and asked them to be our first official sponsor. That JUNOSs the amazing Norm McIntosh from Confederation Secondary School in Val Caron, Ontario, met his heroes Tthe Rolling Stones who presented him with the prize.  I've never seen a happier man."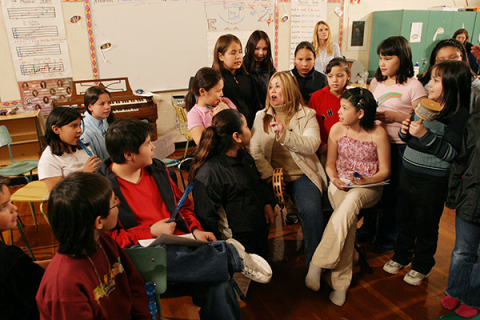 Stephen Stohn, the former chairman of CARAS and MusiCounts, executive producer of The JUNO Awards for 20 years and one-time director and chair of CARAS (not to mention the executive producer of the Degrassi TV series, and a hit songwriter), was there at the charity's germination:
"I have fond memories from the 1980s when a very small group of us would review all the Band Aid submissions.  Back then, we had funding to award grants to only three schools each year.  The submissions themselves were eye-opening, showing the deep need for the programme, but I especially remember the heartwarming letters we received afterwards from individual students expressing the changes in their lives from receiving instruments to play."
Jim Cuddy, co-vocalist of 2012 Canadian Music Hall of Fame inductee's group Blue Rodeo, and captain of JUNO Cup charity hockey game:
"The JUNO Cup, at the beginning, always had a MusiCounts recipient school come and play. I don't know where it was; out west I think, but those kids came in to their dressing room holding their instruments and that was the greatest gift they'd ever received. It's like looking at a kid getting a pair of skates or a sled or rock album; they were so excited. All it takes is that little moment for you to realize how much good the whole program is doing. That was my moment. I always thought it was a good idea. I was really impacted by how deteriorated the music program system was in Canada.  I mean, I was looking at applications from schools in wealthy areas — [Toronto's] Jarvis Collegiate. Are you kidding me? That's the feeder school for Rosedale and they need instruments? That was so depressing."
Kevin Drew, the co-owner of Arts & Crafts Productions and co-founder of Broken Social Scene, came up with the idea for the community music program and approached then MusiCounts director Allan Reid:
"I just saw programs outside of school and the education system and the kids that that system failed, who split, who leave.  That was the thinking behind it. There's this great program called Sketch [an art space for street-involved and homeless youth] and I looked at what they were doing and I realized that the MusiCounts program doesn't extend to that.  And I thought that's important and that's necessary.  I talked to him about it. We wanted to help these [community music] programs.  We wanted to give them gear, give them musical instruments. The people who are the heroes right now are the ones who are trying to help people."
Air Jordan 1 Retro High OG Black and White-Black For Sale