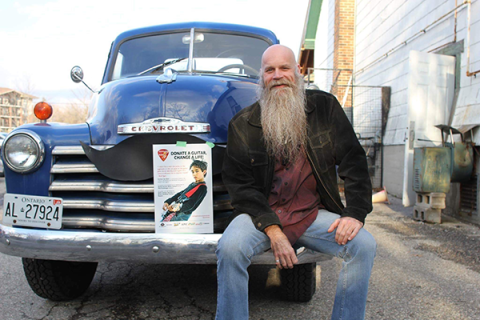 Dan Walsh logs more miles than most musicians. Whether it's playing across Canada or gigging in far-flung locales such as Thailand, the bluesy-bluegrass musician averages 230 gigs per year. But this past Christmas, the multi-instrumentalist, once a member of Fred Eaglesmith's band The Flying Squirrels, spent just as much time in his car, doing something that brings him more joy than performing for audiences—giving the gift of music to less fortunate kids in his community.
"We put 80 guitars back into the community this past December," Walsh tells Samaritanmag. "I had seven crying mothers. I did not know how to deal with that. I've been very lucky in my life and sometimes we don't realize how difficult other peoples' lives are."
Walsh is president of the Cambridge, Ont. based not-for-profit Guitars for Kids. The not-for-profit was started five years ago as an offshoot of Cambridge Live Music. Its mandate: take in old, used, and donated guitars, refurbish them and get them into the hands of children who normally would not have the opportunity to afford an instrument.
Bob Egan planted the seeds of this successful philanthropic program. The former pedal steel player for Blue Rodeo and Wilco, who is now the manager, community development for the Kitchener Public Library, made it his mission when he opened his guitar repair shop, Bob's Guitar Service, a decade ago to give guitars to kids who could not afford them.
"I told this mission to everyone who walked through the door and soon donations began arriving," Egan tells Samaritanmag. "I trained a group of volunteers to repair these guitars and started distributing them, primarily through social service agencies and the school boards. They would identify the kids and we would provide the guitars."
Flash forward a few years and Cambridge Live Music was looking for ways to better serve the community; Egan started Guitars for Kids with them. He ran it for the first year or so repairing and distributing 70 guitars during that time. 
"Thankfully Dan [Walsh] entered the picture and took over managing both Cambridge Live Music and Guitars for Kids," Egan says. "Dan has done an astounding job weaving Guitars for Kids into the fabric of his community by holding events, forming civic and commercial partnerships, and meeting the needs of the kids by providing them lessons and involving them in community activities.
"He also serves as a shining inspiration to both musicians and the community at large of how to make a difference in the lives of the most promising, yet vulnerable community members."
To serve the disadvantaged in his community, Walsh can't do it alone. While he is often seen as the face of Guitars for Kids, the organization relies on so many people and partnerships to make it successful. Just a few of the many volunteers he mentions are: a board of directors who are "insanely helpful," delivery drivers who donate time, Brian Gartner, his treasurer, who goes through all the guitars to make sure they are 'healthy' before they are donated, and Dwayne King, owner of The Guitar Corner in Kitchener, Ont. who teaches a guitar repair course at Conestoga College and gets his students to help repair many of the donated instruments.
Speaking of donations, there is one particular instrument that really put the not-for-profit on the map: Col. Chris Hadfield offered his broken guitar to the group back in January 2017.
"We couldn't buy that kind of public awareness," Walsh recalls. "All of a sudden, CBC was reaching out for interviews. That is our showpiece and the best thing that could have happened to our program."
The work begun by Egan, and carried on by Walsh, is now inspiring other communities to adopt a similar model. There is now a Guitars for Kids program in Toronto and one in Red Deer, Alberta, and other offshoots are currently in development in other parts of the country. To date, Walsh figures they've put between 350 and 400 guitars back into the community since 2015.
"We stopped counting after 100," he concludes. "I have no time. I would rather get the guitars out. The numbers are not as important. I've made a good living playing guitar. I've been paid to play in places in the world where people save their whole lives to go and see. Even if I can put a couple of kids on the path to music, I feel we've succeeded. The generosity of my community continues to astound me."
(Please support Samaritanmag's original journalism by making a PayPal contribution or EMT transfer using  info@samaritanmag.com so we can increase the amount of content and writers we hire. Samaritanmag is the anti-tabloid, covering good people trying to change bad things. Let's make this thing bigger than TMZ.)
Patike