A special collection of Foreigner's greatest hits, Jukebox Hero The Musical, named after the musical theatre production which had its world premiere last week at Toronto's Ed Mirvish Theatre, raised $4,765 for Shriners Hospital for Children in Montreal.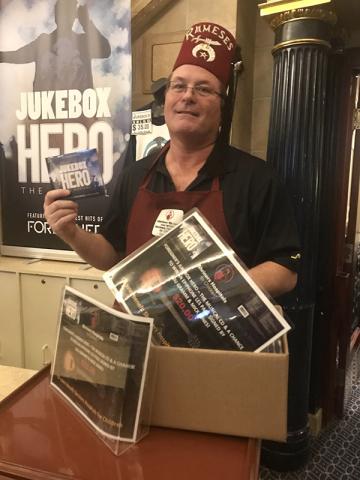 The two-CD set — featuring songs recorded by Foreigner, live and in the studio, such as the title track "Juke Box Hero," "Cold As Ice," "Dirty White Boy," "Double Vision," "Feels Like The First Time," "Head Games," "Hot Blooded," "I Don't Want To Live Without You," "I Want To Know What Love Is," "Say You Will, "That Was Yesterday," "Urgent" and "Waiting For A Girl Like You" — was sold at the merch table and by volunteer Shriners walking around the venue before start-time and at intermission over five days and seven shows.
Anyone who purchased the CD for $20 — 953 CDs were sold — was entered into a raffle at the end of each show to win a guitar signed by Foreigner founders Mick Jones (guitar) and Lou Gramm (original frontman).
In an interview in Toronto, Jones and Gramm, who with Foreigner sold some 75 million albums in the 70s and 80s, talked about the charities they recently support.
Shriners Hospitals for Children — a non-profit which relies on donations — was the first that Jones mentioned. Foreigner has been involved with them for the past decade.
The 22 medical centres are mainly in America, except for one in Mexico and another in Canada. "Our health care system provides advanced care for children with orthopaedic conditions, burns, spinal cord injuries, and cleft lip and palate," it states on the about page of Show Them Love, a site about the Foreigner/Shriners partnership.
Foreigner — with singer Kelly Hansen, who joined in 2003 — recently rerecorded the band's 1994 smash "I Want to Know What Love Is," featuring Shriners Hospitals for Children patients on background vocals and in the music video. The story starts with Hansen having a bad day because of little annoyances, like an out-of-service elevator and dropping the coffee he bought with all his change when a woman bumps into him, until he encounters the inspirational and joyous kids from Shriners Hospital.
"We have been working with the Grammy Foundation who in-turn work with the Shriner's organization," Jones told Samaritanmag. "It's all to do with invalid children, children who are born with all kinds of challenges health-wise. We've contributed quite a lot of money to that.
"We did a video for them and it's quite poignant to see it. The main hospital is down in Florida and we went down to see them. Wow, just spending the day with them and seeing the spirit they have with all these setbacks they have, gosh, you think, 'Why are there souls like that with those problems?'
"It's quite emotional actually. I was quite moved by it," Jones added. "But they are great. Their spirits are great. They are enthusiastic. They enjoy life. It feels good to be part of it."
"I Want To Know What Love Is (featuring Shriners Hospitals Kids Choir)" is available for download on Google Play and iTunes, and it is included on the new album, Foreigner Live In Concert, which came out Feb. 15 via The Orchard.  All proceeds from the single and entire album go to Shriners Hospitals for Children.
Gramm, who left Foreigner more than 15 years ago but occasionally joins the current line-up onstage, and just retired from solo live performances, named two charities in which he is involved: Camp Good Days and Special Times and HUGS Foundation Inc.
He mentioned that he does benefits to raise money for HUGS, which sends medical volunteers to impoverished areas around the globe  to conduct surgeries on children with congenital deformities, such as cleft lips and palates. But he is more chatty about Camp Good Days and Special Times, likely because he has spent time with the children.
"Camp Good Days and Special Times is a camp for young children that are terminal cancer patients to give them the fun of going to camp, like canoeing and all sorts of things that a young person would want to do. So they can enjoy that while they still have time on this planet," Gramm told Samaritanmag. "I contribute financially, but more than that I contribute my time."
Camp Good Days provides residential camping programs at its facility on the shores of Keuka Lake in Branchport, New York, as well as year-round recreational and support activities in the Rochester, Buffalo, Ithaca and Syracuse, New York areas for children with cancer, sickle cell anemia, and the entire family, free of charge. It's also open to kids who have had a parent or sibling with cancer or if they've lost a parent or sibling to the disease.  Gramm was born in Rochester.
The camp is open to kids from all over American and the rest of the world. "No child with cancer is ever turned away from Camp Good Days," it states on its web site. 
Gramm told Samaritanmag he goes to the camp and "hangs around and talks to the kids. They want to know what I do [for a living]. It feels good to give your time."
WATCH THE NEW VIDEO OF "I WANT TO KNOW WHAT LOVE IS"
(Please support Samaritanmag's original journalism by making a PayPal contribution or EMT transfer using  info@samaritanmag.com so we can increase the amount of content and writers we hire. Samaritanmag is the anti-tabloid, covering good people trying to change bad things. Let's make this thing bigger than TMZ.)
Air Jordan Release Dates 2020 , Sneaker News, Release Dates and Features