Actress Fran Drescher, best known for creating and starring in 90s sitcom The Nanny and currently appearing as the step-mother in Cinderella on Broadway, has taken on a role as a health and cancer education advocate since winning her own battle with the disease.
Back in 2000 — after being misdiagnosed and mistreated by eight doctors over a two-year period — the New York native was finally given the answer:  uterine cancer. That June, she underwent a radical hysterectomy at Los Angeles' Cedars Sinai Hospital and today, at age 56, remains cancer free.
Drescher wrote a book about her experience, 2003's Cancer Schmancer, which became a New York Times bestseller. Four years later, on June 21, the seventh anniversary of her operation, she launched the Cancer Schmancer Movement and Cancer Schmancer Foundation "to transform women from patients into medical consumers, and to shift this nation's priority from searching for a cancer cure towards prevention and early detection of cancer," she writes on the web site.
CancerSchmancer.org is loaded with information. There's an easy-to-read section entitled Early Detection with risk and warning signs "cheat sheets" on all kinds of cancer — breast, melanoma, pancreatic, thyroid, lung, colorectal, Non-Hodgkin, gynecologic, kidney and more. There is a Prevention section that covers everything from healthy eating and exercise to sun safety and beauty care; and a political Advocacy section urging women to call or write members of the United States Congress for safer cosmetic products.
The extensive web site also includes info on Drescher's early detection Fran Vans, a free mobile service offering mammograms to low income, uninsured or under-insured women (currently in California and New York); a downloadable guide for hosting a Trash Cancer detox your home party; and We The Future Youth Movement with videos from kids and instructions for registering your Club.
This year, Cancer Schmancer began implementing its Detox Your Home school assembly program nationwide. There is a contest running (until May 15) to raise money for the initiative, designed to "teach 10,000 school children to stop cancer before it starts." Go here for more details on how to win an all-expense paid trip to New York City to meet Dresher and co-star Carly Rae Jepsen backstage at Cinderella on Broadway.
Drescher spoke with Samaritanmag about the importance of detoxing our homes and bodies and ways to make more proactive changes for good health.
Writing a book is one thing, but starting a foundation is quite an undertaking. Did you find existing foundations didn't or hadn't served your needs when you were going through cancer?
"I felt like there was a void in the health space that needed to be addressed and that was lifestyle and early detection. If everyone was diagnosed in stage 1 [localized cancer] almost everyone would live. The reason why we lose someone to cancer is almost always due to late-stage diagnosis [stage 3 and 4]."
How did you change your lifestyle after your diagnosis and cure?
"I do organic — everything. And I reduce my stress. I'm always working on making my home as toxic-free as possible. The products that I use on my skin, the things that I clean and garden with, the things that I wear, the fabrics that I bring into the house, all of that I'm constantly trying to modify and improve so that I live a more exemplary preventative lifestyle."
That is a major commitment. When you talk to young people about prevention and the things you just mentioned, do they think it's too much work and that they're invincible?
"No, I don't think so. I think that they feel like it's their responsibility to educate their parents, and, you know the kids of today, for the first time in U.S. history are anticipated to not live as long as their parents did. So they don't want to make that a self-fulfilling prophecy. But with 1 out of 2 men and 1 out of 3 women anticipated to get cancer, it's never too early to start changing your lifestyle and your home is the most toxic place you spend the most time in. So we can effectively reduce our risk of cancer as well as a whole host of other diseases by simply detoxing our home. And we at Cancer Schmancer hope to make 'detox your home' the 'don't drink & drive' of the 21st century."
You were misdiagnosed. It's a common story. I had a friend misdiagnosed with bronchitis when he had 4th stage lung cancer and died. Do you think it's just too costly or impractical for doctors to start with the most dire possibility and work their way backwards and go, 'Oh, you just have a cold'?
"I don't think so, no. I think that the medical community, as it exists now, doesn't look at the body as a whole system and they isolate symptoms as if that, in and of itself, is the problem, and then they prescribe things and they miss the point that that is actually a symptom of a larger problem usually stemming from lifestyle that's creating internal inflammation in the whole body.
"All these idiopathic things that are chronic illnesses — like migraine headaches and arthritis and Lupus and fibromyalgia and swelling joint pain and skin problems —when you go to a doctor they'll give you a prescription to try and suppress the symptom, but that's not solving the problem and that's why it's a chronic problem and they call it idiopathic, which, to me, simply says that the idiots don't know what they're doing."
In the seven years that you've been running the Foundation, what to you have been the major breakthroughs, either attitude-wise or medically? What are the improvements you're seeing?
"We just got past the first Gynecologic Cancer Education and Awareness Act. We have really spread the 'detox your home' lifestyle to educate the public and raise consciousness about that, and drive manufacturing change, trends, through consumerism and, on a more local level, we go out in Fran Vans to underserved communities to help women detect breast cancer earlier because breast cancer in low-income women almost always gets diagnosed in the late stages and they surely die."
You are involved in the policy change for the Carcinogen-free Label Act. What is the status of that bill in the States?
"It's been introduced in Congress as a bi-partisan bill. We're gaining support from both of the major party sides. It's a work in progress, but we feel that this is something that happens and when it does it will help the consumer identify products that they should be buying in lieu of the ones that have Carcinogenic toxins in them."
Is the resistance from the corporations, the actual manufacturers?
"I think as long as we don't try and regulate them, but we encourage consumers to be able to make healthier choices — and it's every person's right to be able to buy something at the supermarket that they know isn't going to harm them and their family — then I don't think that there's going to be a problem. They don't want to be regulated, but at the end of the day they don't want to kill their customer either; they just want to sell them anything that we're willing to buy — which right now is anything. But once we start focusing, and government helps make it easier for us so that you don't have to go to MIT to be able to decipher an ingredient, then I think we'll see more dramatic consumerism that will dictate manufacturing trends."
Are you able to promote or display anything to do with Cancer Schmancer at the Cinderella production, at the merch kiosks or anywhere?
"Right now the entire Broadway community, as well as all the companies that are touring, are raising money after each performance for Broadway Cares/Equity Fights AIDS, which includes the Al Herschfeld Free Clinic, as well as the Phyllis Newman Women's Health Initiative. I offer out to the audience, after every performace that for $500 anyone can come up on the stage and take a picture of me, or me and Carly-Rae Jepsen [who stars as Cinderella] when she's doing the show. We're raising thousands of dollars for that organization and the organization in turn is going to share some of that with Cancer Schmancer."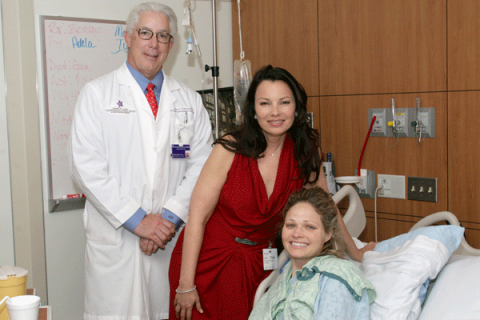 Any stories that stand out for you of people who came up to you and said, 'Thank you, because of your Fran Van I got tested and was able to beat cancer' or a child who didn't lose her mother because of your information or tests, those kind of tangible results that make you feel great for doing what you're doing?
"All the time. They read my book and they tell me it saved their life. People saw me on TV and they tell me 'Because of you, I made that appointment and found out early.' All the time. 'Because of Cancer Schmancer, I'm changing the way I live my life. I started eating organic.'
"So it's very gratifying when what you do, first of all turning pain into purpose is very healing. Also, it resonates a depth and an importance in your life, helping people. Leveraging my celebrity for the greater good is very satisfying and saving lives and changing the way people think is a great way to leverage celebrity for the greater good."
Air Jordan 1 Mid "What The Multi-Color" For Sale