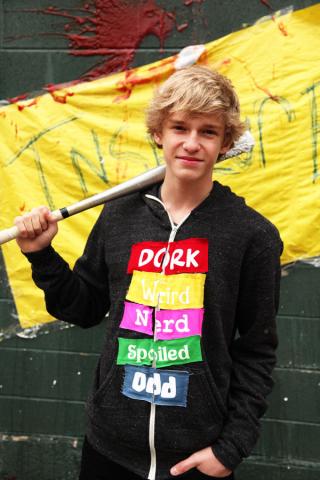 Fans of Australian singer Cody Simpson would never call him a dork, weird, nerd, spoiled or odd, but he proudly wears a hoodie emblazoned with those adjectives.
The 15-year-old, who is managed by Scooter Braun, Justin Bieber's manager, and is currently on tour in North America until September 21, met the founder of the American anti-bullying organization Defeat The Label in 2010, who gave him the limited-edition hoodie, which sells on the site for $125.  Lesser priced items include an $18 t-shirt, $20 bracelets and $4.99 cookies.
Defeat The Label creates critical awareness of bullying issues among middle school and high school aged students. This is accomplished through the creation of awareness campaigns, community outreach, special events and the implementation of the Anti-Defamation League in-school curriculum.
"It's important to me because I spent nine years at school back home in Australia and I saw a lot of my friends get bullied," Simpson tells Samaritanmag. "I saw it happen first hand in the playground and stuff like that when we were younger and it's always been right here [touches his heart].
"You can look online everyday — I mean, I'm so-called bullied all the time and hated on and stuff like that. I don't look at it [the comments] because I'm not really interested. But I've seen how it can affect so many different people, especially severely. It does have crazy effects on people and I try to do my best to help out in any way I can."
Defeat The Label is also supported by Miley Cyrus (pictured on the site wearing the same hoodie Simpson is), as well as teen pop singer Jessica Jarrell (who duets with Bieber on the song "Overboard"); Lauren Potter, who plays Becky Jackson on Glee; and Canadian Kris Draper, a four-time Stanley Cup winner with the Detroit Red Wings.
"We've all been called names," it says on the page asking young people to take the pledge. "Many of us have been bullied. Enough is enough!
Defeat The Label promotes a bully-free society without social labels and stereotypes.
We believe in putting the power for change where it belongs: in student's hands.
Together, we can put an end to bullying."
On May 4, over 1.3 million students in over 2300 schools in every state, plus another 40 countries, including Canada, participated in the Stand 4 Change Against Bullying 2012, a motivating event-and-pledge-based idea developed by Defeat The Label and Ken Kragen, creator and organizer of "We Are The World" and  "Hands Across America."
Defeat The Label was co-founded in West Bloomfield, Mich. by Jeff Sakwa, the owner of Noble Realty, and Kevin Goldman, the owner of a mortgage company.
"I just want to help kids," Sakwa tells Samaritanmag. "I just want to give people opportunities and let them do the best they can and let them have a long healthy happy life. That's the bottom line. This bullying stuff is just nuts."
Sakwa met Cody and his father, Brad, at the end of 2010 at Great Lakes Crossing, a mall in Auburn Hills, MI, through Howard Lesnick, a friend of his who worked at Atlantic Records, Simpson's label.
"Howard knew I was working very hard for schools in terms of raising money, anti-bullying and drugs. Those are the three biggest problems in schools," says Sakwa.  "So I met Cody at the mall one day. His dad is incredible. [They're] just incredibly kind, wonderful people. He had his very first onion ring in his life, I might add. I'll never forget that.
"He wasn't nearly as big as he is now when we met. So they went to Chicago and I asked him if he'd ever been to a basketball game before? He said 'No,' so I gave him tickets to a game in Chicago. His dad called me the next day to tell me they couldn't make the [game] because the show went late. Is there anything they could do for me?
"Then we put together this charity concert that benefitted five children's charities, Defeat The Label being one of them and that's how it came together. We gave him that hoodie and he ended up wearing it for [the recording of a] cover song ['I Want Candy' by The Strangeloves] for a movie called Hop. All these kids wanted to know where he got the hoodie from. That's where the whole thing charged from."
The YouTube clip of Simpson wearing the hoodie while cutting the song in the studio has close to 1.5 million views (see video below).
Sakwa says Simpson is the first musician to have become affiliated with Defeat The Label.
"What happened was I saw that my struggle with kids is I can tell them what to do and Cody can tell them what to do — who do you think they're going to listen to? I did focus groups and we saw that you needed celebrity appeal, either an athlete, singer or entertainer to get through. I could bring the guy that had cancer; I couldn't even fill up a gym. That's a commentary on society as a whole, not just kids."
In the coming year, Sakwa says he hopes to release an anti-bullying song via Ken Kragen, a la "We Are The World."
"It's being produced by JR Rodem [Jason Derulo, Nicki Minaj] and we're working on other A-list singers to finish the song.  We're going to take the proceeds from this song and do a 24-hour help line for kids, and we're doing an ad for the phone that will identify where bullying is occurring and we partnered up with the FBI on that."
The next Stand 4 Change will take place May 3, 2013, at noon ET.
"We're asking kids around the world to stand up. Every school will do a different program that day," Sakwa says. 
Shop: Nike