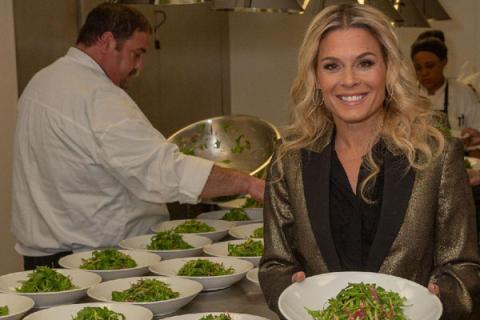 When disasters strike worldwide we're used to seeing charities like Doctors Without Borders and the Red Cross be among the first on the ground to offer medical care and assistance to overwhelmed and vulnerable people.
But Iron Chef star Cat Cora has her own mission beyond hosting Food Network shows and running restaurants like Mesa Burger — preparing for and respond to disasters everywhere by offering emergency food, water and nutrition relief via her Chefs For Humanity non-profit venture.
"In times of crisis and need, people, especially hungry kids, don't stop thinking about food," Cora told Samaritanmag while in Toronto for an event to support Chefs For Humanity and Operation Smile, which help children with a cleft lip or cleft palate.
As founder and president of Chefs For Humanity, Cora's non-profit works to reduce hunger worldwide by offering humanitarian relief in times of greatest need. For example, in disaster zones around the world, often the immediate challenge is getting food piling up at an airport or a shipping port past a bureaucratic bottleneck and out to those in need.
"We try to get food through, when it's needed, after a government has cut it off. And when the food gets through, we'll be in the back of pick-up trucks, getting to the people with food," Cora says.
Cora launched Chefs For Humanity in response to the 2004 Tsunami disaster which impacted Indonesia, Sri Lanka, India, Thailand and a number of other countries, causing nearly 228,000 deaths. Her goal was for the culinary community to raise funds and offer help and resources for emergency, educational and hunger-related causes.
Chefs For Humanity work closer to home as well. There are, unfortunately, many events in the U.S. which can use their support. "We're still feeding people in a crisis situation. People have lost homes, their businesses, and we're also feeding first responders," Cora said.
A recent example was the 2018 summer wildfires in Santa Barbara County in California, where Chefs For Humanity helped feed beleaguered evacuees and first responders, including in Cora's local restaurant.  
"We told them, come to us and get a free meal," she says. "I do get in my zone. We're serving food out of giant pots, we're in schools, emergency centers. I just go from feeding hundreds of people at my restaurants to feeding thousands of people, and around the clock."
Beyond the disaster work, Chefs For Humanity also support social initiatives, including promoting nutrition education.
"We try to work with like-minded organizations, and ask ourselves, how can we be a part of the solution?" Cora says of her work, which includes joining former first lady Michelle Obama in her anti-obesity campaign and her Chefs Move To Schools initiative.   
Recognizing Cora's humanitarian work in the food world, UNICEF named her a nutritional spokesperson to help raise awareness for humanitarian crises around the world.
"Whenever there isn't a crisis in the world and we're not there on the ground, we'll be educating people about good nutrition," Cora says.
Serving food isn't nearly as far from the front lines of a crisis as one might expect. When Chefs for Humanity provided relief efforts after Hurricane Katrina devastated New Orleans in 2005 Cora recalled passing through ruined neighborhoods and seeing houses with a high water mark across the doorway and spray-painted with an "X" to indicate there were dead bodies inside that required recovery.
"I know that terrible smell, I know that's real, and I just put my head down," Cora said.
It's experiences like these which prompt Cora to encourage her fellow chefs to feed displaced people in crisis situations.
 
"I just respond to fellow chefs and any celebrity who ask, 'how can I roll up my sleeves?' I want to go to Haiti, or Honduras — because we have the means and the access to make a difference."
And how can ordinary people help Chefs for Humanity?
"You don't have to be a chef to be a part of this. It's a call to action, so go to the website and see if you can get your arms around it and get involved," she says.
(Please support Samaritanmag's original journalism by making a PayPal contribution or EMT transfer using  info@samaritanmag.com so we can increase the amount of content and writers we hire. Samaritanmag is the anti-tabloid, covering good people trying to change bad things. Let's make this thing bigger than TMZ.)
Asics Onitsuka Tiger