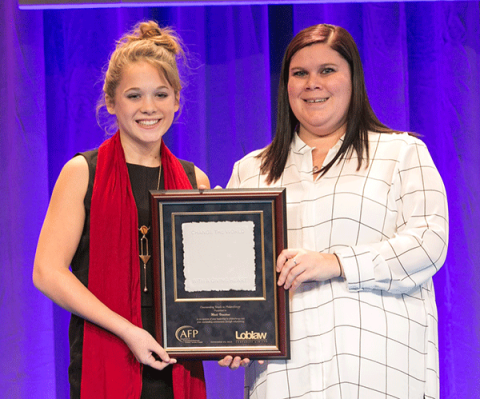 "An exceptional [14] year-old who embodies a great spirit of philanthropy," is how the Association of Fundraising Professionals (AFP) describes Madi Vanstone, this year's recipient of the Outstanding Youth in Philanthropy Award. She helped raise $4 million for Cystic Fibrosis Canada and was instrumental in spearheading a campaign to get a life-altering drug, Kalydeco, covered by Ontario Health Insurance (OHIP), which otherwise would cost more than $300,000 a year. After taking it for 30 days, Madi tested negative for CF, her mother, Beth Vanstone, tells Samaritanmag.
A gene-specific drug, Kalydeco aids only 4 percent of cystic fibrosis (CF) patients because there are more than 1,800 CF mutations, according to the Cystic Fibrosis Foundation.  
Madi, from Beeton, Ont, was born with CF and began to raise awareness for the life-threatening disease at age 12. During her elementary school years, she initiated a letter-writing campaign with 150 of her schoolmates at Sir William Osler School in Bradford, demanding that OHIP cover the cost of Kalydeco. The drug corrects the mutated gene, G551D, that causes CF, a breakthrough in the world of medical research, according to a 2013 Cystic Fibrosis Canada press release, which cites Kalydeco as "the first therapy that targets the underlying cause of cystic fibrosis."
With the ability to weaken and debilitate the body's mobility and function, CF is a genetic disorder, which Cystic Fibrosis Canada refers to as a "devastating disease" that affects the lungs, stomach, kidneys, liver, intestines, and pancreas. Symptoms of CF, which prevents the thinning and secretion of mucus, include severe coughing, difficulty breathing, clubbing of the fingers and toes, sinus infections and poor growth.
Beth Vanstone says despite her daughter often having to deal with severe headaches, stomach pains, and lung infections that sometimes prevented her from getting out of bed, the 12-year-old was relentless for two years in trying to get coverage for Kalydeco, and also raised nearly $4 million as spokesperson for CARSTAR's Great Strides Walk for Cystic Fibrosis Canada.
Getting the drug approved was not easy. Beth says the government initially stalled their decision for nearly 16 months, deferring to the Pan-Canadian Pharmaceutical Alliance (pCPA), a government body whose purpose is to increase access to drug treatment options, to regulate pricing of prescription drugs, and to establish consistent criteria for drug coverage in Canada, according to the pCPA website.  In early 2014, Madi landed a milestone meeting with Ontario Premier Kathleen Wynne and former Health Minister Deborah Matthews to state her case.
Finally, on June 13, 2014 — a Friday no less — the Health Ministry phoned Madi to give her the good news — that the government would approve full coverage of Kalydeco. It was officially approved on June 20, 2014, a relief to Madi and the small percentage of the CF community who have the G551D mutation.
Canada waited for more than a year before Kalydeco's manufacturer, Vertex Pharmaceuticals Inc., reached a deal, enabling provincial health insurance to cover the cost of the drug, states the pCPA website.
"It took 6 or 7 months of heavy duty pressure [after the letter-writing campaign], with another year of the CF community pushing behind the scenes to get things done," Beth Vanstone tells Samaritanmag. "Once Madi stepped up and was getting some attention, it brought it to the forefront and there was a lot more attention and pressure put on it to get it done."
After Madi's first month of treatment, she went from testing positive for CF to testing negative, an almost unheard of recovery, though she'll have to be on Kalydeco for the rest of her life, says Beth.
Prior to taking Kalydeco, she was hospitalized twice a year, says her mother, and by her mid-teens would have needed a lung transplant, which would have given her only a few more years to live.
This big victory is part of a continued struggle that several have fought and lost. One of Madi's best friends, a 21-year-old CF sufferer named Erin (last name withheld) died Nov.  22. Unfortunately, Kalydeco was not an option for Erin because she does not have the G551D mutation.
"[Erin] had a double lung transplant a year-and-a-half prior [at Toronto SickKids Hospital] and ended up succumbing to the disease due to rejection of the lung," says Beth. "A beautiful, young 21-year old who lost her life to this disease, so it invigorated [Madi] even more to go forward and help save these young people who are dying of this horrific disease. Madi also, through, her philanthropy, raised $6,000 to help Erin and her family during the transplant because they were having some financial difficulties. She [made] baskets and bracelets, and raised $6,000 for the family to help the patients 'cause there's not a lot of support there, either. It was heartbreaking."
Samaritanmag spoke further with Madi at the AFP Philanthropy Awards Luncheon held recently at the Metro Toronto Convention Centre about the young philanthropist's efforts to get Kalydeco covered, how she raised so much money for CF and her next plan of action.
How would you describe cystic fibrosis to someone who doesn't know what it is?
CF is a genetic disorder that affects your digestive system, your lungs, and basically, it prevents the thinning of mucus. Before I had Kalydeco, I was really struggling to even walk or breathe.
How did your symptoms change after taking the drug?
I was getting really sick and they thought that I only had five years [to live]. I went on Kalydeco and I was feeling really bad. I was sleeping all the time; I had headaches; stomachaches; [I wasn't] able to breathe; I was really tired, and then, I went on it, and I transformed into someone [who] was really energetic, who loved to exercise. I was going out all the time. All my headaches and stomachaches were gone. Everything was perfect.
Why do you think you received the Philanthropy Award?
A lot of teens don't know that they have a voice, and I acknowledged that I have a voice. I used it to change something that was wrong. It's a success for me, to get noticed for what I did. It feels really good.
INTERVIEW CONTINUES AFTER THE VIDEO:
What was the breakthrough moment for getting Kalydeco covered by OHIP?
The breakthrough moment was when the medication was covered and that was a big victory for everyone. I think everyone was happy, not just me.
How did you react?
At first, I was in shock. I didn't know that it was real, and then a couple of days [later], it was like, 'Oh my gosh, this is actually happening.' I was really, really happy.
How does someone so young raise $4 million for CF across Canada?
I just really used my voice. I was stubborn. I didn't stop pushing, and it worked.
I went down to Queen's Park and then, a couple of weeks later, I met with [Ontario Premier] Kathleen Wynne and [former Health Minister] Deborah Matthews and that was the big change because it was face-to-face. I had to tell them face-to-face and it was scary.
What did you say that really captured their attention?
I just said, 'People are dying and it's not okay, and something needs to be done to prevent it from happening.'
How did they respond?
[They just [had] blank faces at first, and I think they tried to make up an excuse, but there really wasn't one there 'cause the fact is the fact. People are dying and that's not okay and I think that's something that pushed them forward to say, 'Okay this needs to be done.'
How did you get your friends involved in your campaign to raise awareness and funds?
[Madi]: People heard at school and [they] saw me on the news and wanted to help so two or three classes in my old school--I'm in high school now--went to Queen's Park and they supported me through that and some of the families held fundraisers.
Why do you think OHIP didn't cover it sooner?  When did the government finally take notice and acknowledge that Kalydeco should be covered?
I don't actually know that. My mom knows that.
What took so long to get coverage?
[Beth answers]: They had many excuses. One of them was it was being handled by an Alliance group that sets pricing, so they were having some problems and issues of the pricing of the drug in Canada. I had investigated enough that the pricing was the same as it was in other countries, so I put that out. They had this excuse, that excuse. They had a meeting with [Fred Home] the Alberta Health Minister [who] was heading up the Alliance and when he came to Ontario for the meeting, I made sure that Madi and I were there to show our interest in support in trying to get this done. It was only a couple of months after that that the pricing was finally set and funding was approved on June 20 of 2014.
How is Kalydeco different from other drugs used for cystic fibrosis?
[Madi]: Other medications correct symptoms but [they] don't really prevent them and Kalydeco corrects the genetic mutations. That it's a preventative, but that it could lead to a cure. I was on Kalydeco for 30 days and there was a huge difference. My lung function just skyrocketed and I was feeling awesome. It took 30 days to feel great.
When did you [Beth] notice a big difference in Madi?
[Beth]: Within six months after [taking the drug], it's night and day — her colour, her size, her growth. Her breathing went up from 78 percent prior to the drug to 115 percent in 30 days. And in 30 days, she went from testing positive for CF to testing negative.
Does she have to take this drug for life?
[Beth]: She has to take it every day, twice a day, for the rest of her life, however, it does correct the defective gene in her body, which is amazing that a drug can do that. You know this is the beginning in a breakthrough for a lot of other drugs and diseases that can correct defects in genes, which is pretty incredible. To be able to be diagnosed and then she doesn't have it. As soon as she's off the pill, then obviously, it would be back, but that just tells you the effectiveness of the drug.
What other advancements have been made in the field of cystic fibrosis medical research that you know of?
[Madi]: They've raised a lot of money and I think that they're using it very responsibly towards different things. They're using it for a cure, but they're also using it to make people feel better by preventing bugs that get in the lungs, and by making new medications that will help people in the meantime while we try to find a cure.
What's your next goal for the cystic fibrosis campaign?
[Madi]: I met a group of girls in California who wanted to make a difference and we had a meeting, and now we have an advocacy group called We Are More. Our goal is advocacy for rare disorders. We're trying to find teens [who] are interested in taking part in the group and we're trying to raise money to make videos to get [the message] out there.
Tell us a little bit about some of your hobbies and what you do at home.
[Madi]: I ride horses at home. I live on a farm. I love hanging out with my friends. We laugh a lot and I love being on the farm.
What's your horse's name?
[Madi]: My horse's name is Malteser. I used to do a thing call PPG, Prince Philip Games, and that was really fun, and the horses also motivate me 'cause I want to feel really good, so I can ride them.
Was horseback riding really difficult for you before Kalydeco?
[Madi]: Yeah, it's a deep passion of mine, and [cystic fibrosis] hurt me so bad that I couldn't feel good enough to ride. Now, I will all the time. 
Air Jordan Release Dates Calendar