With her platinum credentials as a former New York lawyer, Stanford School of Business MBA (class of 2006) and successful entrepreneur Catalina Girald doesn't seem like a 21st century revolutionary. But her latest and second e-commerce company Naja finds the Colombian-born, San Francisco-based Girald championing women in ways that are ground-breaking and impactful, not to mention inspiring.
Launched in December 2013, Naja manufactures and sells beautiful, distinctive lingerie — in their own parlance, "radically different lingerie" —  at comparatively reasonable rates. Its average bra price, for instance is $45 U.S., while lacy briefs are $14. A product pitch on the site under the heading "Meticulously Crafted. Fairly Priced" explains things thusly.
"Naja products are characterized by unexpected attention to detail — the kind of detailing found only in luxury brands. From our memory foam cups, to our interior bra prints, to our ultrasonic sealed bra straps — we take pride in our artistry. But we don't believe you should have to pay $80+ for a high quality bra."
The thrills don't stop there. Naja (pronounced "nigh-ya") lingerie is modeled on its site by women who look like women modeling lingerie for potential female buyers, not supermodels strutting for bug-eyed dudes as with Victoria's Secret.
Best, Naja's supports women in Girald's native Colombia through its two-pronged Underwear for Hope program.
As Girald explains to Samaritanmag, every bra purchased from Naja comes with a lingerie wash bag that is sewn by a Colombian women identified as needy by the Golondrinas Foundation, "which educates children but they also educate women so the mothers of these kids can have trades which ultimately helps the children," she says.
"We provide lingerie bags made by women to customers as a free gift with purchase. We pay the women [who sew the bags] directly, at above market wages and make a matching contribution to the Golondrinas Foundation for educating women to be micro-entrepreneurs.
"So we work in a village in Colombia where the factory is inside a convent using women who were trained to sew by the nuns and are single mothers or heads of households. We work with them and all of our panties are made there."
Girald continues: "The lingerie wash bags are easy to sew and hard to screw up. So if the women can sew and has made it through the sewing program that we sponsor through the Golondrinas Foundation, then we can give them the opportunity to be part of the program though we do set deadlines and quotas.
"With the other program, there is a big skill leap. And we were lucky to stumble upon this cooperative because they produce excellent quality lingerie and have worked with major brands in Latin America; we were able to insert ourselves because one of those brands left. So we're really excited that all of our panties can be made there now because we are helping more people."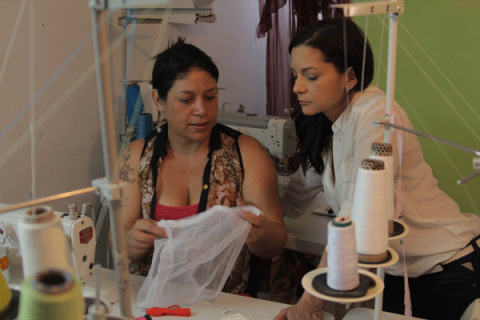 Naja's ingrained charitable component is just one aspect of Girald's dedication to challenging the status quo, especially in North America where the objectification of women — ironically, as part of selling products to women — is rampant in her view.
"Victoria's Secret owns 50 percent of the U.S. lingerie market which is an astonishing thing to contemplate," Girald says, "especially when you look at how they market their lingerie. It sexually objectifies women and when I look at it, it doesn't make me feel good about myself or resemble how I perceive myself.
"I thought, 'If 50 percent of women and girls are looking at this as their potential brand of lingerie, something has to change.' We needed a brand of lingerie that made people feel good about themselves."
And so Naja was born. Not surprisingly for someone of Girald's academic background, she says she spent about a year studying the lingerie industry to get a sense of what would work and how she could keep costs low without compromising quality.
But that wasn't Naja's — or Girald's — only impetus for starting the company. A disappointing previous experience running an e-commerce site, Moxsie — which Girald launched in 2006 and is now part of sprawling e-commerce site Fab.com — and a 18-month backpacking and mountain-climbing adventure through Asia in 2009 reinforced Girald's view that women's ideas, including her own, were worth heeding.
"With my previous company, I probably made too many decisions that left too much power to our investors. It also wasn't going in the direction I wanted it to go from a philosophical perspective. I was disappointed with that and wanted to go away and figure myself out. So that's what I did.
"From the start, I knew I wanted Naja to have a charitable component. And I wanted to be sure the company had the capacity to grow really big so that we could make a difference. The number of women we employ is directly linked to our sales, so I needed to make sure that whatever space I did go into was one in need of disruption.
"Plus back in 2006 when I started my first e-commerce company there weren't very many female founder/entrepreneurs. Maybe five of us. I think that undermined my confidence and I didn't place as much value on the things I knew. So I think that was the underlying thing behind Naja.
"Throughout my backpacking trip I traveled through places that are tribal and matriarchal, including Mongolia, Nepal and Indonesia. Oddly enough, in the western world we have more of a problem with strong women than tribal communities. Many things in our world like fashion and lingerie influence how we feel about ourselves and how comfortable we are with our body image."
These days, Naja's online shoppers can buy exquisitely detailed, affordable lingerie from a site that doesn't make them feel fat and gross while knowing their purchases help women — about 16 at last count — in the developing world.
Next on Girald's to-do list is potential expansion of the Underwear for Hope program in the United States. And she's determined to grow the brand and the charitable outreach.
"I see Naja as a lifestyle brand that's inclusive of all women, so I'd like to be able to expand our size range. I'd also like to see it move beyond lingerie to include sleepwear, sheets and anything related to bedroom and bathroom. That's how I see it evolving. And keeping it at an affordable price point.
"For us, it's all about maintaining luxury at fair prices and maintaining really high quality. And the more we can help artisans and women, the better it is for Naja."
Air Max