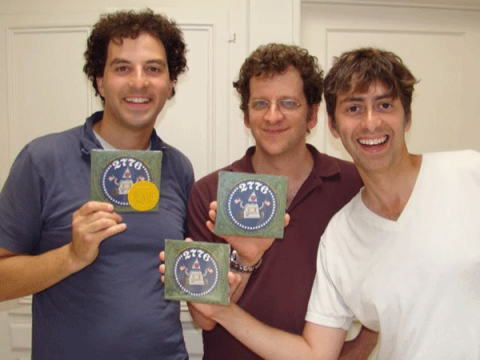 "The line I always tell people is that this album is a thousand years of American history, past, present and miserable sci-fi future." Joel Moss Levinson is laughing audibly on the other end of a Skype call, as he and his brother Stephen Levinson try to describe how the two of them, along with Emmy and Peabody award winning comedy writer Rob Kutner (Conan, The Daily Show) arrived at the idea of making 2776, their wacky and dystopian musical comedy album for charity.
There are 28 songs on 2776, a sprawling, Live Aid sized cast that includes such musical stars as Aimee Mann, Yo La Tengo, Andrew WK, Right Said Fred, and Neko Case, as well as comedians and actors like Will Forte, Aubrey Plaza, Martha Plimpton, Paul F. Tompkins, Patton Oswalt, Margaret Cho, Maria Bamford, Reggie Watts, Andy Richter, and Bobcat Goldthwait. The cast is also classed up by appearances from Dick Gregory, Dick Cavett, and NPR stars Nina Totenberg and Ira Glass, and many more.
The CD sells for about $12 (USD) and the download for $9.99 (see the 'buy it' section of the site).
Amazingly, their (comically imagined) end of the world might just make the world a better place. That's because the team making 2776 have corralled many of today's best comedians and musicians (and even, full disclosure, my humble self) in the service of OneKid One World, a low overhead, grassroots charitable agency that builds schools and provides education to children in impoverished communities in places such as Kenya and El Salvador. 
They've done this before, in 2012, with It's Okay To Do Stuff, a playful and adults only send up of Marlo Thomas' groundbreaking 1972 album, Free To Be You And Me. To assuage any guilt for parodying Thomas's beloved kid's album, the Levinsons and Kutner opted to donate all the proceeds from their parody to Thomas' St. Jude's Children's Hospital charitable foundation. And while their album was far more risqué than anything you would associate with a children's charity, Joel Levinson says the experience trained them in how to harness talent into a charitable vision.
"We just loved the experience of working with the coolest people in the world," Levinson tells Samaritanmag. "It just kind of turned into, 'Okay, as three dudes who don't really know anybody, can we somehow try to get the most talented and awesome people on board to collaborate in weird and funny ways for this?' St. Jude's were cool with our content, but we also knew that next time we did something like this, we wanted to find a charity that was even more comfortable with the kind of language we used."
Levinson says that everybody involved in 2776 was adamant that as much of the proceeds as possible would go to a children's charity "because the whole album is about how we are kind of shitting up the future if we're not careful. The one's who are going to have to deal with it are the kids, so let's try to make things slightly better."
Stephen Levinson recalls hearing about the charity OneKid OneWorld after Kutner went to their annual comedy benefit at [popular L.A. music and comedy club] Largo At The Coronet.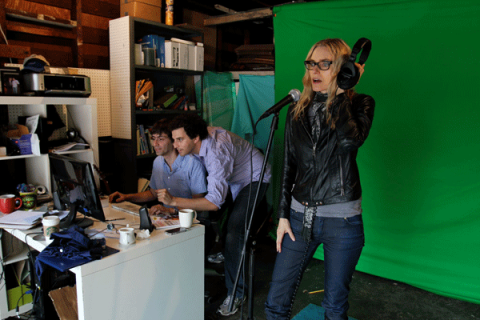 "The foundation," Levinson tells Samaritanmag, "was actually started by a comedian, Josh Bycel, who's an L.A.-based writer for shows like Psych, Happy Endings and American Dad, so because of their comedy background, they really got it. They were excited that we were doing it and wanted to be connected with us, which we love."
"They work with comedians," he adds of the organization, "they're a small charity with a low overhead."
Speaking of low overhead, all three on the 2776 team thought it was a very good sign when they asked if they could stop by the OneKid OneWorld offices to discuss the project.
"Josh told us they don't even have an office," says Stephen Levinson. "They just work out of their homes and out of coffee shops, so we're on a similar wavelength. They are a scrappy charity, getting things done themselves, and we're just three guys with most of this being done in a garage, and every cent spent on it was from our pockets."
Bycel started OneKid OneWorld in 2006, and is currently the executive director along with Tracy McCubbin, who joined the organization in 2007. They run the organization on a volunteer basis, and both maintain other full-time careers. Since 2006, OneKid OneWorld has raised over $1,000,000, and report that over 93 percent of their donations goes directly to their projects.
In an email from his home office (or possibly a coffee shop), Bycel elaborated on OneKid OneWorld's mission, which he said is simply "to make a difference in the lives of children in need around the globe: One world, one school, one kid, at a time. We have directly affected the lives of over 5,000 students "
OneKid OneWorld ensures the sustainability of these programs by rebuilding schools using green technologies and forging partnerships with U.S. students, instilling in them a lifelong commitment to social responsibility.
"One soccer ball and one notebook," Bycel tells Samaritanmag, "can have a profound affect on the lives of kids who have nothing. Yes, it's a little victory but our goal is to make all of those little victories add up to one big one."
A partial list of some of the projects funded by OneKid OneWorld includes working with 11 schools in Kenya and El Salvador, impacting the lives of some 50,000 students. They have built two science labs, 17 classrooms, completely refurbished two schools in El Salvador, paid for over 500 desks and bookshelves to be built, installed solar power and water catchment systems at 2 schools and pain for teacher's salaries, student tuitions and over $25,000 worth of textbooks. They've even funded a Kenyan day care center operated by the Kibera Women's Group.
The Levinsons explain that the dystopian album concept for 2776 came from a series of brainstorming conference calls, with the three writers riffing wildly, until they realized they all share an interest in apocalyptic sci-fi and comedy.
"We landed on this idea," says Joel, "that if we talk about 1000 years of American history, then we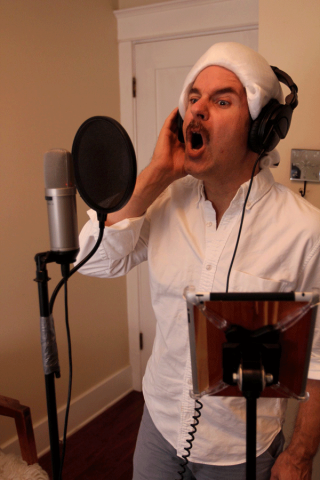 could also include all the future jokes we want. Rob obviously has an affinity for those [Kutner wrote the book Apocalypse How: Turn the End-Times into the Best of Times!] and he loves to imagine all the different ways the world will be destroyed, while I was excited about a lot of the past history stuff."
There's a lot of A-list talent on the album, but according to Levinson, working under the banner of a charity record not only helped minimize star egos it also eliminated most of the usual barriers in getting the talent and studio time. 
"I don't think that we could have afforded any single artist, or even one of the recording studios unless it was a charity thing," says Levinson. "It lets everybody participate in a fun project where they get to do their creative thing and hopefully make some money for a good cause, too. It's win-win."
Rounding up the stellar troupe of performers for 2776 was a daunting task in of itself, but according to Joel Levinson, it was worth it to achieve what he calls their "dream cast."
"We didn't always go for necessarily the biggest names," says Levinson, "just the people we really wanted to write for. For instance, I'm a huge Bobcat Goldthwait fan, so I thought about a song that would fit his voice."
The project really gained momentum when Aimee Mann became the first name artist to sign on. Stephen Levinson says he was particularly thrilled to have her on board.
"I've been a huge fan for ages," says Levinson. "Rob had asked her via Twitter to do the last album and she said maybe next time. So I told Joel and Rob, 'Okay, we've gotta make sure there's a next time!' So we sent her two wonderful Aimee Mann-esque song that Joel had written, 'I'm Cured,' and she dug it. She even told us that this was something that she would have written."
STORY CONTINUES AFTER THE AIMEE MANN VIDEO:
"From a musical point-of-view," adds Joel Levinson, "it was so exciting to take someone who has a specific voice that you really know, and then to write comedy in that voice! It's awesome. She had great contributions, and really added to it.
"In 'I'm Cured,' Aimee is singing the song from the perspective of the common cold. I was thinking, 'What would be a sci-fi version of an Aimee Mann break-up song?' Well, she always makes you feel for the characters, so let's just push that to the ridiculous extreme, so we have her singing as the common cold. After Aimee was on board, it really helped get others involved, it really snowballed from there." 
Andrew WK was also involved fairly early on.
"Andrew came to our garage at 11 a.m. to record 'Party On Your Grave,' which was amazing," adds Joel Levinson. "He was a total sport about everything, but there was just one line that he wanted to change. We had something about farting but he asked, 'Can we change fart to puke? Puking is really more in my wheelhouse.' We said, 'Yes, absolutely.'" 
"We're just big fans of people like Paul F. Tompkins," says Stephen, "and a video of him singing Adele's theme from James Bond's SkyFall had been making the rounds, so we knew he had a great voice. And Maria Bamford had been generous enough to contribute her voice to an animated project that Joel and I had done, earlier." 
After former SNL cast member Will Forte had done his part, the team was pleasantly surprised to learn two things about him.
"Apparently Will has a terrible time saying no to things," laughs Joel Levinson. "So that may be why he also got on board very early, but it turned out that he also had a pre-existing relationship with OneKid OneWorld, and always does their annual Largo event. So it was serendipitous."
The two also rave about Neko Case, whom they contend might just be the most awesome person they've ever met in real life.
"Neko contributed a lot of lyrics to her song, 'These Aren't The Droids,'" says Joel Levinson, "because she wanted it to be come from her. She's just really cool, open to a lot of stuff, and has an incredible sense of humor. She doesn't take herself too seriously, and she and Kelly Hogan were very fun in the studio together. I think Neko and Kelly were more vested in their track, and the video, than anyone else."
STORY CONTINUES AFTER THE NEKO CASE VIDEO:
For an album so devoted to the history and dark future of America, why does it conclude with a song called "Canada – Up On Top Again"?   
"We love Canadians," says Joel Levinson, "so the idea was a bunch of pleasantly mannered Canadians insert themselves into the equation. We were kind of looking for the dumbest way for the album to end. I mean, after this long journey to convince the alien invaders that they shouldn't destroy America, the aliens say 'Nah, I'm not so impressed with you, you're not worth saving.' From there ,it was just a matter of writing a kind of 'We Are The World' for Canada."
Stephen Levinson adds that the big cast of Canadians included on that song, including Steven Page, Odds' Craig Northey, Samantha Bee (The Daily Show), Colbie Smulders, Alex Trebek, Will Arnett, and the Kids In The Hall's Mark McKinney, Bruce McCulloch and Scott Thompson, was also the album's biggest logistical nightmare.
"A lot of times on this album," says Levinson, "we feel like we bit off more than we could chew, but we just did it anyway. 'Canada – Up On Top Again' was one of 28 songs on the entire album, and yet this one song has around 12 people on it, each one recorded at a different time and at a different location."
Still, after a lot of hard work and good will, 2776 came together, for Kutner and the Levinsons, but most importantly for OneKid OneWorld. One of the things that all three of the team liked about Bycel's organization is that they are very small scale and specific in their choices of projects to invest in.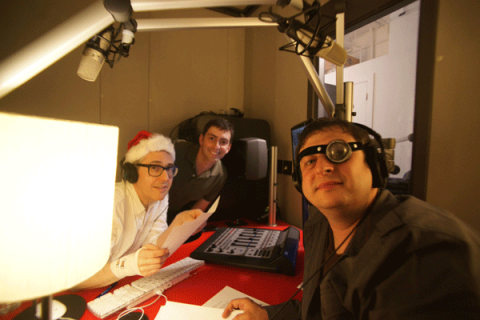 "When an individual is donating to them they get to pick a project," says Stephen Levinson, "so you have a choice about where your money is going and you can watch that project go to completion then follow the next project. Because you see the project you're funding, you feel like you have a more personal connection to where your money is going. Backers give money until that single project is done, so it's uniquely tangible.
"With the bigger charities, you might give money and you're not sure exactly where it's going to go or who it's going to help, or if the money is going to overhead. With OneKid One World there's minimal overhead, and it's the same with 2776. When you buy the album or the download, you can be sure that every penny of the money, after manufacturing costs, is going right to the charity."
Bycel believes his organization is the perfect fit for Kutner and Levinson brothers' madcap style of comedy fundraising.
"We have been very happy with our partnership with them," says Bycel. "I'm a TV comedy writer and producer so nothing makes me uncomfortable. We like to have fun and our messaging is pretty irreverent. I also happen to think the album is really damn funny; 2776 has been great."
Fancy that, a zombie apocalypse that actually helps the living.
PEACEMINUSONE x Nike nike zoom air insoles for shoes amazon "Para-Noise 2.0"