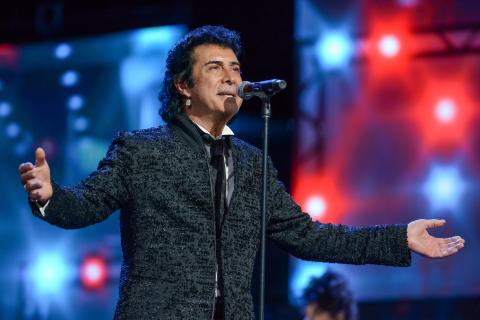 Andy Kim has put on his eponymous Christmas Special in Toronto for 15 years with dozens of notable guest singers, but tonight (Dec. 19) the "Rock Me Gently/Sugar Sugar" singer/songwriter will see a dream realized: his 16th annual charity concert televised.
Pre-taped at the El Mocambo — with some of the artists who were not in town submitting their own segments — the Andy Kim Christmas Special — presented by Live Nation and Air Miles — will debut nationwide on Citytv and stream on Citytv.com and LiveNation.com tonight (Dec. 19) at 8 p.m. EST. Due to COVID-19 restrictions, there was no live audience.
UPDATE: The special will re-air Thursday, Dec. 24 at 9 p.m. EST on Citytv and Citytv.com
In recent years, Kim, who has sold more than 30 million records and been inducted into the Canadian Music Hall Of Fame and Canada's Walk Of Fame, has raised funds for Gifts of Light — a program at the the Centre for Addiction and Mental Health (CAMH) to provide presents for the patients often alone during the holidays — and this year he has added two more charities, Live Nation's Crew Nation, to help those in the concert touring business whose livelihood has been decimated by COVID-19; and Food Banks Canada, which provides help for Canadians living with food insecurity. The final tally will be distributed equally between all three charity organizations.
During the two-hour broadcast — hosted by Sportsnet host and Joydrop singer Tara Slone and Cityline host Tracy Moore — viewers will also be encouraged to donate through Donate.AndyKimMusic.com. CanadaHelps will process the payments and provide charitable tax receipts. People can also donate their Air Miles to Food Banks Canada, via airmiles.ca/AndyKim
The Montreal-born Kim, who in pre-COVID times caps the Andy Kim Christmas Special with an ensemble group singing his enduring hit "Sugar, Sugar," recruited Barenaked Ladies, Broken Social Scene, Buffy Sainte-Marie, City and Colour, Glass Tiger and Roch Voisine, Jully Black, Ron Sexsmith, Kardinal Offishall, Sam Roberts, Sarah McLachlan, Serena Ryder and William Prince for the 16th edition.
Samaritanmag spoke to Kim about how he's faring during the pandemic, if he thought he'd have to skip this year's Christmas concert and if he will settle in tonight to watch himself.
The show is finally being televised. I know that that was something you've wanted to do for a long time. Who knew it would happen because of a life-threatening pandemic.
It's affected everybody. It's one of the hardest things to grasp or one of the saddest things in all our collective lives.
How have you been?
Well, I'm ready when God calls, to be honest with you. It's been an incredible ride and I have so many people along the way that have propped me up, that have helped me. This was not a solitary journey. Some of them are still with us, some of them are not with us.  So I'm good. And as far as being healthy, I feel like I'm still 20. I'm one of those people that I listen and I stand in line with all of those that are wearing masks that are taking care of themselves. I have no issues with any of that. I just think that this was something that no one was prepared for. I don't look at blame. Get the information when you get it and if it changes, it changes.
Have you learned any new skills?
I started off by understanding that my routine has always been — unless I'm on the road — you get up, you make coffee, you have a cup of coffee, you get your guitar out, you play anything that comes to your head. If anything happens, you can go to the piano. And if God's angels were not there that moment, I let it go. I've caught up on a lot of reading, a lot of internal things that see me not just living one day at a time, but also understanding that I have a life that I've lived, stopped going to the gym because I had to, but I have all that other stuff available to me. It's been difficult to adjust to, to be honest, because I can still do what I want to do, but it's difficult because you feel the anxiety in the air. I've been feeling from the get-go that this was going to take a long time. And you get into places where you're not comfortable with how you're feeling at the moment, but you have to learn to work through it. And I always pray. It's the first thing I do in the morning, first thing I do at night, but I've found afternoon and mid-afternoon prayers too, not necessarily for me, but for those that I know that are suffering. As artists, we get a little bit of a pass. I mean, six weeks in Australia disappeared, festivals disappeared, everything disappeared. But when you think about it, people that are the techs [also lost their gigs]; it's one of the reasons why I was excited about having Crew Nation on board.
When do you normally start reaching out to performers for the Christmas show? Do you start in the summertime?
No. The interesting thing is that that's been the most difficult part of the past 15 years because everyone's on tour and they don't know if they're available for a certain day, if they're available for a rehearsal, can they do it? Can they come the day of? Nobody wants to commit. So if you talk about an anxiety [laughs], I come out in October and say, 'Hey, I'm doing the Andy Kim Christmas.'
Right, your first press release only announces the show, but no artists.
I have no artists when it comes out. And then, yes, I will have my phone call with my buddy Ron Sexsmith, who says yes. He's usually around at this time. And go from there.
Now they can't give you an excuse they're going to be on tour. 'No, you're not; you're sitting around in your pajamas in your living room.'
Well, a lot of artists are doing the virtual shows so the artists are reaching out to their fans because they can't be with their fans. When I think about the people that said yes, it's been incredible from the Barenaked Ladies to Sarah to Buffy to Dallas/City and Colour to Broken Social Scene. Usually, it's people who are already really, really busy. It  just seems like this time everybody wanted to say hello and help.
Well, you have such a great reputation for doing this each year and people love it. It's such a good time and you raise a lot of money but it does sell out [at Queen Elizabeth Theatre], so it's reach is limited. With it being televised nationally and online, you have the potential to raise so much more money and reach so many more people. Did you ever think you weren't doing it this year and when did this idea come together to televise it?
I kept in touch with Bruno [Sinopoli] at the Queen Elizabeth Theatre. I started in September. It cannot be a full house, but we don't know what the next little while brings. And so I had a date reserved, which was December 2nd, but the more I thought about it, the more I realized it's probably not going to be doable with distancing. So I woke up one morning at like three o'clock and I had what I thought was a brilliant idea. So I waited for the sun to come up and I called Riley O'Connor, chair of Live Nation, and I said, 'I have an idea.' And he said, 'Okay, what is it?' So I told him. He says, 'I'll get back to you.' Three days later, I'm on the phone with Riley and Joey Scoleri [Live Nation's head of industry relations], and it's like I think we have someone that's interested in putting this together.
Were you aware of the Budweiser Stage At Home televised series they did over the summer?
No, I was not aware of any of that stuff.  For me, initially what I thought, what I told Riley, was an Andy Kim Music Telethon, like Jerry Lewis. So I would have some of the artists on the phones and you want to talk to them for two minutes, it would cost someone a donation. And then I realized that you can't even do that [because of COVID-19]. And so because of Riley and Joey, I was able to move forward with Rogers and MLSE [Maple Leaf Sports & Entertainment] and just knowing Air Miles was there to present, this is beyond anything I had ever imagined.
You probably had to do more preparation because it's a pre-recorded TV show versus the spontaneity that happens at your show normally, even though everything is scheduled.
First of all, there's been so much generosity coming our way from everybody.  It's almost like everybody felt the importance of this time. I don't pretend to be a guy that knows how television runs. I've done TV. You walk in, you do your song, you're gone. So there was a Zoom call with a lot of people. I told everybody, 'Look, I've done this for 15 years. My tickets at the beginning were $25. This is not a vanity project.' I grew up in the tenements of Montreal. So I'm always thinking about the people that are on the street cars, the buses, and subways waiting in line, rain, snow, or shine, and to be able to have that audience come to a show and see Broken Social Scene and Barenaked Ladies and Sam Roberts and Billy Talent, and on and on, for 25 bucks, was the deal for me at the beginning. And then about three or fours years after that, I wanted to take my name off it and re-christen it something because, if you know me well enough, I'm part of a bigger picture than my name.  I wanted it always to be about what we're doing, and why we care, and mental health and children, and basically the people that are invisible at this time of year. I was told that we had started something, so my name needed to be on it. And so here I am, my name is on it, but it's always about the purpose.
So no audience, but it was shot at the El Mocambo.
Yes. What happened is that Live Nation and everybody was able to have the people that were in town go to the ElMo. Everything was so COVID-related, getting COVID tests, distancing artists, and having a couple of hours to do what they needed to do, and then there was a two-hour break to clean everything. The important thing for all of us was to make sure that the message was sent knowing that all of us understood the conditions we were in, all of us understood that we are donating our time to something bigger than having an audience in front of us.  It is strange when you don't have an audience in front of you, but you do the best you can because these are difficult times.
And I sense it everywhere, whether you're taking a walk somewhere or driving around, you feel it in the air. It's not our best time, but I think that we will come through this and move on.  I really believe in the human spirit. A couple of musician friends of mine have had parents, who were not well to begin with, get COVID and pass on and not able to see them. I mean, you cry for days. It's not an easy time [starts choking up]. So for everyone to come together like this, and take the time to make sure that we do this right, we care about each other and we try to be an example.
You talked about Crew Nation, a new charity set up by Live Nation to help the thousands of people who have lost their jobs during COVID, but Gifts of Light is also a beneficially and has been of your Christmas show for many years.
It goes without saying, for me, that mental health has always been part of what we're doing. Giving is part of mental health; receiving as part of mental health. Gifts of Light has been something that I've been very close to. I remember the first time I went to CAMH and there was the opportunity to see what they were doing. And I think it was in the embryotic stage to what it is now. It's incredible, it really is. Donna Slaight [chair of the Gifts of Light Committee] has done such an incredible job helping.  Initially, we talked about it and she said, 'Why don't you come down? I'd like you to meet people.' And it was a wonderful lesson in what she is doing and her dedication to it.
Potentially, this could mean that subsequent years of the Andy Kim Christmas Special could be televised too. Maybe you're setting a precedent now and this will be an annual Christmas tradition that the whole country can watch.
We all have our wishlist. This would be a wonderful opportunity to do it next year in front of a live audience. That would be my wish. You can see and feel the emotion of appreciation from all of us that we were able to do this. From everybody there, everybody that helped, from Rogers, MLSE, Live Nation, just everyone because we are all feeling the hurt. We've come together to hopefully have a moment of music and joy.
For the first time, are you going to get to sit back and watch the Andy Kim Christmas Special, settle in at home with your popcorn?
You know, I did the Letterman show a few years back just before he retired and I've not watched it. I remember [growing up] sitting on the living room couch with my kid brother, holding his hand, watching American Bandstand and telling him 'I'm going to be there one day. I'm going to do it' and he was encouraging me, yet I didn't know anyone. I didn't even know how to get to New York city, but that was a vision that I had. I ended up doing The Dick Clark Show eight times, never watched.  Letterman [2015], never watched. If my brothers tell me to watch, I'll watch the re-broadcast.
If Kim wants to finally watch himself on Letterman and clips from the 70s, they are posted below: