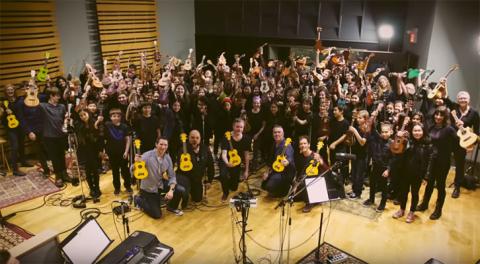 Seeking a way to ensure her own children had some sort of music education within their elementary schools in the city of Toronto, Juno Award-winning singer/songwriter Melanie Doane pioneered the Doane Uschool program to help make music education accessible to children, regardless of their financial circumstances.
Starting modestly with one class of eight students, she used the Doane Method (developed by her father) utilizing the affordable and easy-to-play ukulele as its foundational instrument to create a program that has grown from one class in one school to more than 900 children representing 55 classes each week.
Lessons are conducted within school buildings, but outside of regular school hours. The program is also designed to allow children to progress to higher levels of difficulty as their skills improve, giving them added incentive to practice. Both Doane's father and world-class ukulele player James Hill act as advisors to the program.
For a number of years Doane was the only teacher, though she has a group of exceptional teachers, some of whom are professional musicians who have learned how to teach, others are experienced educators who have adapted the ukulele-based curriculum to their teaching skill set. All of them share Doane's fundamental belief in the importance of kids learning music, regardless of whether they become professional musicians or not down the road.
The Doane Uschool is a registered charitable organization operated by a board of directors, with an advisory board that includes the likes of Jim Creeggan of the Barenaked Ladies, CBC host Gill Deacon, Warner Music Canada vice-president Steve Coady and University of Toronto music professor Dr. Bina John, among others.
Samaritanmag spoke to Doane about the school.
Why is it important for kids to learn music? What are the benefits, from your point of view?
The parents know it, from what I can tell all the schools know it too, and the principals know it: everyone realizes music is important. I don't even have to sell people on this fact because I think we all have heard and experienced the research. But so many other things, especially funding and personnel stuff within the school boards, get in the way.
People forget how important it is to have the weight of the school and the principal and the parents all saying, "we want this and it's important to us." That helps kids know that music is a priority and that helps this program flourish. The schools love us because we offer consistency in program delivery from year to year, whereas they never know their funding or teacher allocations from one year to the next. And by offering different levels to the program, it rewards the kids as they get better. Their brains are nourished by the experience and by the challenge.
And, honestly, my main point is how great it is just to learn music, just by itself? I mean, how great is that? Kids are thrilled when they are learning something and there is nothing more satisfying that being able to play music. And it's something you have for the rest of your life. You never outgrow music. It's so empowering to have these kids go on the stage and do something that is actually entertaining to the audience. The kids know that they are giving something that is entertaining because we're teaching how to present something entertaining. It's really exciting to have those moments with the kids, and they will take those experiences with them through life. I maintain that learning music for music's sake is well worth every effort and all the rest of it is gravy — and there's a lot of it.
The teaching philosophy and methodology infusing the Uschool program was developed by your dad, J. Chalmers Doane. Tell me about the Doane Method and why he chose the ukulele as the primary instrument to deliver the program?
My dad was the supervisor of music for Halifax city schools, my hometown. He was very influential on our whole city, especially for anyone who was involved in music. This was the 1960s and 1970s and even into the 1980s, and there really were no music teachers or band programs, symphony programs or choral programs in the schools until he started them when he moved there in 1968.
It was a celebrated way of doing things and was studied all over the place. One of his innovations, beyond just making music compulsory in elementary schools and developing string and woodwind programs, was he came up with the idea that the ukulele was an incredible vehicle for delivering education. He first implemented it within the school board and then he travelled the country to help introduce it in other communities and school boards. People quickly came to understand that it was more than just fun, that kids learn a few chords.
The main idea was that it's going to be fun and affordable and kids are attracted to the instrument, but you can also deliver the curriculum with it. We can give them everything you can do with a wind instrument and everything you do in a string program you can do with a ukulele program. So, my dad developed all that material and published it and created this method that is still being used today and which is the foundation of the program I started here in Toronto 10 years ago.
How do you keep the program affordable for kids and their families?
We have three types of subsidies. Number one, all of our students receive a subsidy. They either pay a low fee or no fee. Second, some city neighbourhoods are more financially challenged than others and through consultation with the principals in each school/neighbourhood we are in, we receive recommendation for what is a reasonable subsidized fee for families to pay for 30 weeks of classes. The highest being $8 per week and the lowest being $0 per week. Usually a whole school is sponsored at the same rate (whole school at low fee or whole school at no fee). And third, within a school that pays a low rate, there are still individual students who cannot pay any fee and we subsidize them 100 per cent based on a recommendation from the principal/parent council. It is a discreet process and no tax returns or accounting is required. It is our experience that our principals know their community very well and we work with them to reach the children who need the most help.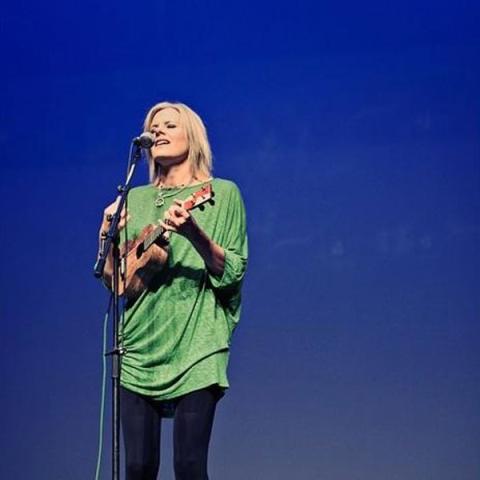 It is worth mentioning that all our students own their own instruments and we have had best results when families purchase them, but the purchase price is also subsidized so it can be as low as $1. Pride of ownership is important for the success of the program and owning an instrument is a very special experience. It also promotes home practice and a life long love of music. Our students love, love, love having their very own instruments.
How do you actually get into the schools themselves? Do you have to approach the board or individual schools?
It's not a board thing, we deal one-on-one with principals. They work with me. I have a very close relationship with every principal that we are working with. We determine what kind of support is needed for that class in that school, and how we're going to get it. Sometimes the schools are involved in fundraising, but really that's Uschool's job. We find a way if a school wants us.
How did you recruit the other instructors for the program and what were you looking for as you were conducting your hiring process?
It's a really interesting process and different for almost every individual teacher. They are all professionals: most are professional musicians, but some are professional teachers who are music specialists but who maybe don't play this particular instrument. So, they train with me to be able to get their uke skills up.
We also have professional players like, say, a guitar player or bass player who isn't yet a professional teacher. My focus with them will be on the professional teaching part. We work on to the strengths of everyone and we train for a couple of years. They shadow in the classroom and do a couple of practice teaching sessions and learn what the method is. I mean, these are highly schooled people, some of who have been in the entertainment business for years – some have even been on Broadway (including Doane herself) – and they understand the discipline for performance, which is a big part of the program. So, I've really got a cool bunch of teachers.
With such rapid growth, has there actually been any challenges in keeping up with the demand for more Uschool classes, not only within Toronto schools, but elsewhere in Canada?
We've had such a great response to what we're doing, and that again goes back to my dad. It's a very solid program. What we're doing is the real stuff. The teachers are fantastic, and we make sure they are all well supported so that when we go in the kids are learning to really play music. And that's really what people are hearing about.
Parents, when they're excited, tell their friends, and we haven't had a problem with people finding out and wanting the program. Our main problem is we can't meet the need. We do some pretty cool things outside of the classroom, so people hear about it when we play at Luminato or hear about it if (former America's Got Talent winner) Grace VanderWaal comes to our school, or sees the video we did with the Barenaked Ladies. So our problem is not that people don't know about the program, our problem is I want to reach more kids.
Right now, we're training a whole bunch more teachers to try and keep up with demand.
If you are able to keep up with demand, where would you like to see the program expand to over the coming years?
Right now we're just in Scarborough and Etobicoke and then we have a pilot project in Nova Scotia. That's our test to see if we can do it based in Toronto and reach out across the country. We feel that we will be able to do that eventually.
Watch Doane Uschool feat. Barenaked Ladies - "Joy To The World (Jeremiah was a Bullfrog)"
adidas Yeezy 350