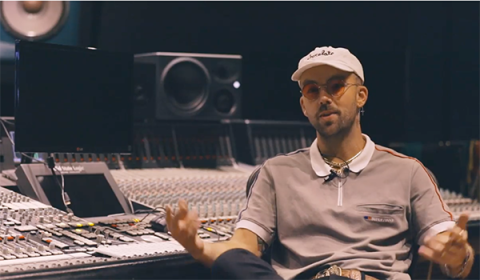 "Hey kids, stop bullying people" would not have been the most effective lyrical approach for Vancouver hip hop artist SonReal to take on a song in support of Telus's #EndBullying campaign for Anti-Bullying and Bullying Awareness Weeks (Nov 12 to 25).
Fortunatley, the 33-year-old rapper born Aaron Hoffman didn't have to compromise his art to work with such a large telecommunications corporation on an issue he finds important. "I've got thick skin but not as thick as they wanted," he begins "No More," drawing on his own experience, subjecting himself to public criticism each time he puts out a song or video.
"I ain't too cool to be affected by the hate in the comments / And now my problems gettin' big like Christopher Wallace / And I wanna fight back without resortin' to violence / Got a message from a girl, told me, 'Artists like you get me through a tough day when it's heavy at school'/ I replied, 'Don't you let up,' but replies mess my head up / Come to think about it, maybe I am just like you."
He's proud of "No More," recorded at Toronto's Metalworks with producers Pops and Trevor Muzzy, and feels it will be part of his live set for years to come. It's available on Spotify, Apple Music and all other streaming platforms, with a music video launching soon. A portion of the song profits will be donated by his label Black Box Recordings to the Telus Friendly Future Foundation to support the #EndBullying program.
TELUS will also give $1 to support #EndBullying programs with every Telus Wise Digital Pledge made at telus.com/endbullying. "#EndBullying builds on TELUS' long-term commitment to making the digital world a friendlier place," the press material states.
According to a report called Young Canadians' Experiences With Electronic Bullying, paid for by Telus, 42 percent of Canadian youth are affected by it monthly.
Samaritanmag spoke with SonReal about partnering with Telus, creating the song, his own experience with cyber-bullies and the biggest bully of them all — Donald Trump.
Why do you feel a connection with this issue?
To be honest, I've probably written like three or four songs about this, but never actually got one that was a strong enough for me to release to the world. Telus asked me to do this and I've been wanting to do this. I've been wanting to just talk about this subject. I've got nieces and nephews that are young. They're in elementary school and I just see the type of like life that they live now. It's a little bit different than when I was at school.  I think it's a lot harder now with the Internet and cyber-bullying being a real thing and I wanted to be a part of a part of this whole campaign and try and put an end to it. I want to be a part of this.
So you think it's got worse than when you were in school? Bullying has been going on since time — or school — began.
Yeah, it's been going on forever. Bullying is nothing new and you don't need an age bracket to even define bullying. Bullying happens to people of all ages. You can be any age and get bullied in the workplace or whatever. I'm just saying now I do think it is inflated. I do think that it is definitely a lot easier to speak your thoughts about somebody in a negative way without ever having to face them. Like if I wanted to say something negative about somebody when I was in elementary school, I had to go right up to them and I had to actually say it to them, and I think we live in kind of a faceless age where you can actually say stuff and really not suffer any consequences or anything and just go on.
A lot of the people that comment on my YouTube page, I get more love than I've ever had ever in my entire career. I've got bigger and things have moved forward for me more than ever. But I also get more hate than I've ever got. Lots of these people that are commenting on things in comments. So a 13-year-old girl or boy not really meaning what they're saying, but it's just funny for them to be able to do it, but they don't know that people actually listen to it.
As an artist, you're subjected to that a lot, whether it's someone like me reviewing your album or live show or someone criticizing what you look like, as you say in the song, you have to have a thick skin. Negative comments affect you at any age. How do you deal with that as a human being, reading shitty comments about yourself and what would you tell a young person about on how to handle that?
That's what this whole song is about and the whole #endbullying campaign. I'm a confident dude. I go out and I put myself out to the world. I become vulnerable in front of people all the time and they say things, but you know what? Everybody in the world cares what people think of them. They just do. That's just the way we're wired; we're wired to care, and I think that's a good thing. You should care. That's what makes people become better and that's what makes you speak up about things like this. But I wanted to shed some light on it because, to be honest, I just see a lot of people commenting on my posts, fans, and sending me messages, saying, "Look, I'm get bullied at school" or "Look, man, I was so depressed and your music that helped me get out of this" or "I was going through a really hard time with my family" or this or that.  Honestly, the only reason why I ever picked up a pen and wanting to write music anyway was to go change the world in any way I could, make people feel better. A lot of people out there feel alone right now in the world, a lot of people feel depressed. There's a lot of negativity going on and if I can shed a light on anything with my platform, using my voice, I want to be a part of that and I want to be able to do it in the best way and the biggest way possible.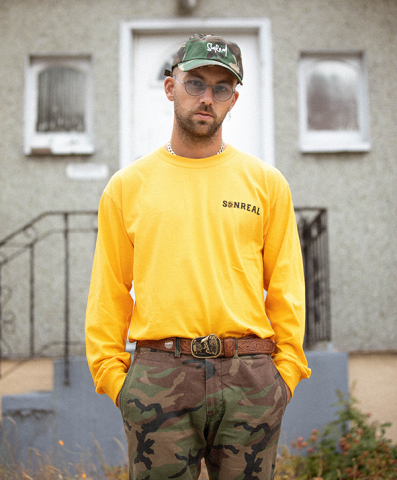 Anytime a huge corporation tries to make a difference, there's always a huge contingent of people that come down on them, saying they're just doing it for PR purposes, that they can't possibly care about this issue. But these companies are run by human beings with connections to causes from cancer to mental health — and bullying. What has your experience been like with Telus and how did they come to approach you to write the song?
I think that maybe they saw my music and saw the types of songs that I write and just thought I'd be a good fit for the bike. I do have to agree with you is that people at Telus, those are people, those are people that care about issues. They came through the studio when I was recording the song and started freaking out how good it was [laughs]. it's good to work with people that are passionate about a subject like this and people that are passionate about making a difference any way that they can.
Corporations often have restrictions on language. But you want to make a song that's cool, that your fans and young people aren't going to feel like you're preaching. How do you approach making a song about an issue without it sounding cheesy or trite?
That's a good question. Attacking a concept as a rapper that does urban music about bullying is like so hard. How do you even do that? Do I tell a story about some kid that got bullied and make it super graphic? How do you attack that? I was talking with my manager about it and he's like, "Man, why don't you write from your own place. Just write about how it affects you when people comment on your posts."  I think coming from that standpoint, I could write from a real place and from that standpoint it didn't come off cheesy and it didn't come off like anything contrived or like I was trying to do this big corporation-y song or anything like that because I wrote that song from a real place. We would have never put out the music if I didn't love it. It's honest through and through. I love the song; I love the concept; I love the partners that we chose to do it with. I love the whole thing behind it.
Anti-Bullying and Bullying Awareness Week ends on Nov. 25. But clearly this a year-long, a lifelong message. How will you be promoting the song afterwards? Will you be working it into your live set?
I promote that for the rest of my career. I've been promoting that from the start of my career. You can listen to songs from me from a year ago, songs like "Problems" that I had that were on the radio and are still on the radio. These songs are about mental health. My dad suffers from mental health. These songs are about world issues that I continue to keep doing it. And then as far as bullying goes, I'm going to probably perform "No More" for the rest of my career. When you have songs that are special to you, you sing them in front of thousands of people all the time. The song is out now and music lives forever and there's no telling how big something gets either. Even songs like [2013's] "Everywhere We Go" and  [2014's] "Can I Get A Witness," for me, went way crazier; they started picking up hugely a year after the song came out. Songs can live on for a long time. And just writing the song and performing it and continuing the conversation is what's going to keep the longevity for the subject and keep me saying it.
You mentioned before bullies come in all ages and I would add all statures because the United States has a leader who is probably the most bullying, juvenile human being in public right now.  There are kids out there going, "Well the President says that. He calls people so and sos," whatever rude nickname he has for certain people. How do you tackle that?
As far as the President, I'm Canadian.
I am too, but he's so far reaching and there are likely kids going, "Well, the President calls this person an ugly whatever."
Yeah. Oh, for sure. And there's also massive public figures that do that too, that have more followers than Donald Trump does on Instagram and Twitter. But as time goes on, and after slip up after slip up, less people are saying "But Donald Trump does this" because people are just starting to realize that so many things that guy says is just absolutely ridiculous. So people have their opinions. People are going to love people that people disagree with. The fact is there's people out there that love bullying. There's actually people out there that love that. I'm not promoting that; I'm promoting the opposite of that. And that's why I collaborated with Telus for the #endbullying campaign. Every single stream I get on this song for the whole duration of the song's roll out, I'm donating to the End Bullying Fund.  If you go to Telus.org/endbullying site, you can be a part of it. But, yeah, Donald Trump is a bully.
(Please support Samaritanmag's original journalism by making a PayPal contribution or EMT transfer using  info@samaritanmag.com so we can increase the amount of content and writers we hire. Samaritanmag is the anti-tabloid, covering good people trying to change bad things. Let's make this thing bigger than TMZ.)
30 Winter Outfit Ideas to Kill It in 2020 - Fashion Inspiration and Discovery