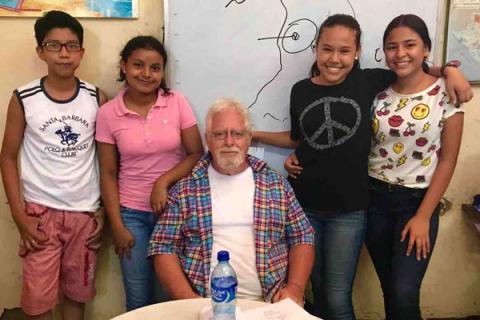 Veteran recording engineer/music producer Kevin Doyle's recent efforts could soon be helping a number of young people in Nicaragua learn English language skills and improve their lives.
Doyle, a "semi-retired" studio master, recently spent three months at the ABC School in Granada, Nicaragua helping teach English as a second language. Based on his experience there he launched a GoFundMe campaign on March 4 to help the school pay for supplies and much-needed building renovations.
With a formidable legacy as a recording engineer and producer, Doyle has worked with such greats as Hall & Oates and Anne Murray, won multiple Juno Awards and contributed to Grammy Award-winning projects by Glenn Gould. However, it's this humanitarian work that seems to motivate Doyle these days.
"It makes you feel great," says Doyle of helping others. And he should know. His fundraiser quickly achieved its financial goal of $3,500 (actually raising $3,750) and he's now starting to look into the best ways to get the money to the school.
Samaritanmag spoke to Doyle about his time in Nicaragua, what motivated him and the unlikely lifestyle differences that allowed him to work on KISS and Glenn Gould records at the same time.
Before I get started about Nicaragua, I wanted to ask, are you're the only person on the planet who has worked on both KISS records and Glenn Gould records?
That's a definite yes. Even at the same time, if you believe that. Glenn was nocturnal so I would work with him from 8 p.m. to 2 a.m. Ironically, I was working with Gene [Simmons] and Paul [Stanley] from KISS and those guys are teetotallers. They're normal people. They go to work at 10 in the morning and call for dinner at five, lead very, very normal lives, which is weird for mega-rock stars.
Could you explain what you were doing in Nicaragua?
When I semi-retired, I was teaching a bit, too. Two years ago I went to Mexico for a couple months to teach and it went well. This year I wanted to go somewhere where the people were more impoverished, where I could make a bigger impact. I once did this for three months in the '90s. I went to the Congo in Africa after the Rwandan massacres. This kind of reminded me of that — you go down and help where you can. I went down.
I don't know if you know about the political situation down there in Nicaragua, but it's pretty unstable right now. The elections weren't real and the government all of a sudden started cutting back money because the leader of the country, [Daniel] Ortega, has been siphoning off money and putting it in foreign banks. And now the IMF [International Monetary Fund] and all these foreign banks, have stopped sending them money. So when I got down there some of the schools are closed, a lot of the businesses were closed... There was me and another teacher from the States. There were supposed to be other teachers, but some people didn't want to come down because it was kind of dangerous. And when I got down there, I found out these kids were running out of school supplies.
I taught to mostly 8- to 14-year-olds and a couple adults. And taught them a bunch about English and small business. The tourism industry has the potential to do really good there once the situation is stable. English is the thoroughfare for success in Nicaragua because you need it for the hotel and travel industries.
How has the fundraising gone?
We're doing pretty good. We have $3,000, which is great. It'll keep the school going for another six months and they'll be able to get the printer fixed, the photocopy machine fixed and, hopefully, they'll be stable with the money coming in.
Could you give us some more details about what the money you raised will be used for?
It's going to go to the two classrooms they use. They're side-by-side and one of the classrooms is too small. Usually, if you want to be an effective teacher, you want them to work in small groups of three or four. Agood class size is around 12 to 14 students. Because there's not enough teachers and they don't make enough money, they squeeze 16, 17 people and it makes it harder to achieve their learning outcomes.
So there's one room right beside the existing classroom, there's no floor, it's missing a wall, but it's the perfect size. And I was talking to the owner and I said, "What would it cost to put in a concrete floor, another wall and a door frame and stuff like that?" He said it would cost a lot of money, and I said, "I think I can raise some money for you" and if you can do that you can probably get another couple classes a week to support yourself and the students will learn a lot better. They can do the construction for $1,500 and they can build it in about a week to 10 days because the labour down there they only make $3-4 an hour. You don't make much money, but the cost of living is really cheap. I think that would be a really great solution. It would be better for everyone, so that's what they're hoping for.
Also, just basic supplies like blackboards, marking boards... they have a photocopier but it's not great, but if you can use that photocopier you can probably teach them a lot more effectively that way and not just stress pronunciation all the time. The hotel business is going to probably grow once the country is stable and you're going to need workers who can work the front desk and do paperwork and have good writing skills and English language writing skills, not just English conversation skills.
Hopefully, I'm going to go back next year and reassess and keep in touch with them and hopefully things will be a lot better. I think they will once they deal with this dictator.
One last question: Why do this?
I didn't grow up in the best circumstances. My family was really, really poor. My parents suffered from mental health issues and I had to grow up in public housing, so I've lived on the other side of the street where odds are against you and it's so hard to achieve any success. I worked hard, but I got lucky and some of the records I worked on did very well. But I had other people in my path that gave me opportunities that I'll always be indebted to who took a chance, took a risk.  I know there's a lot of hunger from young people who want to improve their lives and there's just not enough people out there to guide them and assist them.
We're very much a self-centred society and people don't understand that when you do something like I do it makes you feel great because you feel like you've achieved and accomplished something. It's very selfish when you think about it. But I've seen the impact. When I went to the Congo in the '90s, I built a recording studio with some people there. They hooked up with a couple labels in England and eventually they started putting out their own records and started actually building this small successful business of global music and they're still going 20 years later. So if you create something and give them something they love doing it will just take care of itself, which is really how I see it.
I don't want to judge a lot of people in society today, but there are First World problems and there are Third World problems. My First World problems go away immediately when I go to Nicaragua. It puts everything in proper perspective. I think one of the best cures for self-centred depression is to go and do something altruistic. It'll go and get you out of yourself and focus on helping other people and you'll feel a whole lot better about yourself and a lot of that depression will just naturally leave. It's hard to focus on your own problems when you see other people who are worse off who can use your assistance. It keeps me grounded for sure.
Watch a video of Doyle at ABC School
(Please support Samaritanmag's original journalism by making a PayPal contribution or EMT transfer using  info@samaritanmag.com so we can increase the amount of content and writers we hire. Samaritanmag is the anti-tabloid, covering good people trying to change bad things. Let's make this thing bigger than TMZ.)
NASA x adidas Ultra 4D Silver