Erin McDonald and Kat Rose are on a roll now with The Karma Box Co., a Canadian lifestyle subscription box filled with goodies that are sustainably sourced, vegan or vegetarian, cruelty and chemical free. The box is typically valued at three times the asking price and the bonus is each sale benefits a charity.
To date, The Karma Box Co. has donated a portion of its proceeds to Zoological Wildlife Foundation, Daily Bread Food Bank, Oceana, Canadian Women's Foundation, Meaghan's Walk, Canadian Breast Cancer Foundation, and this season: The Nature Conservancy.
The pricing has changed since the company first started in early 2018, increasing by $10 to $79.95 per box and there is no discount for a yearly subscription — but this is in Canadian dollars (about $60 USD). They ship to Canada and the U.S. free of charge, and no longer to the U.K.  
"Each season discover a mix of six to eight full-sized, hand-picked, natural beauty brands, current fashion must-haves, fitness essentials, health- conscious eats and swoon worthy home décor," it reads on the web site.
There was recently an "unboxing" or "reveal," as it's termed, for the winter box: in other words a spoiler alert.  The products McDonald and Rose selected are Anti Blue Light Glasses by Shades Club; a large cozy scarf from their own brand The Karma Co.; All Natural Germ Away Mist by Graydon Skincare; Turmeric Paste for cooking by Naledo Truly Tumeric; a soy candle "that is the perfect blend of gingerbread houses and elves on shelves" by Arrow it Forward; Lash & Brow Growth Serum by La Bloom Beauty; a tall Beasties mug by Danica; and a four-pack of holiday cards designed by The Karma Co.  The total value is more than $250.
Samaritanmag spoke with McDonald about the winter box, minor changes to the business, and dealing with the charities.
Have you made any adjustments to the business since Samaritanmag last interviewed you?
We've changed our boxes now.  We're just going to be using the box our fall products came in, the one with the different women on it. Kat's boyfriend is a tattoo artist. He hand drew all the individual women showing more diversity.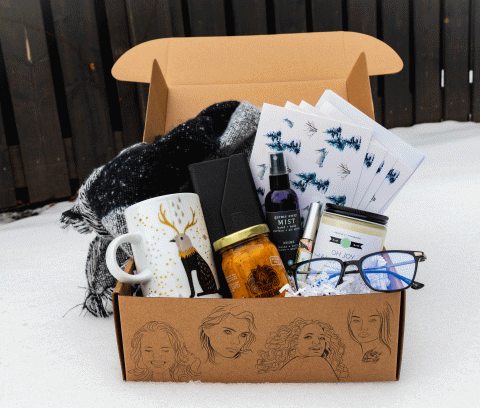 This will be your box every season?
Yes, we're going to keep the same box for now. It speaks to our brand more. There was some confusion whether the box could have been recycled and it went against our brand and the impact on the environment. So we decided it was best to go for one.
The information on the underside of box about the cause is generic. It doesn't specify which charity.
We wanted to do that so we could continue to use the same box. We're not worrying about any waste because if you order a thousand boxes and you only sell like 900, the rest are going to waste. And we realized that the hard way. This isn't on brand or what we believe in or stand for. So if we go with one generic box, then on the postcards we include we're putting the information about what charity or cause we're donating to.
Why did you choose Nature Conservancy this time?
We chose the Nature Conservancy because it encompasses a lot of what we care about — protecting the waters, lands, animals and their habitats and the organization itself has a great reputation.
You were contemplating picking one charity from here on in. What did you decide?
We've actually decided that we are going to continue to pick new charities and causes each season. There are just far too many to only pick one. When we grow as a business we want the dollar amount to make a bigger impact on as many people, animals, lands, oceans, etcetera, as possible. 
How do you determine what percentage you're going to give to these charities and what time frame do you donate? Is it at the end of the season when you've sold as many as you're going to sell and then tally it up?
A dollar per box goes to the charity. We wait until we start to promote the new box so we know exactly how many boxes we've sold.
Do you get in touch with the charity beforehand?
Yes.  We reach out to them beforehand and just let them know who we want to be collaborating with and donating to for that season. We get permission first for sure.
Is that just protocol? Anyone can just give someone a cheque or is it because you're actually putting the charity on the postcard?
I want to get permission first before I use anyone's logo or branding, I just want to make sure that they're okay with it too.
With all the charities so far that you've researched and donated to, do either of you get more involved after writing a cheque? Do you feel something tugging at you like, "This is the one I'm going to keep supporting privately or together"?
I've always supported the Breast Cancer Foundation. I've done the women's walk and participated in their events numerous times. I would say Meagan's Walk is really close to Kat because she knew her personally.  It's for children with brain cancer and brain tumors. They do Meagan's Walk every spring and they make a circle of hope around SickKids Hospital — everyone joins hands around the hospital after the walk.
Are you getting feedback from your subscribers such as personal stories connected to the charity or discovering and getting involved with the charity through the Karma Box?
We had one of the spokespeople for the Breast Cancer Foundation.  She's a cancer survivor herself. We delivered a box for her. It was really nice, just to meet her in person and see how positive and upbeat she was. She's an amazing warrior.
What do you do with leftover product? Do you distribute to shelters or anything like that?
So far we've been good; we haven't had a lot of leftover products. Except fall, we do have a couple, but I haven't thought about that yet, but that is a good idea.
(Please support Samaritanmag's original journalism by making a PayPal contribution or EMT transfer using  info@samaritanmag.com so we can increase the amount of content and writers we hire. Samaritanmag is the anti-tabloid, covering good people trying to change bad things. Let's make this thing bigger than TMZ.)
Air Max 270 Men