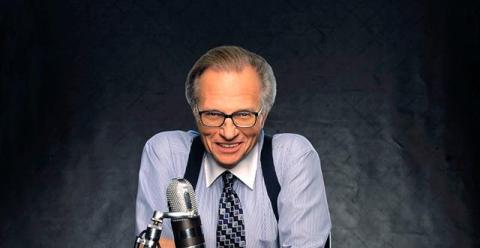 NB. This interview for Samaritanmag first ran in March 2014, and has been republished following his death Jan. 23, 2021 after being admitted to Cedars-Sinai Medical Center in Los Angeles with coronavirus. He was 87.
In the years since the interview was conducted, King had a cancerous tumour removed from his lung in 2017, and an angioplasty and stents inserted in 2019. Later that year, he had a stroke.
The Larry King Cardiac Foundation doesn't appear to be operational (we will amend this, if we hear back from our email). The statistics on the "heart disease facts" page still reference 2001, 2002 and 2006, but there were a handful of blog posts in 2018, only two in 2019 (all by an Amelia Hunter), and none since. There is no mention of his passing.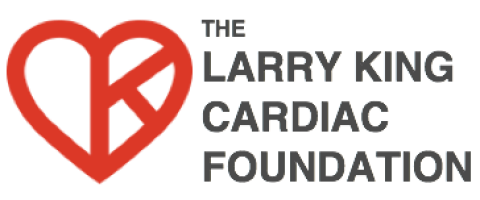 The following is our interview in full from 2014:
Renowned talk show host Larry King — whose Larry King Nowairs four nights a week on Hulu and RT America and CITS in Canada, and Politicking with Larry King on Thursday evenings on RT America (available in Canada) — has not slowed down. At 80-years-old, the Los Angeles-based media personality still works every weekday, doing what he does best: interviewing the most famous and interesting minds around. But he is equally dedicated and passionate about his Larry King Cardiac Foundation.
King suffered a heart attack on Feb. 24, 1987, and five months later underwent quintuple bypass surgery. In 1988, he launched the Larry King Cardiac Foundation to help facilitate life-saving treatment for individuals who, due to limited means or no insurance, would otherwise be unable to receive care. The following year he released the book Mr. King, You're Having A Heart Attack: How A Heart Attack and Bypass Surgery Changed My Life.
In 2004, he put out another book, Taking On Heart Disease: Famous Personalities Recall How They Triumphed Over the Nation's #1 Killer and How You Can, Too, featuring candid interviews with Walter Kronkite, Regis Philbin, Kate Jackson, Mike Wallace, Brian Littrell and others.  In 2010, King had more heart troubles and underwent a quick stent procedure in his coronary artery to push the plaque away from the vessel wall and restore blood flow.
According to the Centers for Disease Control and Prevention, heart disease is the leading cause of death for both men and women in America. About 600,000 people die of heart disease every year — that's 1 in every 4 deaths. (Go here for Canadian statistics: The Heart and Stroke Foundation of Canada). Over the past 26 years, The Larry King Cardiac Foundation — in addition to alleviating the financial stress for patients — began to implement ideas to address the root cause of cardiac conditions, expanding its mandate to include education about heart disease, stress reduction and nutrition.
The web site includes such sections as prevention (inc. sub-sections on heart healthy habits and spotlight on women) and resources (inc. sub-sections on heart disease facts, patient eligibility and patient resources).  The latest audited financial statements on the Foundation show 78 percent of total expenses are spent on their programs, 12 percent on administrative expenses and 10 percent in fundraising.
King spoke with Samaritanmag about his original health scare, how he changed his lifestyle, the launch and mandate of his Larry King Cardiac Foundation, and the future focus of the organization.
Before you landed in the hospital back in 1987 for quintuple bypass heart surgery was heart disease your No. 1 cause? If not, what was?
I had no number one cause. I contributed to many charities, I spoke for many charities. I never concentrated on one. I was a smoker — a three pack a day smoker.  I had had warnings. Doctors told me to stop, but I never stopped. I liked smoking – I didn't cough much, and never really had major problems with it. And, you know, when the television came on and said, 'Stop smoking,' I'd change the channel. I just was like millions of others. I didn't pay much attention to it.
Was that your first major lifestyle change after this happened? You quit smoking? Or were there other things you did too?
The day of the heart attack it was really a shock to me that I had a heart attack. It was February of '87 and when the doctor said, 'You're having a heart attack, I was in the hospital for four, five days, went home, never smoked again, never picked up a cigarette, never thought of picking up a cigarette.  My psychologist friends tell me I was just scared to death. Never smoked again. I sure changed. I lost weight. I started concentrating on what I ate and taking better care of myself.  I didn't drink. I didn't run around.  But I didn't take care of what I ate. Health should've been a priority concern of mine and it wasn't. But after that event, and then seven months later subsequently having quintuple bypass, that really, you know….But I had stopped smoking the day of the heart attack, never smoked again. That was 1987, so it's 26 years.
I'm in Canada and we have great health care…
That's what bothered me the most. After I had the surgery, I was sitting around with friends and someone asked, 'What did this cost you?'  And I had no idea because insurance had paid it. And it really bugged me that we were the only industrial nation in the world without a healthcare plan, and I thought that was a travesty, a black mark on America. And we just had to pass one, finally, a couple years ago and it just went into effect. But for all these years, we [the Larry King Cardiac Foundation] have been helping people who couldn't afford it. We would get them bypass surgery, various procedures, pharmaceuticals, as long as they weren't insured. And we dealt with many hospitals. The first person we got a heart for — we got surgery for — was a football coach in Maryland. He had a baby after that and named him Larry. And then we'd have galas every year. Top major stars would come, and we'd do two a year – one in Washington; one in L.A. Raised a lot of money. Very active Foundation.
Can you put it into perspective the kind of money needed and bills that do get racked up?
It takes about a million to two a year. Bills can be varied — $8000; $46,000. Prices kept going up on things in health care; that's another thing the cost became immense. We'd bargain, you know. The people who worked on our staff would bargain with hospitals and doctors. We'd help people out in the country. We helped a lot of young children. One of our proudest things that we help kids.
My niece when she was two had surgery for a hole in her heart. So you help all ages?
Yep, we've treated people with holes in the heart. I think we've dealt with every kind of procedure, including getting someone a new heart. But this year we're going to change the mission a little and focus a lot on women's heart. One of the things about the heart is that more women have heart attacks than breast cancer. And it's a male word, the word 'heart attack.' If I told you someone was having a heart attack, you'd think it's a man. But women have a lot of it.
On your website, there is a "spotlight on women" and you hooked up with another organization, Sister To Sister Foundation.
Yeah [and] we're working with Streisand's organization – she has a wonderful organization dealing with heart [Barbra Streisand Women's Heart Center]. And I've done interviews with Barbra and done a lot with her in that area. It didn't affect her personally; she just got so upset when she learned about women and heart attacks. She got very involved. We work with Cedars-Sinai hospital here. We're going to do a big gala in the fall. But we're going to be a lot more informational because a lot of people are now covered, thank God.  We're a little late in the game, you know, by maybe 80 years.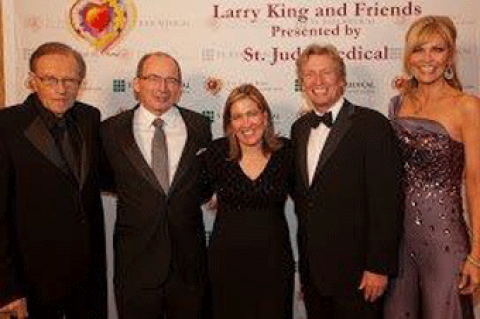 So over these 26 year since launching the Cardiac Foundation, what has changed? It's not like cancer, MS, AIDS and Alzheimer's where they are searching for a cure; is this really up to the individual to live right?
What's changed more is awareness. We were one of the highest smoking countries in the world; we are now the lowest. We're the lowest smoking country in the world, which is a fantastic thing, and C. Everett Koop [the Late American pediatric surgeon and Surgeon General], and those who pioneered that, deserve a great deal of credit. So we changed lifestyle up. People are more aware of calorie intake and fatty foods, and people like Michelle Obama and others concentrating on children. It's been a largely major educational push.
Plus, a lot of well-known people have had heart attacks. I've been working more on preventatives than cures. My cardiologist said what they're going to discover one day is a splice in the genes. That is, you'll have the gene for heart attack, and they will literally splice it out. Bill Clinton told me that he thinks that. I have two children, 15 and 14; they both will live well past 100. They're going to cure disease. The big problem is going to be: What are you going to do with this ageing population? Plus, 65 is now a ridiculous retirement age. So that's changed.
As technology has changed, as information has changed, we've become much more aware. I mean no adult would start smoking today. You'd agree with that?  No person over 20 would say, 'Well, I think I'll smoke.' Okay, so now the information has to be dealt to women, girls. Young girls are smoking more than young boys. I don't know the reason for that, but I know the statistic is true. You've got to put emphasis on that and to make women aware that they can get it [heart disease]. You know, doctors used to treat women, they would come in with pain in their chest and doctors would think it was indigestion and send them home.
Because the symptoms for men and women are different?
In some cases different; in some cases not. But there's still pain – there's pain in the chest. I had doctors tell me they didn't do electrocardiograms 25 years ago on women. It's ridiculous. And now, I think, the main thing is we know so much more and people are more aware. Heart attack, heart disease, you can't do anything about the genes, but you can do a lot about prevention.
That is how your Foundation expanded, this educational element? Do you do workshops and mail-outs and that kind of thing?
That, and we do testing. We go around and we're at a hospital where people can come and get free cholesterol tests. We have educational programs. We're not a super big charity, you know. We're not a major charity size; we're modest. We can't be compared to the American Heart Association. We'd like to work with people like that. The American Heart Association is a very important group. It's very influential. They've done a lot of great work. But in our small way, what we did was help people. And every year at our gala we'd invite people that we helped. In fact in our whole history of 26 years, only one patient ever died.
That's great. You mentioned earlier the gentleman who named his son after you. Tell me some other examples of people you've met who have been helped by your Foundation.
Well, I'll give you one story. We flew a kid in from Afghanistan [7-year-old Mohammed Umer in 2006]. The Pentagon called us and said, 'Listen, there's this kid and he needs open heart surgery, and there's no doctor in Afghanistan who can do it.' And we learned about it from one of the men in the army there, about this kid. 'We'll fly him in, if you'll do the surgery.' So the Pentagon flew the kid in; we did the surgery. I visited the kid in the hospital in Washington. His parents were there; they couldn't speak English. They were just crying and thankful that we saved a life.
The biggest thrill I get is when we tell people that, over the years, that we're going to do their surgery. Because I make the call, or my wife [Shawn] makes the call, to say, 'I know you've applied for this and we've decided, with the doctors, whatever the procedure is, we're gonna do it.' And then we a lot of the times we visited patients after they've had the surgery. And it's just nice to hear people say thanks. It's the best thing I do, that I've done. There's nothing like helping someone.