Social circuses are a growing international movement. Circus arts from trapeze to juggling are taught to those who have high-risk needs such as homelessness, HIV, mental health issues or have suffered abuse. The most well known troupe is Cirque du Soleil's Cirque du Monde, which holds circus workshops for youth-at-risk. In Toronto, Look Up Theatre's Talk To Youth Lately (TTYL) is a troupe that deals with mental health issues.
This year's Minds Matter Cabaret Fundraiser Theatre — featuring dance, aerial circus, juggling and more — takes place at Collective Space May 23 and 24 and all funds go towards building a new mental health circus show for colleges and universities in Ontario.
The Talk To Youth Lately troupe is very open about sharing their stories to educate the public.  "When we get into creation and writing process, that's when the nitty gritty of people's stories come out," co-founder and artistic director Angola Murdoch tells Samaritanmag. "Right now, we're writing some scenes about bipolar disorder and we have a lot of people saying, 'I remember when I was in that state and this is what I did.' The group is very accepting, so right away people feel really comfortable."
Murdoch and Emily Collette, who worked together at Family Outreach and Response (FOR) and are both circus artists, came up with the idea for Talk To Youth Lately in 2008 and received arts funding for it in 2010. Initially, there were 10 youth in the troupe and together they brainstormed to write the show together.
"The next year we got some funding from the Ministry of Health Promotion and that allowed us to bring it to some high schools," says Murdoch. "That was a two-year grant and that brought us to the beginning of this year. With the Ministry of Health Promotion, it allowed us to bring the show to 10 schools in the Toronto District School Board [TDSB}.
"This year, the TDSB thought our show was really needed so they gave us some funding to bring it to 20 schools. This school season we did 18 shows.   Each year-end, we have a fundraising show to help fund the program and to allow the youth to do their aerial acts. We can't always bring the aerial act into schools, but we are bringing it into two high schools in May. And we've got [additional] funding from the Echo Foundation of Montreal and that's allowing us to keep the aerial going in the schools."
The troupe members — ages 16 to 29 — are recruited from FOR, a government funded agency which helps families deal with relatives that have mental health issues. The Centre for Addiction and Mental Health (CAMH) also refer patients to FOR to then get referred to Talk To Youth Lately as troupe members. Angola says all troupe members are paid for their training and performances.
The youth are taught various circus skills. Murdoch herself is an aerial artist specializing in the trapeze and silks. She has trained at the National Circus School in Montreal and performed internationally.   Other circus artists specializing in juggling, clowning, hand-balancing (handstands and pyramids), improvisers, and drama therapists teach as well.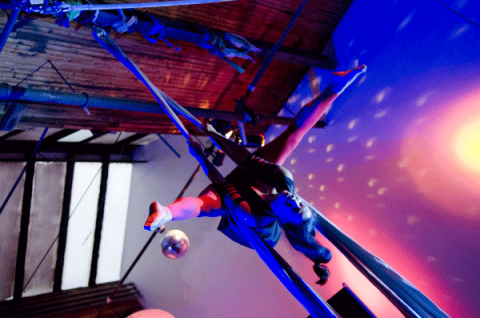 "The program itself is two-fold," Murdoch says. "We have one aspect where the youth come here every Tuesday and we have one show every week, sometimes two. There's the support of people who understand the mental health world. They can talk about how they had hardships with their parents, teachers or their friends or they can share ideas of how they have taken steps in their recovery.
"The other part of it is educating the general public and students about anti-stigma. In general, the groups thoughts, and especially the ones that have been here a long time, have really helped them with their recovery because they have the support group and also because they have shared their story onstage and they know they are helping."
The troupe has become a support system and family for the youth members.  As Angola explains, "It's the support of people who understand in the mental health world — which is really hard to find — to be able to talk to someone who went through the exact same thing or at least their story is similar. They can talk about how they had hardships with their parents, teachers and other friends or they can share ideas on how they've taken steps in their recovery."
The feedback Talk To Youth Lately has received about its shows has been encouraging. "The first time we did the show back in 2010, we had a lot of tears in the audience," says Murdoch. "They weren't [tears] of sadness at all, but they were all so moved. That was so interesting. Something I didn't expect.  We do also have comedy in the show because we like to look at it with a little bit of laughter too. We are bringing a message to high school kids so it can't be a really serious 45-minutes."
In addition to performing for high school students, the troupe takes its show to various conferences.  "For the Nurses Association of Ontario, the troupe came and taught the nurses the skills they have learned," says Angola.  "A nurse is being spotted and helped across the tightwire by a youth who identifies with mental health and I'm sure the nurse felt that they were relying on this youth so it was a kind of switching of roles."
Murdoch hopes to one day have an adult version of the troupe, since last year was the first time a couple of the members moved on (those over age 29). "A month ago we took the whole troupe and the graduates to a contemporary circus show that was happening in Markham.  So they are still supportive. Two of them said they wished they could be part of it or something like that. It is inspiring [me] to work towards getting more funding to be able to have a group for adults as well. I do feel like the platform works for youth and for adults."
The more immediate need is for funds to expand the troupe, she adds. "We are waiting on a bunch of grants and if we get some of them we are going to expand the troupe and bring in a bunch of new members. The youth that have been with the troupe for a while will then teach their skills to the new members."
Nike Air Max 270