On October 13, Steven Baird, managing director of Street Smart Kidz, took to the online comments section of a Vancouver Sun article on Amanda Todd to write a message that seems obvious, but resonated powerfully: Parents, talk to your kids.
The misconception that the advice is obvious may be the very reason that it's often overlooked. It may explain why Street Smart Kidz' website crashed three times within 60 hours from parents and kids who felt more comfortable going online for answers and understanding rather than turning to each other. And it's what prompted Baird, who founded the program — Canada's largest, free library of information and workshops on child safety — to write: "Get off your computer, get your kids to the kitchen table, and turn off the TV. Look them in the eye. Open with, "I love you more than anything in this world. Now what do you think about the Amanda Todd tragedy?"
Amanda Todd's story made headlines worldwide. On October 10, the Port Coquitlam, B.C. teen committed suicide. In a video she posted to YouTube, the 15 year old held up a series of handwritten cards that told of her three-year struggle with bullying. She was flattered on Internet chat rooms before being asked to expose her breasts. One year later, she did and that mistake would follow her through three schools as an online perpetrator continued to threaten her and send the nude images to family, friends and teachers.
Todd was also physically bullied. In one incident, she recounts how she was beaten up while some students passively watched or filmed it. Distraught, she went home and drank bleach only to be confronted, upon recovering, with more cyber-bullying taunting her for not using the right brand and hoping that the next time she tries it, she succeeds in killing herself. Todd made the video a month before her death, and did succeed in killing herself a month shy of her 16th birthday.
Anger was the prevailing emotion in the emails that crashed the Street Smart Kidz' website. Baird says that three out of five messages received were from 13 to 16 year olds outraged because they knew a fellow teen who had committed suicide and their stories didn't receive anywhere near the level of attention.
Indeed, although the coverage of Amanda Todd's story has raised national and international consciousness over teen suicide, there is something of an injustice that it was only in her death that she would receive the spate of compassion and responsiveness that she sought in life. When Statistics Canada reports that nine out of 10 grade nine students know someone who has committed suicide, the youth reaching out to Baird were wondering, where was all the support for their friends?
"My frustration was that parents weren't taking the time to sit down and talk to their kids before they got up and posted in anger," Baird tells Samaritanmag. "I think they would have found they were dealing with kids who were upset about what happened. They're dealing with children, 13 and under, who are somewhat fearful of what's going to happen in the next year, because that's the age group that's moving into high school and they've heard these horror stories about how the big kids are going to be mean to the little kids.
"Meanwhile, you've got the kids who are 14, 15, 16 who are already there dealing with bullying and living in anger because their friends were not being cared, talked, worried about like Amanda Todd."
Although schools carry signage for crisis lines such as Kids Help Phone, Baird believes that youth aren't adequately taught what these lines are for or what resources they offer. He also recognizes that in many homes, where parents have to work, children spend a fair amount of time on their own, often having to tackle issues in solitude.
Street Smart Kidz was founded by Baird in 2004 and has worked with The RCMP, the OPP and countless government, medical and child welfare organizations on issues surrounding child safety. The program serves as a resource for elementary school youth, but it's these kids who've grown up trusting Street Smart Kidz, and as they enter high school, they still reach out to the organization as evidenced by the reaction to the Amanda Todd story.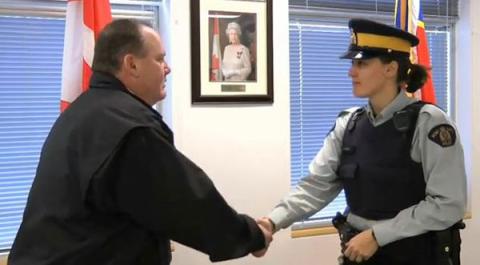 Baird and his team have spoken at schools, universities, community groups and police meetings across Canada, and the program set a record last year by equipping parents with over 14,000 free ID kits —  a parental tool for kids aged three to 15 that includes fingerprints, dental, medical records etc. to aid police if a child should go missing.
Street Smart Kidz is currently fundraising for the production of a 90-minute documentary that presents the topics it covers in its in-school workshops. The interactive, educational film will help the program meet the demand for its resources — it currently has a waiting list of over 582 elementary schools.
Baird's passion for child safety comes from his own history.
"One of the big things that impacted my life was I was molested as a child. My mother was molested as a child. My sisters were molested," reveals Baird. "My mother is very mentally unbalanced. She has never dealt with her issues. I've got a sister who is a hypochondriac. I've got a sister who is an alcoholic. I myself crawled into a bottle for a long time. It was time to face and deal with my own demons. 
"It's very cathartic for me to be able to go out there and help — if I can help one kid by teaching them the Backpack Toss [a danger signal kids can use if approached by strangers in cars]; if I can help a hundred kids by teaching them the code word and how it's supposed to work: 'What's the code word? If mom said I should go with you then she would have given you the code word.'"
Establishing that open dialogue requires persistence and consistency, says Baird; and it's key advice that he gives parents when he's conducting seminars. He also asks that parents examine their own roles in validating bullying, a prompt that came from the very youth he works with. In response to the continued cyber-bullying that was happening on Rest in Peace Amanda Todd sites, these youth noticed that the trend on the comments sections of major Canadian news outlets was for adults to be equally as aggressive.
"'How come my parents can get on and make a comment on the Globe and Mail that these kids should be 'hung up by the nuts' who are putting out these bad messages on Amanda Todd Rest in Peace websites?'" says Baird, reiterating the question that these youth posed to him. "'Threatening and saying what they want to do and calling them filthy names. Is that not a form of bullying?'
"One out of every five comments was a threat, and that's from an adult down to kids saying: 'If we find out who you are, we're going to do this to you,'" continues Baird. "Now where are our kids learning how to bully? I found it quite ironic and I really did not find an answer for it other than to tell these kids: '[Your parents are] going through a lot of anger; they're scared for you and they don't want it to happen to you. So they were overreacting at the time.' But it's a brilliant question. We are talking to little adults here. People who are observing and are very astute."
In response to his Vancouver Sun comment, Baird has received over 500 emails from parents who took his advice: they sat down with their kids. Some of the conversations went well, he reports. Other parents met resistance.
"The first thing is to realize that you are going to have times where things shut down. Don't worry about it.  As soon as you recognize it, make the adjustments," advises Baird. "I've never met a parent who has constant, open lines with their child, including myself. From aged 12 to 18, they turn into aliens that we don't understand and it's tough!
"But please try and take one night a week. Just you and your kids at the table. If it's Kraft Dinner; if it's Chateaubriand, it doesn't matter. It's the conversation that counts," he continues. "Find out what's going on in their life and enjoy chatting with them. You may find out some stuff that you don't like. You'll probably find out some stuff that you'll be proud about, but it's just a fabulous experience when you make the connect. Don't be afraid if it's hard work to do. It's certainly worth it in the end."
Yeezy Release Dates 2020