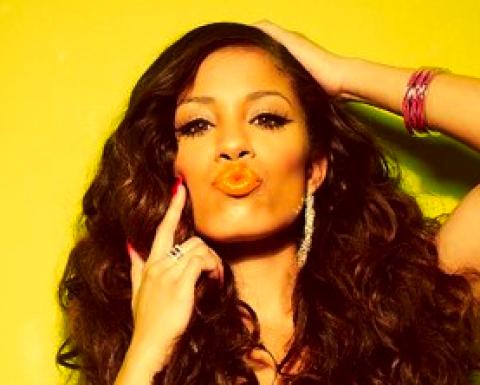 For 19 years The Canadian Foundation for AIDS Research (CANFAR) has promoted its Have A Heart program at 2500 schools across Canada. Students sell heart-o-grams to help raise money and awareness for HIV/AIDS. This month, for the 20th year of the youth-directed initiative CANFAR has given it a makeover.  The revamped campaign is playfully named Kisses 4 CANFAR — as in help kiss AIDS and HIV goodbye.  
Canadian pop singer Keshia Chanté, who is CANFAR's national youth ambassador, is in on the action. Her personal fundraising goal is $1500, which she plans to hit by taking to Twitter and Facebook to engage her fan-base. Join her team here.
"The real point is to get other people into it," Chanté, 24, tells Samaritanmag. "For me, it's about getting people competitive about fundraising. That's how we're doing it on social media and online. I'm also doing some interviews this week and just spreading the word."
Running from Feb.1 to 15, Canadians can sport red lipstick, kiss pins and kiss tattoos in support of HIV and AIDS awareness. The free pins and tattoos were sent out to schools across the country and can also be ordered by emailing k4c@canfar.com or phoning the office (416 361 6281).
For the fundraising component, CANFAR has joined forces with Canadian shoe retailer Aldo, which will donate $15 from every $30 Aldo gift card purchased through the Kisses4CANFAR challenge website. Top fundraisers win Aldo gift cards as well. Other donation amounts are also accepted by signing up on the site.
"It's really cool that Aldo is collaborating with us because if you bring in companies like that you really open the door. There are so many people who like fashion who want to do something good," says Chanté.
With 71, 000 Canadians currently infected by HIV and AIDS and numbers rising, CANFAR's national programs manager and one of the creators of the campaign, Jennifer D'Andrea, tells Samaritanmag the Kisses program hopes to reach a wider demographic than Have A Heart.
"This year, instead of it just being about youth we're aiming to reach out to young professionals, University students, and Canadians in general to educate them about AIDS and the importance of AIDS research."
Promotion includes ads in the Toronto subway system, nationwide poster and print ads, and, of course, word of (bright red) mouth. 
Red lipstick is not a good look for guys — unless it's planted on their face by a girl — but CANFAR is not ignoring the other half of the population. 
"We didn't want it to become only about females getting involved," D'Andrea says. "So what we've done is created these buttons with kiss prints on them, as well as kiss tattoos, especially for the younger crowd. The girls are sticking kiss tattoos all over the guys. It's a cheeky way to show support for the cause.
"Anybody can take part," she insists. "We just direct them to the website and they can sign up a profile and decide to take part in the awareness component or the fundraising or both." 
CANFAR's official fundraising goal is internal, D'Andrea says, but "$100 000 in Aldo gift cards would be amazing."
Chanté has been CANFAR's youth ambassador since 2010 and only took on the role after thoroughly educating herself about AIDS/HIV. "The thing that hit me the most was learning that there are kids out there under 24 years old and they're responsible for half the new infections that are going on right now," she says. "When I think of 20 year olds in 2013 in Canada being infected with this disease, it's really just shocking to me and that's what made me go, 'What can I do to help?'"
She also traveled in 2011 to Kenya with CANFAR to shed light on the state of HIV/AIDS in Africa, as the year was the 30th anniversary of the first HIV diagnosis. There, she visited local schools, orphanages (many of the kids had HIV and lost parents to AIDS) and went to clinics to speak to women about protecting themselves from the disease.
She has also taken part in two school national speaking engagement tours and performed a private concert last February for Aurora High School, one of the Ontario schools that raised a lot of money for the 2012 Have A Heart.
"The kids are awesome," says Chanté. "They're excited and they want to ask questions. I think they're shocked when we talk about the statistics. Most students these days see HIV and AIDS as an issue in Africa or something that's far away, not something that's real or relative to them."
A big challenge for Chanté and CANFAR has been working to reduce misconceptions around the disease. "There were a lot of 6th graders that we spoke to that thought there was a cure already and didn't know it was an ongoing thing. There's a lot of misinformation out there."
Air Max