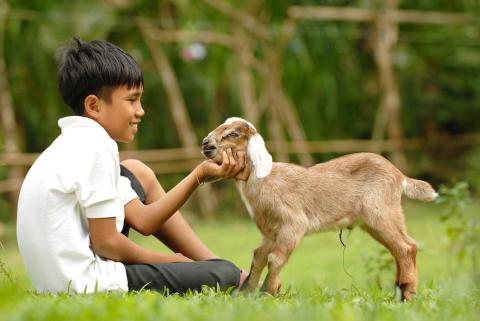 This Christmas, why not buy a goat, a mango tree or a deep well for someone?
At global non-profits, such as Plan Canada, World Vision, Oxfam, War Child and UNICEF, the charities offer what many of us will perceive to be unique gifts, but go a long way in helping less fortunate individuals, families and communities in developing countries.
The majority of the gifts won't break the bank and can be a lifeline for impoverished citizens living in war-torn Africa, disaster-riddled Haiti or Bolivia, for example. They can be purchased through websites operated by these charitable organizations.
Plan Canada (www.plancanada.ca) offers everything from baby blankets ($10) and mango trees ($12) to baby chickens ($15) and emergency survival kits ($25). You can help a child meet their educational needs ($15) or, in Haiti, engage them in art and play therapy ($25).
Self-sustenance is the key here, and through gifts of livestock ($200) or goats ($75.00), recipients are supplied with an importance source of milk, which allows them to trade and make a living.
If your pockets are a little deeper, adding a zero or two to the total can make an even more substantial difference to numerous third world countries.
A donation of $2500 can build a hurricane, aftershock and rain-resistant home for a Haitian family, while $10,000 will build a primary school in Rwanda. Twenty-five thousand dollars: A water tank for a Bolivian community.
You can find similar gifts at UNICEF Canada (www.unicef.ca) where 82 percent of the revenue generated by the organization goes toward child health and nutrition, proper sanitation and drinkable water, basic education and protecting children from exploitation, violence and disease.
UNICEF is also the largest provider of vaccinations, and even has gifts specifically individualized towards health, including anti-infection tablets ($20), measles vaccines ($30) and polio vaccines ($45), to name a few.
Again, if you have a bit more money to spare, $509 will buy a remote, impoverished village a water pump, and your life-changing gift will help sustain life way beyond any shelf date limitations some of the other offerings may be subject to.
War Child (www.warchild.ca), which works to reduce the effect of poverty and educate children whose lives have been decimated by conflict — as well as defending and promoting their rights — offers gifts ranging from looms ($250) to sewing machines ($70) that will help fatherless families generate survival income.
And World Vision (www.worldvision.org) also offers goats ($75), a goat and two chickens ($100), five ducks ($30), a deep well ($100), hope for sexually exploited girls ($35), $150 worth of necessities ($25), education for one child ($32) and more.
When else could you ever say you gave a goat for Christmas? And the feeling that you'll get from making a difference will be as priceless as the gift you'll be donating.
Nike Air Max 200