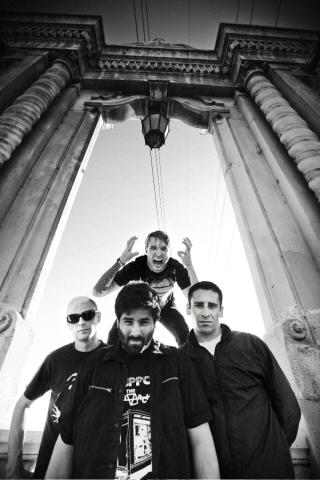 Hail The Villain's bassist Chad Taylor is the first to make "shitty" jokes about it, but he knows living with Crohn's disease is not a laughing matter.  The bassist for the Oshawa, Ontario hard rock band seizes the opportunity to talk about the chronic inflammatory disease of the intestines whenever it's appropriate.
"I don't have it that bad," he tells Samaritanmag, "but for a lot of people, it totally changes their lives, not being able to get out of bed and the pain and being afraid to eat and the embarrassment of  — it has to do with shitting so it's hard to talk about, right? There's a whole emotional thing that goes along with that. It's almost embarrassing to talk about."
Taylor was diagnosed with Crohn's in his early 20s, but also reveals he has colitis and osteoporosis.  "So I'm a mess," he laughs.  Colitis is inflammation of the colon and osteoporosis is a disease of the bones.
Symptoms of Crohn can vary and can include abdominal pain, cramping, diarrhea, nausea and vomiting, in addition to weight loss and lack of energy. Symptoms can flare up and go into remission, but according to the Crohn's and Colitis Foundation of Canada (CCFC), the average risk of a flare-up in a year is about 30 percent. There is no cure.
Taylor sought a medical opinion when he found blood in his stool.
"That's what really did it for me," he says. "I found a little bit once and I'm like 'Maybe I just drank too hard this weekend or something, who knows?' and then I would go [to the bathroom] and I'd be like, 'That's a lot of blood. Something's up.'
"I did go through that whole embarrassment and denial kind of thing where I had to shit 20 times a day literally and I couldn't go out because I always had to shit," he reveals candidly.
Hail The Villain, which is signed to Warner Music Canada and Roadrunner for the rest of the world and is managed by Coalition (Simple Plan, Our Lady Peace, Finger Eleven), has been touring non-stop since the release of its independently made album, Population: Declining. It was nominated for a 2011 Juno Award in the rock album category. 
One might wonder how he is able to be on the road and manage the disease.
"Sometimes it's tough," Taylor says. "It's something that the band is really aware of. Like when I get tired I can get sick a lot easier. So I just have to make sure that I don't overwork myself and I get plenty of sleep. The band's cool with that. We've never had to cancel dates or anything like that, but it's something that I really keep my eye on."
Even though, he isn't aligned with a Foundation of any kind, Taylor says he makes a point of talking about Crohn's and Hail The Villain did perform at a benefit concert in St. Louis, Missouri last summer called Cure For Crohn's.
"If I can use my position for any sort of good in this world, I want to help people feel better about having Crohn's because it's a shitty disease to have."
nike fashion