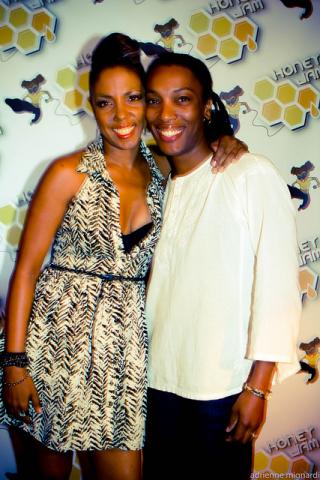 Phem Phat Entertainment Group's Ebonnie Rowe has managed to keep Toronto's Honey Jam, the multi-genre female singing showcase at which Nelly Furtado was discovered, alive for 16 years. No matter how difficult that has been, she has always donated partial proceeds from ticket sales to a women's charity and when Honey Jam has not broken even, she dips into her own pocket.
This year, continuing a relationship that has lasted six years, the recipient of Honey Jam 2011, slated for August 11 at the Mod Club, is YWCA Toronto's programs for women and girls.
"In 2005, I was given a YWCA Woman of Distinction Award and The Y was very good to me," Rowe tells Samaritanmag.  "It was a difficult time for me. I'd just lost my father and I had a major operation and they really made me feel like a part of their family."
Previous to that, PhemPhat made donations on behalf of Honey Jam to Big Sisters of Toronto; Each One, Teach One's Sista 2 Sista mentoring group; the Immigrant Women's Job Placement Centre; At The Crossroads Women's Art Journal; the Coalition for AIDS Prevention, Breast Cancer Research; Sistering; and the Voices of Positive Women.
"Even when we were struggling and there was no money from ticket sales, we would support it in some way," Rowe says. "So if there is no sponsorship, and we're in a deficit, then there's no two dollars from each ticket, but at the end I see what I have that I can do, even if it's $100.
"I remember one time [the charity] was the [the Immigrant Women's Job Placement Centre] and we bought Metro [transit] passes for some of the women so they could find a job. Every little bit helps. We would put [the Centre's] name on the flyers and they would have a booth. So there was still promotion."
The YWCA is there to aid women and girls. Its programs include housing options, employment programs and family support services. According to its literature, "the vast majority of the women who call [theYWCA] have the experience of trauma in common." Last year, 16,000 people used its services.
Slated to open in Toronto later this year is the YWCA Elm Centre, which will provide affordable housing to 100 women living with mental health and/or addiction issues and will have an additional 200 affordable apartments for single, low-income women, women with children and families of Aboriginal ancestry.
"The thing about the Y is that it's a one stop shop," says Rowe.  "All of the different types of organizations that we supported [in the past], the Y has programs for all of those things — for housing, for battered women, for counselling, for everything. They're over a hundred years old so there's no credibility issue and they're across Canada."
After giveaways to sponsors, media and artist guests, about 400 tickets are on sale for Honey Jam 2011, $20 in advance (at Play de Record, 375 Yonge St.) and $25 at the door. Sponsors for this year include Slaight Music, Foundation Assisting Canadian Talent On Recordings (FACTOR), Taylor Mitsopulos Klein Oballa
Entertainment and Media Lawyers, TD Bank and Nelly Furtado's Nelstar.
"I would love to have all the expenses of the show paid by sponsorship before we even open the door. That's the dream," says Rowe. "So every single dollar from every ticket sold [would go to the Y], so it's not even proceeds because proceeds means after expenses. That is the dream to get to, and I believe we will get there. It's a challenge, but I've never been one to shy away from a challenge. It's a miracle that we're even still around."
In addition to the charity component, PhemPhat just put on a one-day artist development workshop at Harris Institute for the 18 singers selected to perform at Honey Jam 2011 (an open audition was held in June scored by a panel of music industry judges, including this writer). It is designed to provide some tools for the girls to navigate through the music industry as independent artists. But for the first time, Rowe and the PhemPhat board opened up the workshop to students from The Remix Project, a Toronto arts program that provides arts courses for teens and young adults, mainly from troubled or disadvantaged backgrounds.
"The [workshop] is about working with the artists that have been selected to perform at Honey Jam and taking them through some of the performance and business aspects of the music industry," says PhemPhat board member Aisha Wickham Thomas, also the executive director of Canadian Independent Recording Artists' Association (CIRAA).
"The performers are the main attendees, but this year, there were two artists in attendance at the workshop who came out of The Remix Project — Giselle and Sam Rose. They will both be performing at Honey Jam. That's our way of extending partnerships with other organizations that are doing great work with young people and for arts development in the city."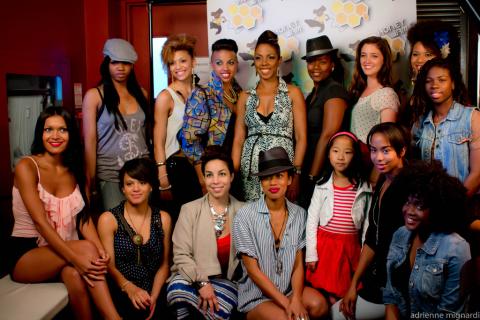 Nike Air Zoom Pegasus