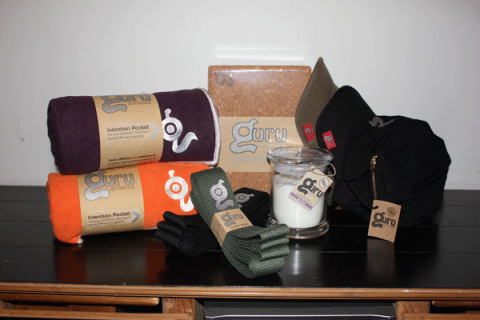 A towel made of plastic bottles? How on earth?
Hot yoga is a sweaty, messy, laundry-intensive business. Yet most yogis pride themselves on being gentle with Mother Earth, so how to reconcile the high attrition rate of hot yoga gear with the desire for a small environmental footprint? 
Joe Dos Anjos knows all about that dilemma. Along with wife Tracey, Dos Anjos operates the Milton and downtown Toronto locations in the Moksha Yoga hot yoga chain and thus subscribes to its mandate of, among other things, living green. But he also plows through a ton of yoga towels.
So in 2010 Dos Anjos began importing and distributing mat towels ingeniously made from recycled plastics — mostly water bottles — under the banner of Guru Athletics. And not only importing and distributing; the wildly gregarious Dos Anjos, who is also a yoga instructor and musician, will personally deliver his towels right to your front door locally. That's his cell number and email address on the Guru Athletics website. The towel comes in full size, 25 x 68 inches ($40).
"It's part of the thing, I love it," he enthuses to Samaritanmag. "I get to connect with all my friends in the GTA [Greater Toronto Area]. If I could fly to B.C. to deliver towels there, I would." Otherwise, the towel — and other Guru Athletics products — are available across North America and beyond.
As Dos Anjos explains, a background in retail helped him bring the sustainable yoga towel idea to fruition.
"I used to work for Le Chateau, so I have connections to the textile business. The whole idea was to create a sustainable towel that we could break down and recycle over and over into a new product," he says, adding that he is also the towel's designer and that a patent is pending.
So how does yesterday's discarded water or pop bottle become tomorrow's fashion-forward yoga towel? Says Dos Anjos, "The simplest way to explain it is: we are taking plastics and breaking them down (see flow-through chart).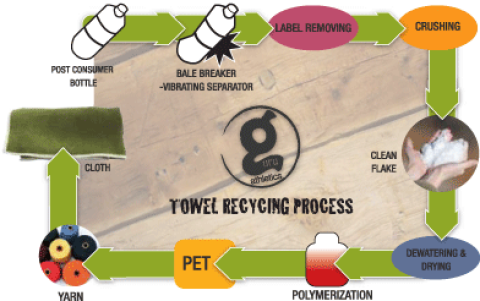 "They get crushed into small chips. From there they get tossed into an extruder which heats up the chips almost to a mash. Then it comes out through these tiny holes almost like a pasta maker. Then we extrude these filaments. From there we take those filaments, stretch them, spin them into yarn, spin that into spools and use those to create our towels, using as many natural dyes as we can.
"What's cool is that those towels can be recycled back into raw thread again and made into new towels," he says, adding that the finished towels are 80 percent polyester derived 100 percent from recycled plastics plus 20 percent natural cotton.
As Dos Anjos explains, the fabric-from-plastics technology existed prior to Guru Athletics but to his knowledge, no one thought of applying it to yoga towels. "That technology is fast becoming the next eco-friendly product," he says, confirming that his towels are manufactured in a plant in China. "People have been quick to accept the product. It's anti-bacterial, so it's perfect for hot yoga."
Michelle Corbeil agrees. The co-owner/operator of Moksha Yoga Danforth location has used Guru Athletics mat towels pretty much since launch. "We switched from Yogitoes (which also makes sustainable products) because we thought the product was superior. Plus we love what Joe stands for and we support local business.
"Honestly, I would buy anything Joe was selling because he's such a great guy to deal with. If he's standing behind something, I'm with it."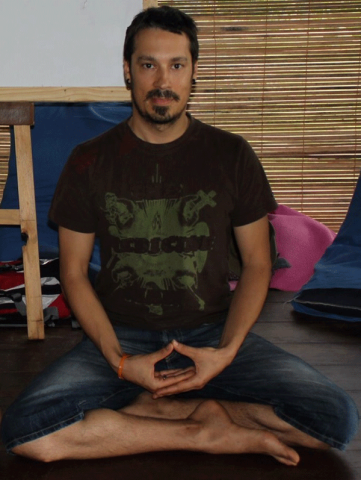 "We feel like we're moving forward with technology and it's doing so well," Dos Anjos says. "For us it was a no-brainer. We follow the Seven Pillars of Moksha and being sustainable — being light on the Earth — is a key tenet."
More recently — and in keeping with the demands of discerning yogis on the go — Guru Athletics has branched into sustainable water bottles ($28).
"Our bottles are made from 100 percent recycled steel — old cars or appliances. And again, they get ground down or melted down, all the impurities are removed and we're creating these 18/8 stainless steel bottles. We did a small run as a test, they did really well and we're now in the midst of creating 2,000 of them to see how they do."
(The term "18-8" designates products made from 300-series stainless, which itself designates the different compositions of alloy steel used within).
Today, Guru Athletics, which also retails cork blocks and straps, can be found in yoga studios from Gander, Nfld. to Victoria, B.C., Minneapolis to Los Angeles and even as far away as Brazil. And not just hot yoga studios, but regular (and less sweaty) studios as well.
Dos Anjos is committed to growing the company. His next closely guarded but grand scheme: finding a way of repurposing coffee grounds. "There's so much out there," he laughs, "and it's going to be awesome.
"The whole idea behind Guru Athletics is having wisdom in a certain area. We all have stuff to teach each other. People can teach me ways to make the towels better. We are a very open company willing to work and to change with what's going when it comes to sustainability."
The world is yours – Neue Sneaker, Apparel und mehr für Kids