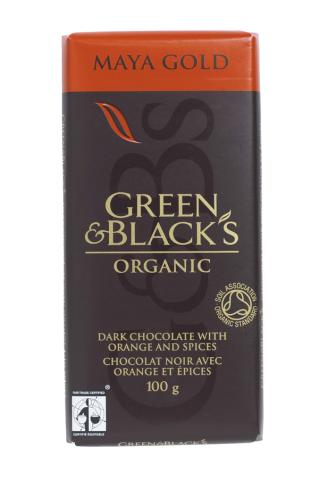 Organic chocolate maker Green & Black's, which makes such delicious bars as dark chocolate ginger and dark chocolate cherry, has committed to converting its entire premium range to Fair Trade Certified. The decision will directly benefit farming communities in the Dominican Republic, where 50 percent of the world's organic cocoa is produced and more than 60,000 people depend on the cocoa industry for their livelihood.
The switch to Fair Trade Certified ingredients is expected to be made by mid 2010, and will be labeled such by early 2011, after all the current labels have been used. The British company distribute its organic chocolate bars globally, including Canada and the United States.
Green & Black's Maya Gold — dark chocolate with orange and spices — was the first-ever Fair Trade Certified product in the United Kingdom 15 years ago, employing Belizean farmers.
Fair Trade is a unique independent system providing farmers with the security of fair prices for their produce and additional investment through the Fair Trade premium for social, environmental and economic development in their communities.  This premium is in addition to a guaranteed minimum price for fair trade certified ingredients.
According to the press release, Green & Black's will now invest "about US$485,000 each year for the next 10 years through additional Fair Trade premiums paid to Dominican Republic cocoa farmers and their communities."
Green and Black's has bought quality, organic Trinitario cocoa beans from cooperatives in the Dominican Republic over the last 10 years and these farmers are now the company's main source of cocoa.
Air Jordan 1 High OG Patent Black Metallic Gold 555088-032 Release Date