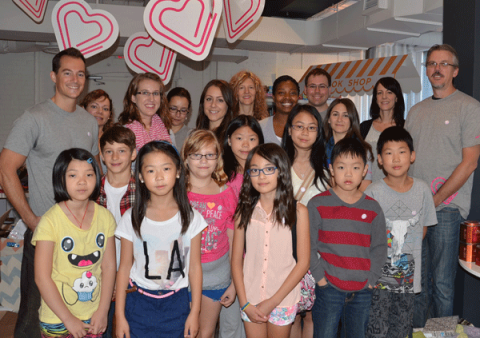 The students at Ogden Junior Public School in downtown Toronto will soon have more than a thousand new books in their library thanks to employees at Indigo Books & Music head office, who selected it for their Adopt A School program.
Part of Indigo's Love of Reading Foundation, the annual three-week campaign pairs Indigo, Chapters and Coles books locations from across Canada with elementary schools in their communities in an effort to help put more new books in school libraries, whose ever-dwindling budgets don't even add up to one book per student.
Now in its fifth year, Adopt A School has donated more than 138,000 books to 350,000 students across Canada. Most of the money raised comes from public donations, either in-stores or on-line. Until Oct. 5, visitors to the website can also click a link to virtually "adopt" a school for free; for every 50 clicks, Indigo donates an additional book.
This year, the head office staff selected to support Ogden, one of the oldest schools in the city of Toronto, for several reasons.
"Ogden is a 10-minute walk from our office, and is woefully underfunded," Jennifer Jones, director of Indigo's Love of Reading Foundation, tells Samaritanmag. "It also has a large ESL [English as a Second Language] population with specific needs. We said to them,  'We want to provide six new books for every child in your school.'"
While customers, the schools themselves and people from the community are united for Adopt A School, as Jones explains, a key principle of the program is engaging Indigo's own employees to get directly involved. More than 200 stores participate, along with the Indigo warehouse and head office staff. Last week, head office raised more than $10,000 in one day at a sample sale for employees.
"We invited children from the school and paired them up with an employee, she says. "They learned how to run the sale, and sold the product — they become part of the experience. We had a megaphone and we cheered every time we hit another $250. It was a really beautiful day that reminded the employees of why we do what do."
"It was very overwhelming," says Ogden librarian Jennifer Nelson, who attended with nine of her students. "So many of the employees were engaging with the kids, they were so generous. I found it amazing. And for the kids, I think it was one of the best days of their lives."
Nelson says the money raised will provide 1,000 new books to Ogden, along with e-readers and other literacy tools. "A lot of our kids don't necessarily visit the library outside of school; it's their main source of reading material, so to have brand new books, they get really excited about. The sale was important for fundraising for the school but also connecting, and finding others who are passionate about your school. It's really energizing. And it was so heartwarming to see how much they cared about our kids."
Adopt A School is an off-shoot of Indigo's Love of Reading Foundation. Established in 2004, the foundation grants funds to 20 high-needs schools each year, and has so far donated more than $13.5 million. Its literature points out that Canadian elementary school library budgets can amount to less than a third of a book per student per year, and estimates the average teacher spends $1,000 of their own money to supplement reading materials and supplies for their under-funded classes.
Jennifer Jones developed Adopt A School in part to help even more students and teachers.
"One of the things that Heather [Reisman, Indigo's founder and CEO] said to me was, 'Could you imagine if on your first day of work we told you that you had to bring your own computer and pencils?' It's kind of crazy. I feel like, in Canada, schools haven't been receiving the money they need to maintain a relevant library. Kids share one book in a circle. And these books are sometimes 50 years old. They smell, they are stained, they are duct-taped together. That's why we exist. But our real goal is to close our doors when we are replaced with government funding."
THE SNEAKER BULLETIN