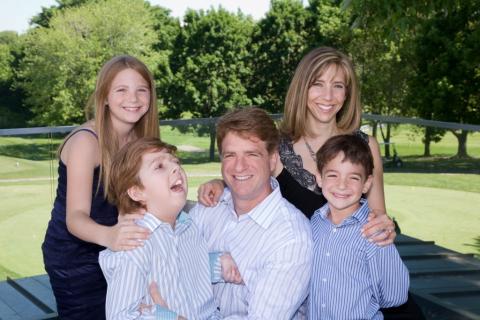 Jacob Schwartz is a modern miracle. Most children afflicted with Canavan disease, a rare neurodegenerative ailment that shuts down their body muscle by muscle, rarely see their fifth birthday. However, Jacob has defied the odds and then some.
"He is completely a modern miracle," agrees Ellen Schwartz, Jacob's mom and co-founder – with his dad Jeff – of Toronto-based Jacob's Ladder, the Canadian Foundation for the Control of Neurodegenerative Disease.
"When he was diagnosed at four months, we were told he wouldn't live past his fourth birthday. And although he's very disabled, he just turned 13. We just had a Bar Mitzvah."
Life for Jacob is a daily struggle.
"He is not able to walk, talk, see, move," says Schwartz. "He has difficulty breathing, but he does communicate in his own way through his eyes. His body is lifeless [but] if you look through his eyes, he completely lights up. He's always able to smile – and he does a lot of smiling."
In association with her organization, which has raised $1.7 million since its inception in 1998 towards research, genetic research and educating the general public, Schwartz is organizing a fundraiser with a holiday twist.
On November 27 and 28,  from 10 a.m. to 4 p.m., at a Toronto warehouse (150 Lesmill Road), Jacob's Ladder is hosting the first annual Jake's Gigantic Give.  
For a $25 ticket – which must be purchased in advance (and available at jacobsladder.ca) – the children of families choose a personalized gift for a child in need, which is then donated to one of six local charities: Children's Aid, Jewish Family and Child Services, Chum City Xmas Wish, Starlight/Starbright, Jean Tweed Centre and Chai Lifeline.
Following their donation, the children can then choose a gift for themselves.        
"It's trying to teach kids that the true gift is the one that you give away," says Schwartz, an elementary school teacher who has also spearheaded the school program Project Give Back.
Schwartz says Jake's Gigantic Give is an offshoot of a larger event that has been held at the Liberty Grand for the past decade.
"We've been having Jacob's Ladder family events now for 10 years," she explains. "Our events used to be mammoth: it was a massive full-day carnival. So we've cut it back a little bit to focus on the store portion of it, and a small reception after."
Schwartz says she's hoping the event will raise $200,000 to go towards "our efforts at Sick Kid's Hospital."
She's also excited about the 100 teenage volunteers chiming in to help take families to the venue to pick out gifts, and their roles as observers as well.
 "If they see along the way that the child has fallen in love with one gift, they take note of that, and after the child has handed their gift into the charity, each child is given a magic wand. Then they use the magic wand to go and pick something that really makes them smile."
There's also a lounge at the venue that features children's entertainment throughout the day. "There are performances by incredible kids and free food and drink."
Canavan disease isn't the only malady that falls under the neurodegenerative umbrella: Down's Syndrome, Multiple Sclerosis and Parkinson's Disease are some of the others.
For Canavan, there is no treatment, but the Schwartzs are hopeful that their fundraising efforts will hopefully lead to a better understanding – and eventual treatment -- of the affliction suffered by Jacob and thousands of others.
"There is no cure," says Schwartz. "And we're not searching for a cure. "We've been able to do a screening for seven diseases, and we believe that the disease can be cured through prevention: blood test awareness and knowledge.
"But for Jake's Gigantic Give, we really wanted to teach kids about – and have them discover – the power of giving."
PEACEMINUSONE x Nike nike zoom air insoles for shoes amazon "Para-Noise 2.0"