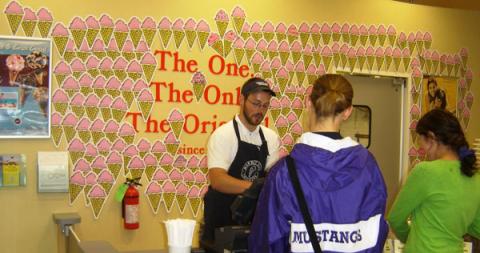 It's hard to imagine a better charitable fit than one uniting children with ice cream... and happening during summertime. So the forthcoming Cones for Kids event hosted by the Canadian arm of the Marble Slab Creamery global ice cream company bears all the hallmarks of a winner.
This Saturday (August 25), $1 from every purchase at a Marble Slab Creamery location from coast to coast will be donated to the Big Brothers Big Sisters mentoring program, which pairs volunteers with kids needing a little extra adult attention in their lives.
And that's no small feat. According to the agency, 35,000 volunteers currently provide 3.5 million annual hours of mentoring to more than 36,000 kids in 1,000 communities nationwide through Big Brothers Big Sisters of Canada.
In addition to the one-day corporate donation drive, from Friday, August 24 through Monday, September 3, Marble Slab Creamery customers can also donate $1 to Big Brothers Big Sisters and display a paper cone with their kid's (or their own) name on the wall of the ice cream shop.
Not that further incentive is needed to tuck into super-premium hand-mixed ice cream in deliriously yummy flavours such as Chocolate Amaretto, Vanilla Cinnamon and Pumpkin Cheesecake. And don't even get us started on the company's signature "mixins" (candies, fresh fruit and nuts).
As company president Cam Inglis explains from his Calgary office, this is the fifth year Marble Slab Canada has hosted Cones for Kids, raising some $200,000 nationally since its 2007 inception. What's more, the Texas-bred company Inglis brought here in 2003 is committed to the annual funder for the foreseeable.
"In the early years we had done a few different things, including Calgary's very first Weekend To End Breast Cancer Walk in 2005.  But we felt it was getting so commercialized and it didn't feel like the right fit for us. We also needed something all the various franchisees could agree on," Inglis tells Samaritanmag.
"Obviously, anything to do with kids makes sense for an ice cream company. This seemed to be something that all our franchisees across the country could agree on when we put the idea of becoming a community supporter into place.
"And it's not just about raising mone,y but creating awareness among our customer base. A lot of people assume that because Big Brothers Big Sisters are well known, they're also well-to-do and that's not the case. People also need to know that it's really easy to get involved. Obviously there is a screening process for prospective volunteers, but really you just need to call to get started."
Inglis adds that additional support for Big Brothers Big Sisters is given via prime real estate allocated on the Marble Slab homepage which offers a link back to the BBBS site.
"Everyone can recall a happy event in their lives ending with ice cream so it was a unique and obvious tie-in for us. We represent that perfect half-hour getaway, and once a year we can rally all our stores together [some 86 locations from B.C. to Nova Scotia] to get funds raised that will assist local BBBS chapters."
Air Jordan III (3) Black/Cement 2011