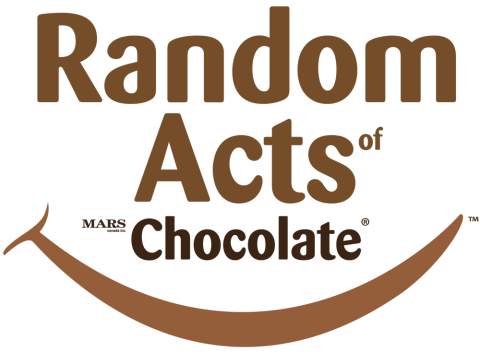 Mars Canada Inc., a division of Mars Incorporated, is launching its second annual kindness campaign on March 1, asking Canadian to become "kindness ambassadors," through its "Random Acts of Chocolate" initiative.
Last year, a survey of Canadians conducted by Leger Marketing and commissioned by Mars Canada Inc.'s  chocolate division, revealed that only 41 percent of respondents felt they had received an act of kindness in the past week.  However, 90 percent of Canadians believe that their country is a compassionate nation.
Who knows what Mars would've done if the results had been different — and perhaps it was skewed to serve its purpose — but the company set out with spokesperson Michael "Pinball" Clemons, co-chair of the Toronto Argonauts football team and a noted philanthropist himself, to impress on Canadians the importance of kindness and to practice it every day.
Three Canadian communities benefitted from three $10,000 kindness donations from Mars.  Now, the goal is 50,000 acts of kindness.
To help get things started,  Clemons will be taking to Dundas Square in Toronto (opposite the Eaton Centre) to hand out Mars chocolate bars from 11:30 a.m. to 1 p.m.
According to the press release, "Each kind act will be tracked by a kindness meter found on either www.marsacts.ca or www.facebook.com/marsacts  and can be any of the following:
Like Mike, becoming a Kindness Ambassador by accepting the Mars Chocolate Kindness Pledge
Sharing your stories of kindness through words, photos or videos
Nominating a community organization in your area that is deserving of one of three $10,000 kindness donations, courtesy of Mars Chocolate
Sharing one of the more than 8.8 million free Mars chocolate products that will be made available to Canadians with those around you
According to the 2010 press release, The survey also examined such topics as why people act kindly towards others, the guilt associated by having something nice done for you, the attitudes of kindness on behalf of men, women, old and young, to name a few. Such findings include:
Mike

Do We Feel Guilty?
Over one-quarter of Canadians, 28 percent, feel guilty when they are the recipient of an act of kindness because they do not commit as many acts of kindness towards others as often as they should. The feeling of guilt is particularly strong in Alberta where 34.5 percent reported this feeling.
Atlantic Friendliness?
Perhaps indicative of famous Atlantic friendliness, only 26 percent of Atlantic Canadians strongly agreed that they are surprised by an unexpected act of kindness, as compared to the remaining 74 percent of Canadians who say they are surprised by this.
East vs. West?
If you live in Ontario, you're more than likely to be offered a seat on the bus, with 47 percent of respondents claiming they would give up their seat to someone who looked tired or distressed.
Weary-looking transit riders in Alberta would not be as lucky however, with only 39 percent of respondents claiming they would do the same, the lowest percentage of all of Canada. Not to be outdone, Albertans were the most likely of any group at 28 percent to offer money to someone who was short-changed, compared to the national average of 22 percent.
Men vs. Women?
Though more men than women stated they would give money to someone who was in need as a random act of kindness, 28 percent vs.  24 percent, respectively; women were more likely to buy a chocolate bar to cheer someone up than men - 19 percent versus 13 percent.
Does Money Matter?
Over one-quarter (27 percent) of Canadians who earn over $80,000 annually said that they would commit more acts of kindness on a regular basis if they had more money to help others. Comparatively, almost 43 percent of respondents earning less than $40,000 a year had the same response.
/homme/nike-dunk-sb