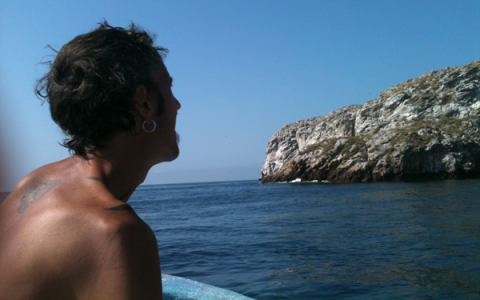 Winnipeg singer-songwriter Romi Mayes tours the world as a musician and has Italy and the U.K. lined up for May, but for the past year, she has been passionate about raising funds to help a terminally ill friend fulfill his dream of seeing the world too.
The award-winning artist has set up a web page that begins: "If ever there was a time I wish I was rich, it is now. Our dear friend Mark Webster is ill with a rare form of cancer called pseudomyxoma peritonei and we are unsure what kind of time he has left. He was diagnosed in 2007 and has had multiple surgeries since, yet the cancer cells keep growing. Mark's hopes are to let go of his belongings and see as much of the world as possible."
The site accepts donations in any amount via credit card and PayPal, but one can also transfer AirMiles to Webster's collector number.
"There are just a few places in the world he wants to see before he dies," Mayes tells Samaritanmag. "One is New Zealand, as well as Australia, the U.K., and Africa."
He is currently in Mexico.
"He is there with his family for four months," Mayes says. "I was there for six weeks, helping out as much as I could. Some days Mark would feel great, but on others he'd be out of commission, too tired to make a meal for himself."
Webster's home is now Fernie, B.C., but he grew up in Winnipeg. Mayes has known the 40-year-old for nearly 24 years.
"I'd lost touch for a few years, then he showed up at the Winnipeg Folk Festival last year.  I was hanging out with him, having a good time, then the next day a few people called and said 'A shame about Mark isn't it?' I went 'What do you mean?'"
Webster had not mentioned to her that he had pseudomyxoma peritonei, a form of abdominal cancer. Last year, he was told his condition was inoperable. "He was given two weeks to five years," says Mayes. "I think that is the hardest part for him, not knowing if it is weeks or years he has to live."
Concern for her friend has led Mayes to learn all she can about pseudomyxoma peritonei. "The nickname for it is 'jelly belly,'" she says.
On macmillan.org, it explains why:
"Pseudomyxoma peritonei (PMP) usually begins as a small polyp-like growth called an adenoma. It starts in the appendix. Over time, this adenoma breaks through the wall of the appendix and spreads tumour cells to the lining of the abdominal cavity (the peritoneum). These cells produce mucus, which then collects in the abdomen as a jelly-like fluid called mucin, spreading along its internal surfaces."
"With Mark, it is now growing and leaning on his urinary tract towards the liver," says Mayes. "Once it starts putting pressure on his liver, that can cause some major complications. He has problems with the digestion of food, as he pretty much has no intestines left, after surgery early on. The only bonus of this kind of cancer is that it doesn't spread through the lymph nodes and blood, so it can't take over the whole body. It is very concentrated in that area, but it does literally crush the organs."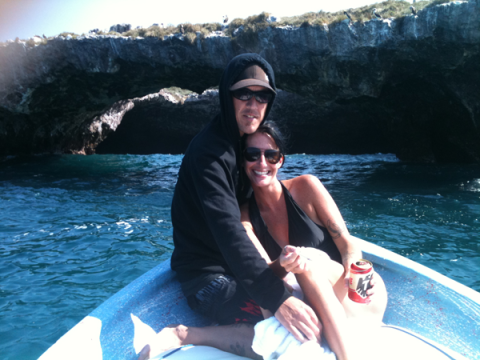 Only a portion of his medical costs are taken care of by Canada's healthcare system.
In an email to Samaritanmag from Mexico, where he is currently in baking soda treatments, Webster explains that "The only medical costs that are covered are big surgeries and chemotherapy. If chemo can't work, then what? Everything else is covered by my loving friends and family. No fancy doctors across the seas, no natural treatments, no supplements, no acupuncture, no massage, and believe me when I tell you that's the stuff that will give me longevity."
Webster has not been able to resume his regular occupation of carpenter. "He does have a decent quality of living and he has energy most days," Mayes reports. "He just wants to see the world, and you need money to do that. Fundraising for him seemed like an obvious thing for me to do when I realised I had access to 10,000 Facebook fans and so on."
Mayes, who has won five Western Canadian Music Awards and been nominated for a Juno, began her crusade last July. "I said I was going to do a local fundraiser, but there were so many fans and friends of mine all over the world that wanted to help, so I turned it into a PayPal option and made a website for it," she says.
"I've always felt I had some of the greatest fans and friends around the globe, but I didn't realise to what extent until people started stepping up for someone they didn't know but who I cared about. Right now, we've raised about $7,000, literally just from the pockets of people, most of whom don't know him."
Writes Webster to Samaritanmag: "A lot of that money went to supplements and medical bills. Plus, Romi enabled me to go to Spain and Portugal to walk the camino de Santiago de compestella. That trip was more for soul searching and to spend more precious time with my parents. I did have a bit left over for Mexico and that helped me be here for the winter. Unfortunately, I have S.A.D.[seasonal affective disorder] and the lack of sun puts me in a very depressed state. Now on top of that the cold goes straight through my skinny body so getting to Mexico is the best thing for me. Aaah sunshine!!! — the only thing that keeps me going, among other things like love from friends and family."
Mayes has put her own musical talent towards the cause too, hosting a benefit concert in Winnipeg last October. "I've thought of doing more fundraisers for him here, but I don't want to overdo it, asking the same people again. The best way is awareness and fundraising online."
She has put a donation jar at her merchandise table when on tour, and for a period she donated half her CD sales each night. "I can't just rely on myself," she acknowledges. "It really does involve people's donations and generosity."
Mayes, whose last album was 2011's Lucky Tonight, can't help but write about Webster and her journey with him in some new songs. "I shared some with Mark and I think he really appreciates them. I think the album I'm writing is a ballad album and it's likely a couple of them will be relevant."
Mayes has taken Webster to lots of concerts since last summer, including Iron Maiden.
"Music has been a connection [with us], for sure," she says. "He grew up listening to skate music, but he loves bluegrass so much now and that is what lures him to the festival circuit. When he had more energy he'd go to raves with house music, but now he does not want to be around people on drugs or alcohol any more."
She says Webster has been touched by the response to her appeal. "The most beautiful part is that there has been an option for everyone who donates to write a note. Some of them made him very emotional. Some beautiful things have been written."
Webster tells Samaritanmag "All the prayers and good vibes help keep me positive and thriving to do all that's possible to get healthy. That way I can start doing for others. Because I have a strong belief that the best thing you can do in life is help people." 
Webster has also deeply affected Mayes.
"Being side by side with Mark through this experience, I have learnt so much more than I expected to, just in living life and appreciating the things you have and removing your own ego. Usually I have been a person looking after myself and my own [Mayes has a 12-year-old daughter], because I have to. It seems seamless to now realise I have been putting someone before me, learning and growing by caring for someone and taking care of them."
Men's Casual Shoes, Trainers, Sneakers