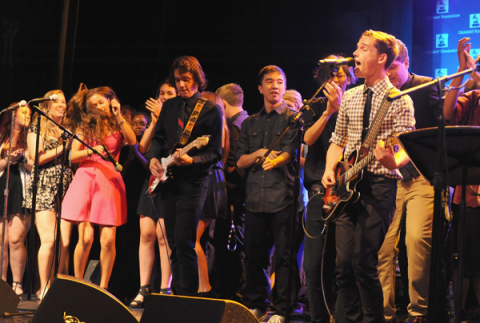 With the 57th Grammy Awards taking place this Sunday (Feb. 8), broadcast live from the Staples Center in Los Angeles, the Grammy Foundation is making today (Feb. 3) Giving Day, asking people to donate online to raise money for various music programs across America, including the cool experience of Grammy Camp. There is even a countdown clock, showing the hours, minutes and seconds remaining and count-up figure for the number of gifts and total amount.
Launched at midnight and running until 11:59 PST, their big 24-hour push is called Grammy Foundation Giving Day: Making Music Count, One Dollar At A Time. The total amount raised will directly support the Grammy Foundation's programs.
 

On the web site, as examples, it says: $2,000 funds a grant that supports a public high school music program in need; $1,100 captures a music legend's personal history on tape for future generations; $100 helps fund a scholarship for a Grammy Camper in need; and $25 Buys orchestra sheet music for a student. But any amount is welcome; $10 is the minimum.
"GRAMMY Foundation Giving Day will raise critical funding for the GRAMMY Foundation's GRAMMY Signature Schools Program, as well as provide general support for GRAMMY Foundation programming including the Grammy Living Histories archive, GRAMMY Camp and the Music Educator Award, among many others," the press releases reads, providing information on each:
The Grammy Signature Schools program recognizes top public high schools across the U.S. for outstanding commitment to their music education programs and awards them with a custom award and monetary grant to benefit its music program.
           

The Grammy Living Histories program preserves on visual media the life stories of key recording industry professionals and visionaries who helped create the history of recorded sound.
The Grammy Foundation Grant Program provides funding for initiatives that store and preserve the musical heritage of North America for future generations, as well as scientific research projects related to the impact of music on the human condition.
Grammy Camp offers selected high school students an interactive residential summer music experience focusing on all aspects of commercial music. Students are given instruction by industry professionals in cutting-edge professional facilities. The program offers seven music career tracks: audio engineering; concert promotion/production; electronic music production; marketing & management; music journalism; songwriting and a performance track for bass, drums, guitar, keyboards, vocal, and winds & strings. All tracks culminate in media projects, recordings and/or showcase performances. Funds help support scholarships to program participants.
High school singers and instrumentalists can audition for the Grammy Camp — Jazz Session. Selectees receive an all-expenses-paid trip to the host city for the annual Grammy Awards, and students participate in high-profile Grammy Week performances and recording sessions and will attend the Grammy telecast.
 

The Music Educator Award was established to recognize current educators (kindergarten through college, public and private schools) who have made a significant and lasting contribution to the field of music education and who demonstrate a commitment to the broader cause of maintaining music education in the schools. A joint partnership and presentation of The Recording Academy and the GRAMMY Foundation, the second annual award will be presented at the Special Merit Awards Ceremony & Nominees Reception honoring recipients of the Lifetime Achievement Award, Trustees Award and Technical GRAMMY Award during Grammy Week 2015.
 

The Grammy Foundation was established in 1988 to cultivate the understanding, appreciation and advancement of the contribution of recorded music to American culture.
Asics Onitsuka Tiger