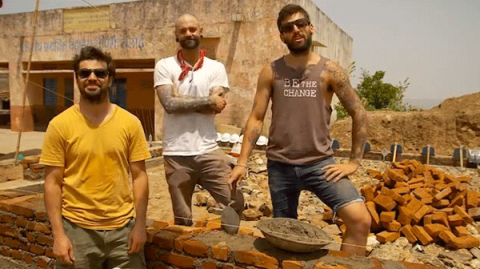 Hedley frontman Jacob Hoggard is an outgoing, friendly, funny prankster whose personality and hit pop songs have made his band one of the biggest new acts in Canada. Since 2005, Hedley has sold nearly one million albums and two million digital singles and, in February and March, will headline a 35-date national arena tour behind their fifth studio album, Wild Life.
But it's not all fun, games and hard work for the 29-year-old BC-based singer.  As he matured, became more successful as a musician, he started wanting to make a difference in the world, beyond entertaining.  
"Let's be real; our world's getting kinda shitty. There's just a lot of things that aren't right in the world that should be," Hoggard tells Samaritanmag.
In the song "Got Love" on Wild Life, he sings, "Look out for your sister / Stand up for your brother / What you give is all you get / If you got love / Give it up," and concludes with "People stop talking / Everything's breaking / We best be waking up / Or we're going down / Way down."
For the past four years Hoggard and bandmates Chris Crippin (drums), Tommy MacDonald (bass) and Dave Rosin (guitar) have been heavily involved with Free The Children, Craig and Marc Kielburger's international charity and educational partner, working both domestically and internationally to empower youth as agents of change.
Hedley began participating in Free The Children's extraordinary We Day. The arena-sized events are attended by local school children, invited there because they have taken actions for social change throughout the year. They scream and cheer as much for public speaker Spencer West, the Canadian man with no legs who climbed Mount Kilimanjaro, as they do for a pop artist, such as Demi Lovato, Carly-Rae Jepsen, Nelly Furtado — or Hedley.
Seeing that many kids in one place, excited about social change is awe inspiring.
"Incredible, right?" says Hoggard. "It's funny that we refer to them as kids when the majority of them are more socially aware than most adults I know. And therein lies the rub.  The idea of We Day is to promote awareness and we really need help in our world. Our environment is falling apart; our governments and countries are run very poorly by leaders that are terrible examples, and so, now more than ever, do we need to remind the following generation that the future is in their hands.
"The more aware they can be early on, the better chance we have to make a difference — not just make a difference, but change the way we're doing things, rewrite what's acceptable for our planet, for our civilization, for our culture, for our society."
In 2010, as ambassadors for Free The Children, all four members of Hedley traveled with Free The Children to Maasai Mara, Kenya to learn the value of a goat to a family and help lay the bricks for a new school, then in 2011 Hoggard, Crippin and Rosin visited Rajasthan, India (watch the 23 minute documentary below), where they again physically helped to build a new school, administered medical care, and saw successful Free The Children community projects, such as classrooms, herb gardens and water wells. As well, around the corner from a school, they came across child labourers on the side of the road (watch the heart-breaking exchange at 10:56).
STORY CONTINUES AFTER VIDEO:
When they returned to Canada and released the album Storms later that year, they rallied their fans online to raise $12,000 for Free The Children's health education programs in India. "This will help the children and their families to practice healthier habits that will prevent the occurrence and spread of common but devastating illnesses," it explains on the site. "This focus on prevention is key to ensuring that children become healthier and stay healthy, allowing them to run, play and study just as children should!"
"We're going back to India eventually to build a school there," says Hoggard, "but I think before we do that, we're going to be heading to South America with them. That was such an incredible experience for us to really truly be active in it.  For a while we've been advocates of it and it's such a point of pride for us to be representing a cause like that, but to further that cause and really put our words into action and raise that money and be able to build a school for somebody, it was such a hands-on experience for us."
Air Jordan 1