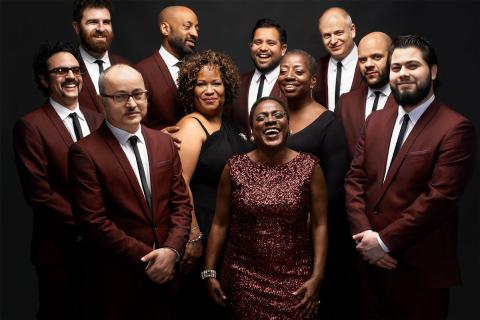 Sharon Jones, the inimitable Grammy-nominated singer with soul/funk group the Dap-Kings, died from cancer Nov. 18 in Cooperstown, New York. The subject of the 2015 Barbara Kopple documentary, Miss Sharon Jones! was 60.  In lieu of flowers, donations can be made to The Lustgarten Foundation; James Brown Family Foundation; and Little Kids Rock.
Jones released her first album at age 40 with the Dap-Kings in 2002, entitled Dap Dippin' with Sharon Jones and the Dap Kings. A handful of albums followed, including 2014's Give The People What They Want, which was delayed after Jones received the initial cancer diagnosis, and earned a Grammy nomination for best R&B album. In 2015, she and the band released It's a Holiday Soul Party.
That September, at the TIFF premiere of the documentary, which follows her challenging battle with pancreatic cancer and its happy ending, the singer told the audience the cancer had returned.
The announcement of her passing was on her web site:
"We are deeply saddened to announce that Sharon Jones has passed away after a heroic battle against pancreatic cancer. She was surrounded by her loved ones, including the Dap-Kings. Thank you for your prayers and thoughts during this difficult time. In lieu of flowers, donations may be made to the following organizations: The Lustgarten Foundation, James Brown Family Foundation and Little Kids Rock. Additional memorial details will follow soon."
The mission of the Lustgarten Foundation is "to advance the scientific and medical research related to the diagnosis, treatment and cure of pancreatic cancer." There is a tribute to Sharon Jones on the main page, followed by a donation link.
"We are deeply saddened by the loss of Grammy-nominated Soul singer Sharon Jones.  Her courageous battle with pancreatic cancer inspired us all.  Her passion for life 
will live on in her music," it reads.
The James Brown Family Foundation, led by the soul legend's daughter Mrs. Brown Thomas, created the non-profit organization "according to the wishes of James Brown.  Through JBFF, she advocates charitable giving and conducts an annual James Brown Turkey and Toy giveaway in Augusta, Georgia and New York, where thousands of underprivileged children and families have received turkeys and toys during the holidays." There are also a fashion industry, wish granting and mentoring programs for youth.
Little Kids Rock restores, expands and implements music education in schools. Since 2002, it has given more than 500,000 under-served schoolchildren across the U.S. access to music classes and new instruments.
"Little Kids Rock trains public school teachers and donates all of the instruments, curricular resources and support they need to ensure that their kids receive the right to rock," it says on its site. "What makes Little Kids Rock different is that they do more than just donate instruments like guitars, drums and keyboards; they build lasting music programs that focus on teaching kids to perform, improvise and compose the popular music genres."
jordan Release Dates