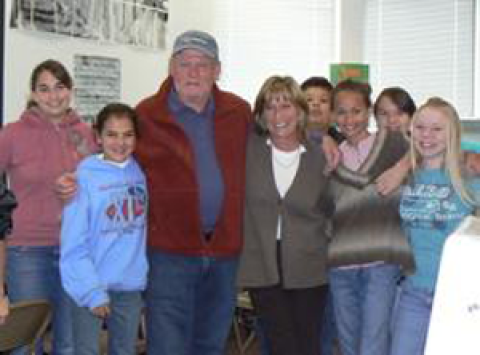 The family of music legend Joe Cocker is asking for memorial donations to The Cocker Kids' Foundation in lieu of flowers.
The gravel-voiced singer of Beatles cover "With A Little Help From My Friends," Billy Preston's "You Are So Beautiful" and Grammy-winning duet "Up Where We Belong" (with Jennifer Warnes), lost his battle with small cell lung cancer on Dec. 22.  He was 70-years-old.
"Cocker Kids' Foundation is a non-profit, community supported foundation dedicated to supporting and aiding area youth up to the age of 21 in areas of education, recreation, the arts and athletics," it reads on the web site. It has contributed over $1 million to youth-related programs and children of the North Fork Valley in Delta County, Colorado.
Cocker — who was born in Sheffield, England  and received the Order of the British Empire in 2011 — founded Cocker Kids' Foundation (CKF) in 1998, which operates out of Crawford, CO, where he lived with his wife, Pam Cocker.
Cathy Schelle is the administrator and, according to the organization, CKF has "an active and involved board of directors," which along with the Cockers "have made sure that the funds have impacted the kids who need it most."
In the "history" section of the web site, Pam writes about relocating with Joe from California to Colorado to "a patch of earth called Missouri Flats" and the building of their 17,000 sq. ft. home to be known as The Mad Dog Ranch (named after his 1970 tour/band, Mad Dogs & Englishmen).  When the Cockers moved in in 1995, she says that they were so welcomed by the community it "compelled us to want to help strengthen it by doing something good for the children."
"My work as an administrative director of a children's camp for fifteen years led me to investigate local programs in the valley that were benefiting and supporting kids locally," Pam writes.  
"As a result, in 1996, we opened our practically new home to the public for a guided tour to raise money in support of the North Fork Valley Children's Christmas Party Fund. Much to everyone's
amazement, we raised $60,000 in two days! It was astounding, clearly demonstrating that much more could be done to help our local children on many fronts.
"Joe and I began to research the needs of kids in the Valley, and as we did, we began to learn the economic realities of Delta County, Colorado. Certainly much could be done, but it would require some organization and local expertise. It wasn't long before we had a fine cadre of close friends and community leaders who were willing to join us in creating a non-profit group that is now called the Cocker Kids' Foundation."
The million dollars that has been granted to youth, to date, has been raised by numerous initiatives, such as "house tours, yard sales, and other happenings, including an occasional benefit concert by you-know-who." 
Sadly, you-know-who will not be performing anymore, but his legacy will live on in more than just music — Joe Cocker Kids Foundation continues in his name.  To make a donation in his memory, go here for online payments or snail mail address.
PEACEMINUSONE x Nike nike zoom air insoles for shoes amazon "Para-Noise 2.0"