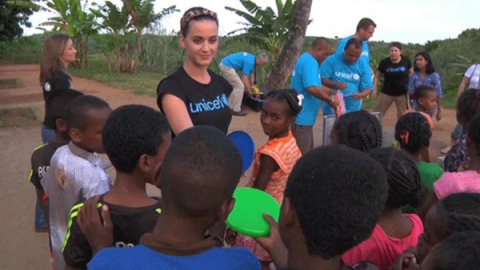 Katy Perry posted a message about the use of her song "Unconditionally" in a new music video for UNICEF that brought together HIV positive and HIV negative young people "and asked them to show their love." They hug, kiss, laugh, dance, hold hands. Many write notes on a handheld chalkboard, such as "together stop AIDS now," "love is everything" and "survivor."
"I worked with UNICEF on this new 'Unconditionally' video in support of the 35 million people living with HIV, especially the young people who often suffer in silence," the 29-year-old American pop singer wrote.
"On Thursday [July 17], we lost many people who dedicated their lives to fighting HIV on the Malaysia Airlines flight," she adds of the passenger airliner shot down over Ukraine, killing all 298 people onboard. "They were traveling to the International AIDS Conference, where we were planning on launching this video. Now, I would also like to dedicate this video to them, to honor them, and to all the victims of MH17."
Directed and edited by Brad Stein and filmed by director of photography Nick Montalvo, the UNICEF video campaign asks viewers to use the tags #ShowYourLove and #ZeroDiscrimination to promote the message. It also thanks Young Adult Program of Mount Sinai Institute of Advanced Medicine, AIDS Walk New York, and, of course, Katy Perry.
"We brought a group of young people together — both HIV positive and HIV negative — and watched some heartwarming moments unfold! " it says in the "about" section under the YouTube video. 
"Join UNICEF Goodwill Ambassador Katy Perry and #ShowYourLove for all the adolescents facing stigma.
"Adolescents are the only age group in which AIDS-related deaths are increasing, and stigma — in many forms — is an immense barrier to HIV testing, care and treatment. Let's work together to end the discrimination associated with HIV." (see video below)
Perry has been a UNICEF Goodwill Ambassador since December, 2013. Earlier that year, she accompanied UNICEF on a humanitarian mission to Madagascar, one of the poorest countries in the world, off the coast of Southeast Africa. "Unconditional" is not the first song she has lent to UNICEF. The children's rights and emergency relief organization used her hit "Roar" for a 30-second PSA for International Day of the Girl Child last year (Oct. 11).

"Katy Perry is already a champion for children, and we look forward to hearing her 'roar' on behalf of UNICEF," UNICEF executive director Anthony Lake said of Perry's appointment to Goodwill Ambassador.
As a UNICEF Goodwill Ambassador, the press release states Perry "will work to engage young people in speaking out about the issues they believe are most important in their own lives and enlisting them more directly in coming up with solutions to those challenges.  She will focus her outreach especially on children and adolescents who are most vulnerable, including those living in severe poverty, affected by violence, abuse, and neglect, and in emergency and conflict situations."
In a statement, Perry said,  "I believe young people have the power to change their own lives, with our help. I am honoured to join UNICEF as a Goodwill Ambassador, and committed to doing everything I can to help children and adolescents who come from such different backgrounds but want the same thing: a brighter future."
Yeezy Release Dates 2020