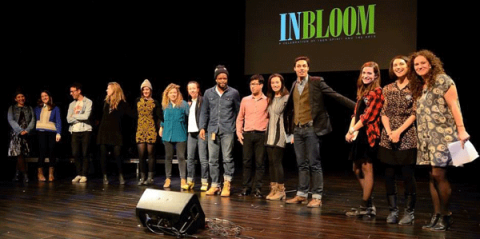 Twenty years after his untimely death at the peak of his career, late Nirvana frontman Kurt Cobain's ability to inspire remains undiminished. In fact, with the benefit of hindsight and some perspective on the obvious emotional tumult that led to his suicide at age 27, Cobain's power over the imagination of youth is as striking as ever.
Witness In Bloom, described by organizers as "a Toronto-wide fundraising initiative" conceived to commemorate the anniversary of Cobain's passing but also designed to use that sad event as a starting point for discussing youth mental health while promoting the arts and raising cash for a front-line youth assistance organization.
If that sounds like a conceptual granddaddy, it is. Yet In Bloom's three founders/organizers — L.A.-based actors Liane Balaban (films New Waterford Girl, Happy Here and Now, One Week; TV's Supernatural) and Kathleen Munroe (TV's Resurrection, Call Me Fitz, Alphas) and Toronto producer/writer Nicola Spunt — are very clear about their motivation.
"The whole idea of commemorating Cobain was that he was such an insanely important figure in music, but he was a complicated icon," Spunt tells Samaritanmag. "Cobain was very honest about his own issues and he didn't get the help he needed. His status as the coolest guy ever who wrote music that changed the landscape of music presented an interesting way for us to talk about mental health with students. It shows that no one is above the fray."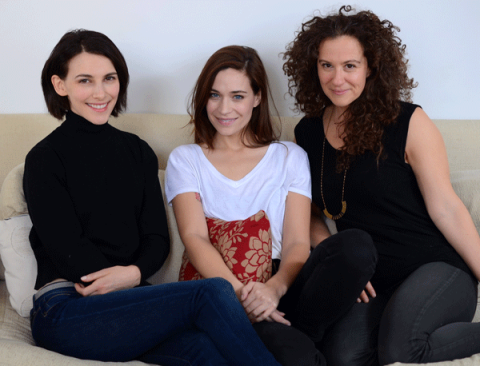 So Balaban, Munroe and Spunt leveraged their sprawling connections in the art world, drafting various Canadian filmmakers, musicians, visual and theatre artists to mentor a wide range of students who last fall began working in tandem with their mentors to create pieces exploring the fraught theme of identity —  and more subtly, mental health — all under the spectral presence of Cobain's spirit.
Those pieces — shepherded by lights such as filmmaker Ingrid Veninger, visual artist Amy Siegel, theatre artist Cara Gee and musicians Daveed Goldman and Nobu Adilman of Toronto band CHOIR!CHOIR!CHOIR! — were exhibited, performed, and screened at an event held last March in Toronto. 
Explains Spunt, "Students were rounded up through Lawrence Park Collegiate Institute [Balaban's alma mater], Etobicoke School for the Arts and through the TIFF Special Delivery program, which is part of their charitable arm of programming and focuses on providing short filmmaking opportunities to underserved youth communities."
Mentorees were also recruited through Delisle Youth Services, which provides counseling and guidance to students in the community through various outreach programs and other social supports such as in-school programs, an LGBTQ youth program, and a drop-in arts studio.
Fittingly, Delisle is the recipient of all of In Bloom's fundraising efforts, which culminate May 6 at the Great Hall with a benefit concert dubbed Come As You Are — its name, like In Bloom, inspired by a Nirvana song — and featuring members of Toronto bands Sloan, Hidden Cameras, By Divine Right and Born Ruffians among others performing Nirvana covers. Cover is $20.
Asked whether the issue of mental health has affected her or her In Bloom co-organizers personally, Spunt says, "Almost every single person has struggled at some point with what we would call mental or emotional health issues, some more intense than others but challenging just the same.
"When you are younger and coming of age, these issues can really be magnified. Yet teens tend not to talk about this stuff so it's not so obvious that these are things everybody experiences. That's part of our initiative, to talk about these things and minimize or explode the stigma surrounding issues of mental and emotional health.
"Nirvana was important to all of us," the 38-year-old Spunt says, speaking on behalf of Balaban and Munroe. "I had just left home and was striking out on my own to go to school. For me, their music was the soundtrack to that whole transition in my life; learning about paying bills and mopping the floors and take care of an apartment and myself. So I associate Nirvana with coming of age."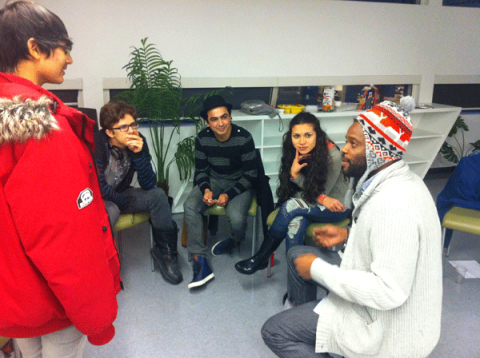 Spunt says she and her co-organizers will decide after the May 6 concert if In Bloom will go down as a 2014 on-off tied to the 20th anniversary of Cobain's death or whether it will continue on as an annual event.
"It's been such a moving experience and extraordinarily special," she says. "The March 20 showcase show was a magical night. But it's also been a lot of work to organize something of this scale and looking ahead, we need to figure out what the infrastructure and mandate would look like and how it could be made sustainable."
In Bloom has also launched an Indiegogo campaign to help raise even more funds for Delisle Youth Services. Donation levels range from $10 to $1,000 and include gifts from fashion retailers Everlane, Top Shop, Geometry, Lucian Matis Home and others, according to the In Bloom site.
Adds Spunt: "Cobain was young when he became famous, young when he died and he struggled with depression, anxiety, anger, bullying and chronic pain and he was a child of divorce. The fact that artistic expression is salubrious to mental health ills made this whole event make sense."
Zapatillas de baloncesto Nik