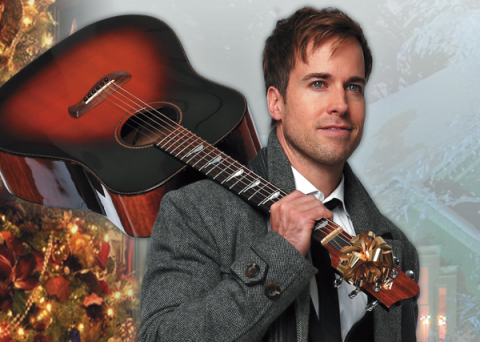 Canadian singer-songwriter Luke McMaster was inspired by his own family Christmas tradition when he wrote the lyrics for his new downloadable charity single, "Raise A Glass (It's Christmas Time)," which is currently charting on adult-contemporary radio, heading into the top 10 this week.
"It is a running joke in my family that when you sit down for dinner it will be a while before you actually eat because we love making toasts," McMaster tells Samaritanmag. "We say, 'Okay, let's raise a glass,' and that's the big chance to tell each other how you are feeling."
McMaster, whose music career launched in the '90s as part of the pop duo McMaster and James, has since written songs for such international artists as Rihanna and Nick Lachey, while maintaining a solo career.
He is donating all proceeds from pay-what-you-can downloads of  "Raise A Glass (It's Christmas Time)" to World Vision, with which he traveled to Tanzania 15 years ago.
The Christian relief, development and advocacy organization works with families, children and their communities to overcome poverty. According to its web site, the charity was founded in 1947 and today works in nearly 100 countries.
McMaster co-wrote "Raise A Glass (It's Christmas Time)" in October with his piano player, Arun Chaturvedi. "We were in the studio working on a different song and started playing around with some chords and it had a bit of a gospel vibe," McMaster says. " It felt like it would work well as a good uptempo Christmas song."
While in talks with World Vision about lining up some tour dates where the organization could come out and encourage people to sponsor children — the organization offers a tour support program to artist associates — McMaster mentioned the new song. He felt it offered a perfect sentiment for the holiday season and that the proceeds should go to a good cause.
He decided to offer it for pay-what-you-can with a goal to raise $10,000.  As of Dec. 21, he's drummed up $350.  Some people have paid as much as $50 for the song, says McMaster.
"I love the concept especially for a charitable cause like this," says McMaster. "It's good to give people options because every little bit counts. You don't want to guilt people into paying more than they can afford. This way it takes the pressure off. Even if someone pays five cents, it gets people thinking about what the song represents and what we are trying to do with it."
According to McMaster's web site, "Raise A Glass (It's Christmas Time)" is "rapidly gaining on the Canadian AC radio charts to #13 this week. As well, 'Raise A Glass' is still building momentum as #3 'spinburners' BDS AC spins and #7 'greatest gainers' Mediabase AC spins. You can hear 'Raise A Glass' on 22 radio stations coast to coast in Canada, with new additions to playlists every week." McMaster told Samaritanmag the song should be top 10 this week.
It's been many years since McMaster traveled to Tanzania with World Vision, but the trip left a lasting impression on him.
"We visited a bunch of villages and saw what they were doing," he says. "They were very actively building water wells because some of the villages we were visiting had absolutely no access to clean water. They could very easily have access to water if they were to dig down just a little further and have more up to date wells.
"After really getting to hang out with them and see what they were doing first hand. I always tried to maintain a relationship with them."
At a recent show at St. James Cathedral in downtown Toronto, McMaster says World Vision brought out live animals to show the public the type of gifts needed by the villagers in developing countries. The organization has a gift catalogue listing the cost of animals (eg. piglet is $40; goat is $100) and the far-reaching impact it can have on a family.
"It is a little more tangible and physical than just sending money somewhere," says McMaster. "It's always good to make something fun. All of a sudden this family has something you bought them, like a goat. That animal can give them milk day after day for years."
AIR MAX PLUS