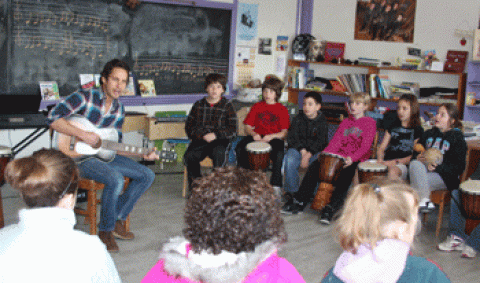 Rock musician Sam Roberts has supported so many causes by performing or participating in fundraising initiatives for sustainable farming, breast cancer research, the fight against Alzheimers, a shelter for homeless men and more, but these days he's keeping it simple and close to home.
"A lot of things I've been doing now really revolves around my kids or just kids in general, traveling to schools on my own, not through any organization necessarily, but I just come and talk to young kids about the one thing that I know most that makes a difference and that's making music," Roberts tells Samaritanmag.
Roberts, whose eponymously-named band has just released its fifth album, Lo-Fantasy, goes to elementary and high schools in his hometown of Montreal.
Roberts talks to the students about the impact of music on his life and others. "Bring music into your life," he says is his message, "and how that is such a powerful, potent force for change." His goal is "getting young kids inspired to play." The kids love it, he says.
"They're so excited. They're super excited. There's this one school I go to every year or every two years when I'm around, and I'm supposed to go in again this year – they sing for me and they put on shows. It's pretty amazing."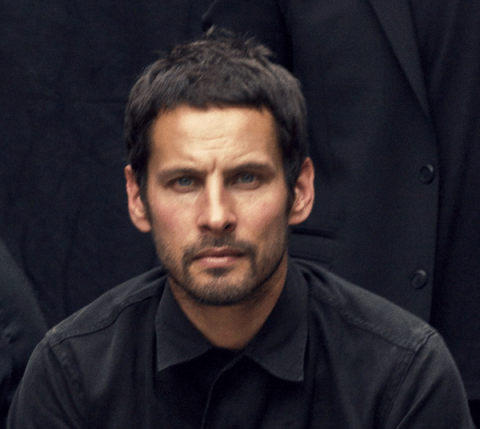 One school is Riverview Elementary where he chatted with students in grades 4 and 5 for an hour last May. The visit kicked off with the kids playing djembe and singing K'Naan's anthem "Wavin' Flag" (on which Roberts was a soloist for the 50-artist charity version, Young Artists For Haiti) and Roberts joined in on vocals and guitar, Kathleen Walshe-Turcotte, the school's 
music specialist, 
wrote in the events newsletter.
"Sam spoke to the students about his love of music, the positive influence that music has and the importance of working hard to achieve your dreams. A lively dialogue followed with students and Sam sharing names of their favorite rock bands. Sam and the young musicians agreed that The Beatles hold a special place in their hearts  — an impromptu singing of 'Yellow Submarine' ensued.
"Students held a Juno Award that Sam received, and autographs were signed for all.
 Sam gave a Sam Roberts Band poster to students as a memento of his visit: 
"To all my friends at Riverview  — stay passionate about music!" he wrote.
Nike WMNS Air Force 1 Shadow White/Hydrogen Blue-Purple