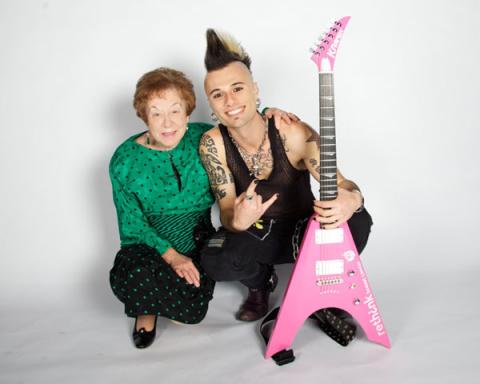 Maybe a light pink guitar seems a little soft for a hard rock band like Canada's My Darkest Days, but this custom-made Flying V, made especially for mohawked axeman Sal Coz Costa for a 53-date arena tour with Nickelback, was to be auctioned off in support of Toronto-based Rethink Breast Cancer.
Costa says his 76-year-old Italian-speaking grandmother, Monique, wanted Samaritanmag to know she is really "happy and honoured" that awareness is being brought to the cause through her grandson's efforts. Monique is a breast cancer survivor and one of the main reasons Costa chose to do this.
She posed with her grandson for one of the photo shoots before he left on tour, pink guitar in tow.
Last week, the Kramer Nite V guitar, autographed by all the bands on that Nickelback tour, including Bush and Seether, sold on ebay for $5300 (CAD) after 61 bids.
Signatures include:
From Nickelback, Chad Kroeger, Mike Kroeger, Daniel Adair and Ryan Peake; from Bush, Gavin Rossdale, Chris Traynor, Corey Britz and Robin Goodridge; from Seether, Shaun Morgan, John Humphrey and Dale Stewart; and from My Darkest Days, Costa, Matt Walst, Brendan McMillan, Reid Henry and Doug Oliver.
One-hundred percent of the money is going to Rethink Breast Cancer "to continuously pioneer cutting-edge breast cancer education, support and research that speak fearlessly to the unique needs of young (or youngish) women."
"A few years ago, my grandmother was diagnosed with breast cancer and a few years before that I had another family [member] die of another cancer and it was a pretty emotional thing to watch somebody go through that type of agony and I didn't want to see it again," Costa tells Samaritanmag.
"Luckily enough my grandmother caught her cancer in time and she was cured, but a lot of people aren't. And essentially I wanted to pay homage to my grandmother with this guitar and I wanted to bring awareness to everybody that this is something that is pretty widespread and hits a lot of homes and just for people, females specifically, to go get checked regularly 'cause you never know.
"I'm lucky enough to have my grandmother happen to walk into a regular [doctor's] appointment and this was discovered. If not, she might not have been here, right?"
Once Costa brought the idea of creating this guitar to Gibson, pink was the obvious color choice. The company — of which Kramer is a division — took the Rethink logo and tried it out all over the guitar in various sizes and placements. Finally, white was selected to tie in with the logo, due to the availability of white hardware and pickups to accent it. The mockup and logo were then sent to Bo Pittman who has worked with Gibson for several years doing custom work for limited runs and artists.
Costa played the guitar for My Darkest Days songs "Casual Sex" and "Sick & Twisted Affair" throughout the tour — including stops at New York's Madison Square Garden and Toronto's Air Canada Centre — and then asked everyone to sign it as the tour drew to a close. Seether actually wasn't on the bill the last month, but he nabbed them before they left.
"Everyone just signed it and was super supportive," says Costa. "I think I met Gavin once and I was watching their show and he was like [puts on British accent], 'Has everybody checked out my brother's cool pink Flying V?'"
Coasta says it's hard to put a price tag on the guitar. "It was priceless to start off with because there is no other guitar like that in the world.
"It's a Flying V made by Kramer. I use EMG 81/85 [humbucker] pickups so EMG, who is also my sponsor, gave us our pickups for the guitar. It had a completely custom paint job. It's got custom tuners, all custom hardware. It's one of a kind to start off with as a guitar.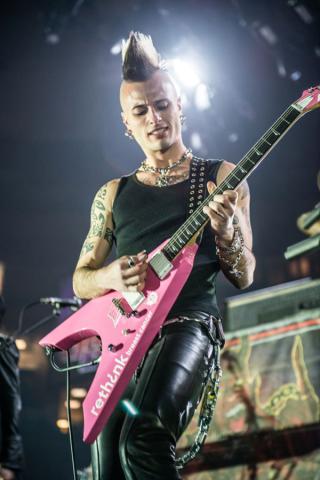 "Most of my guitars are custom made, but the one thing about this guitar was because of the event and because of what it was gonna be auctioned off for, all the people that were involved building the guitar gave that an extra 10 percent. Everybody wanted it to be perfect so when I got the guitar, it just fell right into my hands.
"It sucks giving it away as a musician because I loved paying the guitar," he admits. "The one super cool thing about it just had a unique tone that none of my other guitars had and it just felt really great to play. I've had guitars that were $300 guitars that I'd mess around with and I've had guitars that are like three, four thousand dollar guitars, and I always liked the one that was three or four hundred dollars more because it felt right. Whether this guitar was worth $4000 to me or whether it was worth $20, for whatever reason it just felt great to play."
Costa says the $5300 raised for Rethink Breast Cancer will go towards research and development.
"Essentially, at the end of the day, it does take millions and millions and millions of dollars and we still haven't found a cure because it takes millions and millions of dollars to hire scientists to literally work in a lab for a few years to try something that might not work. And in the meantime, you gotta keep on trying and money has to keep flowing in in order for there to create a possibility for a cure. You never know.
"The industry has dumped millions of dollars into this and here's still no cure. That's just the nature of the beast. It takes money for people to research and whether or not they find a cure now or 10 years from now it just takes the money to take the people who have the ability to actually research the stuff in the first place."
jordan Release Dates