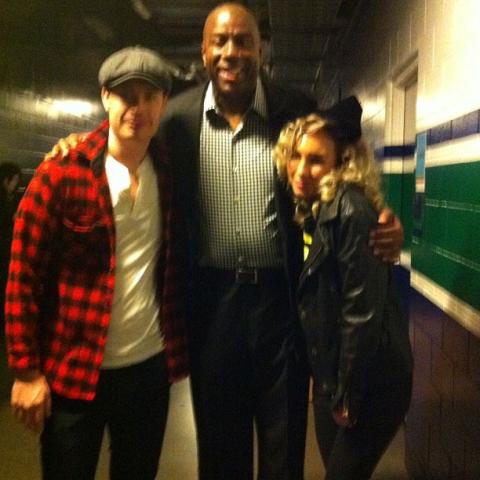 Canadian pop singer My Name Is Kay, who has collaborated with Tiesto, Diplo, Far East Movement and Cobra Starship, and released her own self-titled EP that earned notice, had her eyes opened recently when she participated in Free The Children's We Day at Vancouver's Rogers Arena.
"It was the first time I've ever been in We Day and not the last," Kay tells Samaritanmag. "It was absolutely amazing. I cried a lot, just hearing the stories. It was just a really powerful feeling to be in a room with 20,000 other people. Everybody's really happy and everybody is there showing love and compassion to one another. It's a rare opportunity."
The 25-year-old— who was born Kristin Boutilier and launched her career under the moniker My Name Is Kay — was asked to perform one song on a line-up mixed with speakers, activists and entertainers such as basketball legend Magic Johnson, Nobel Peace Laureate Archbishop Desmond Tutu, and musical acts OneRepublic, Demi Lovato, Cody Simpson and Shawn Desman.
The free event, designed to empower youth, is for thousands of students who earned admission to be there by committing to take action on at least one local and one global issue, as part of Free The Children's year-long programming.  
To help youth tackle some of today's most pressing issues, the students and teachers in attendance also heard from Free The Children founders Craig and Marc Kielburger. Craig started the charity in 1995 when he was just 12 year old to combat child labour, but it has grown to take on many child-related initiatives.
At We Day in Vancouver, Kay says the speeches covered, "a lot of anti-bullying. It's people who have been through hardships and have overcome them. There are different perspectives.
"It's just taking about this person has gone through all these different things and the one thing that has helped them come through has been love and friendship and that's what we need to do. We need to love one another.
"You never know what's going on in someone's else's life, so it's really important to be compassionate. Some of the stories I heard that day – it just really opens up your eyes. If you think you're having a bad day, wow, other people are really going through some tough stuff and they have a smile on their face."
Kay had never aligned herself with Free The Children before, but plans to do more with the organization in the future.
"I think that sometimes it's really hard to even watch the news because you feel helpless, like what can I do? But there are things that everybody can do," Kay says. "I knew that coming into We Day that that was going to be a life changing experience and it was going to open up my eyes, just to be a better person. So I'm extremely inspired."
We Day has been taking place in provinces across the country and is one of the largest youth empowerment events in the world.
Zapatillas de baloncesto Nik