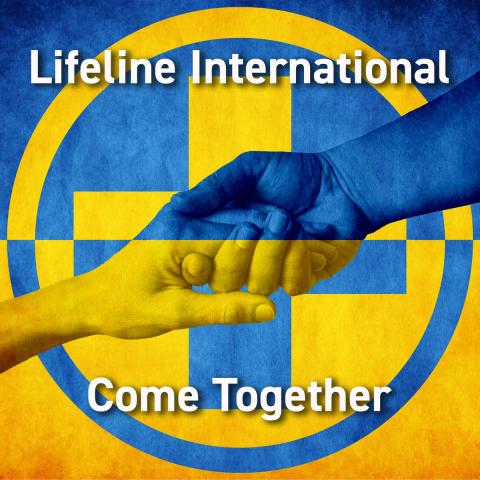 Members of Agnostic Front, Faith No More, Rammstein and Stabbing Westward, as well as Canada's Lukas Rossi and dozens of other musicians and singers, have banded together under the name Lifeline International to record an interpretation of The Beatles' "Come Together" to raise money for UNICEF's aid work benefiting the people of Ukraine and eastern Europe who were negatively impacted by Russia's Ukrainian invasion last month.
COP International Records founder Christian Petke and music producer John Fryer (Depeche Mode, Nine Inch Nails, Cocteau Twins) were the driving forces behind the initiative. Both men were born in Europe and were inspired by Bob Geldof's efforts to raise money for African famine relief in the mid-1980s.
"This song is a simple and direct message to the millions of people who are currently suffering in Ukraine and beyond," said Petke in a media release. "You are not alone. We see you."
"I'm shocked, stunned, dismayed, angry, horrified and saddened by the situation in Ukraine," said Fryer in the release. "I don't how one man's insane ego can cause this much death and destruction."
The "Come Together (We Will Stop You)" single can now be purchased from COP International's Bandcamp page and will soon be available on other major digital music services. The minimum donation is one dollar, but the organizers encourage people to donate up to their comfort level.
All of the proceeds from the song's sale will go to UNICEF. It was chosen as the recipient because it's a long-standing and respected organization that people know and trust, and also because of its transparency with the money that passes through it.
UNICEF works in more than 190 countries and territories to save children's lives, defend their rights, and help them fulfill their potential from early childhood through adolescence.
Donations to support the cause can also be made directly to UNICEF on its primary website or its Ukraine web page.
Fryer was in charge of the music end of the project. After sketching out the track with Stephen Lam of Deathline International, he enlisted friends Geno Lenardo (formerly of Filter), Rod Såez Chåvez and Marija Buljeta to help him coordinate the rest of the musical cast.
Here's the full list of contributors to the "Come Together (We Will Stop You)" charity single:
John Fryer (Black Needle Noise);
Chris Connelly (solo artist, Ministry, Pigface, The Joy Thieves);
Bill Gould (Faith No More, Brujeria, Wayne Kramer's MC5);
Richard Kruspe (Rammstein);
Jeff Scheel (Gravity Kills);
Christopher Hall and Walter Flakus (Stabbing Westward);
Mark Hockings (Mesh, blackcarburning);
Rodney Orpheus (The Cassandra Complex);
Roger Miret (Agnostic Front);
Geno Leonardo (ex-Filter);
Lisa K (Basement Jaxx, The Bellrays, The Crystal Method);
Matt Walker (Filter, The Smashing Pumpkins, Garbage, Morrissey);
The Hardkiss;
Lukas Rossi;
Ginny Luke;
John Vaughn;
Talon Majors;
Eric Tomes (Awaiting Eli);
Mari Kattman (Mari Kattman, Helix);
Stephen Lam and Th3Count (Deathline International);
Diana Noir (Junksista);
Dan Milligan and James Scott (The Joy Thieves, The Burying Kind);
Ania Tarnowska (I Ya Toyah, The Joy Thieves);
Yvette Winkler (Vaselyne, Black Needle Noise);
Jim Semonik (Red Lokust);
Steven Archer (Stoneburner, Ego Likeness);
Tom Berger (Johnny Tupolev);
Joe Virus (Solemn Assembly);
James and Michelle Perry (Ashes Fallen);
Sean Hazebruck (Sick Jokes);
GW Childs IV;
The E-Men Peace Choir (Matt B Thorns, Daniel Cartes, Rod Saez Chavez, Soledad Cáceres, Marisol Calderón, Cesar Reyes, Matt B Thorns);
Rammstein (ESP RZK, Andrea Marino, Tobias Ortmann);
Tom Baker;
Greg Rolfes;
Angelyka Wild;
and Greg Young.