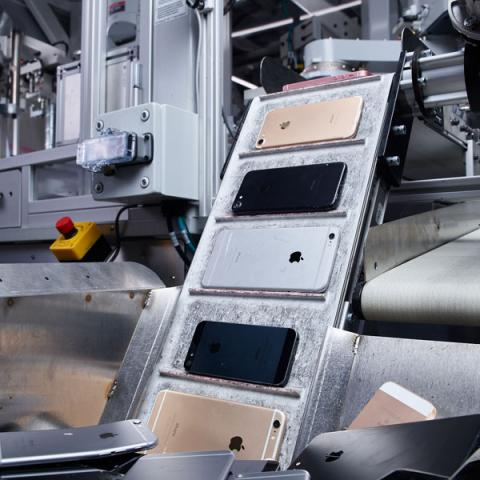 Apple, the technology company behind such ubiquitous items as the iPhone, iPod, MacBook and iMac, has announced a major expansion of its product recycling programs throughout the United States and in the Netherlands.
The company has teamed with Best Buy stores throughout the U.S. and KPN retailers in the Netherlands to quadruple the number of locations where customers can trade in their old iPhones and related Apple products for the company to disassemble and reuse. Apple uses its specialized "Daisy" robots to disassemble old devices. These robots can take apart 1.2 million devices per year, processing up to 200 devices per hour.  In 2018, Apple says it refurbished more than 7.8 million Apple devices and diverted a related 48,000 metric tons of electronic waste from landfills thanks to this reuse.
"Advanced recycling must become an important part of the electronics supply chain, and Apple is pioneering a new path to help push our industry forward," said Lisa Jackson, Apple's vice president of Environment, Policy and Social Initiatives, in a statement. "We work hard to design products that our customers can rely on for a long time. When it comes time to recycle them, we hope that the convenience and benefit of our programs will encourage everyone to bring in their old devices."
The company says it has begun recycling cobalt, one of the key products in batteries, for use in new devices. Apple says it now uses 100 per cent recycled tin in its motherboards and 100 per cent recycled aluminum for Macbook Air and Mac mini casings, which makes for a carbon footprint half the size of earlier models.
Continually improving on environmental measures is hardly a new concept for Apple. The company conducts annual audits of its various suppliers worldwide with an eye towards improving the footprints of their partners. Some of these initiatives results in less water use in product creation, greener factories and greater commitments from partners to use renewable power.
Apple released its own Environmental Responsibility report on April 22 highlighting its improved recycling procedures, its shift from fossil to renewable energy and its commitment to creating "long life" devices which can continue to be used by consumers for years. According to Apple, the end goal is "to one day manufacture products without mining any new materials from the earth."
Watch Apple's recycling trade-in video
Air Jordan 1 Retro High OG "UNC Patent" Obsidian/Blue Chill-White For Sale