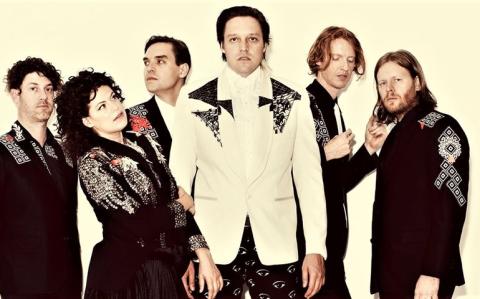 The members of Montreal's Arcade Fire will receive the 2018 Allan Slaight Humanitarian Spirit Award at the Canadian Music & Broadcast Industry Awards Gala Dinner, May 10, held at Toronto's Rebel Entertainment Complex during Canadian Music Week.
The award is given to artists for "their contribution to social activism and support of humanitarian causes." Arcade Fire's Win Butler, Régine Chassagne, William Butler, Richard Reed Parry, Tim Kingsbury and Jeremy Gara join previous recipients, such as Rush, Sarah McLachlan, Chantal Kreviazuk & Raine Maida, Simple Plan, Bruce Cockburn, Bryan Adams and Nelly Furtado. 
In a collective statement, Arcade Fire said, "We're deeply honoured to receive the Allan Slaight Humanitarian Spirit award. For more than a decade our fans have joined us in supporting the organizations Partners in Health and KANPE and the work they do in Haiti. These relationships have profoundly influenced our lives and our art. This award and the example of the Slaight family, are both a great support and a motivation to keep doing more."
Partners in Health's mission is "to provide a preferential option for the poor in health care. By establishing long-term relationships with sister organizations based in settings of poverty, Partners In Health strives to achieve two overarching goals: to bring the benefits of modern medical science to those most in need of them and to serve as an antidote to despair."
Kanpe — co-founded by Chassagne and Dominique Anglade, both born to Haitian parents who fled to Canada — works with its partners to help Haitian families escape poverty, by supporting "the strengthening of six fundamental pillars to reach autonomy: nutrition, health, entrepreneuship, education, agriculture and leadership." 
According to the release, Arcade Fire has raised and donated more than $4 million, and has also trained thousands of outreach volunteers and engaged over 500,000 fans for the people of Haiti.  In 2004, the band included a song called "Haiti" on its debut album, Funeral. That same year, Arcade Fire played two hometown shows and donated the profits to Hôpital Albert Schweitzer Haiti.
In 2006, Arcade Fire started donating $1 per concert ticket sold to Partners in Health and in 2010 Chassagne co-founded Kanpe. In 2014 , Plus 1 was created by some members of the band (former utility player Marika Anthony-Shaw now runs it), which encourages other touring artists to add a dollar to the ticket price, which then goes to a charity of the artist's choice.  To date, Plus 1 has raised $6 million for global health, education, human rights, and the environment, working with more than a hundred acts, including The National, Sam Smith, Chvrches, Flume, Lights and Metric.
The award-winning band released its fifth full-length, Everything Now, last July and continues to tour behind it in 2018.
"The Slaight family is proud to acknowledge the great deeds that Arcade Fire has done for causes at home and abroad over the years," said Slaight Communications presdeint/CEO Gary Slaight, in a statement on behalf of the family. "My father, Allan Slaight, has always stressed the importance of giving back and this great Canadian band has done so in spades.  In awarding them with the Allan Slaight Humanitarian Award, we celebrate the great work they have done in supporting the Haitian people and the acts of kindness they have provided to many."
2020 air jordan 1 retro high og sail obsidian university blue 555088 140