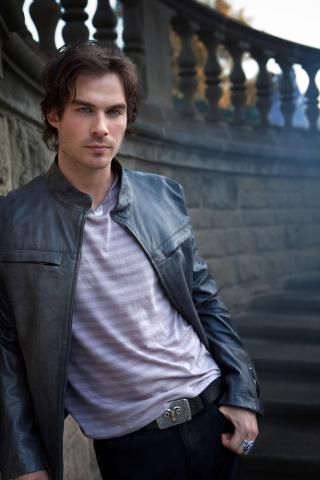 is in full swing, reaching 195 countries in just six months. The Louisiana-born actor who currently plays Damon Salvatore on the CW television series The Vampire Diaries and was Boone Carlyle on the ABC drama Lost, has been known to step up to help environmental and animal welfare causes, such as the oil clean up in the Gulf of Mexico and hosting a fundraiser for the St. Tammany Humane Society in his hometown of Covington, but his ultimate goal was to have his own Foundation.
In December, 2010, after setting up his team of specialists and advisors, The Ian Somerhalder Foundation was launched and this month it held its first board meeting in Toronto, where executive director Kim Klingler lives. "This Foundation would not exist without her," he says.
Somerhalder was also in town to present the UR Fave Artist award (to Justin Bieber) at the MuchMusic Video Awards where he spoke to Samaritanmag about the Ian Somerhalder Foundation, or IS Foundation for short.
"We came here to do that and do a branding workshop for the Foundation with this genius branding strategist [American Kevin George], one of the best in the world, to really figure out how to reach everyone and really include everyone," Somerhalder says. "It's been the most incredible two days of going through that process and we've come up with a lot of pretty incredible programs."
In the "About" section of the Ian Somerhalder Foundation web site, it explains that the team of people behind the non-profit view the planet as an "interdependent organism" (trees, rivers, animals, humans) and wants all the charities and organizations working together to affect change: "Nature does not behave independently," it states.
"It works in unison with all its elements. Working independently to transform our planet is like trying to [play] a violin without strings. Communities of businesses, organizations, people and projects must begin to connect resources and skills to passions and projects. The IS Foundation will behave in full collaborative spirit by joining with other non-profit, for-profit and governing bodies globally."
For example, Somerhalder tells Samaritanmag, the Foundation's mandate covers several different spectrums. "It's planet and creatures. So you have Habitat, and under Habitat you have conservation, biodiversity, water, land, air. It seems like broad strokes, but it's all very compartmentalized. This isn't just a tiny organization. This is now in like 195 countries. It's everywhere," he says proudly.
"There is also a huge animal component," he adds. "We are funding and finishing all the research for species-specific oral sterilization drugs, which will basically end stray animal populations globally in the next 10 years. Awesome stuff."
On the Foundation's site are more details. Under three "Upcoming Area of Focus" are Habitat (extinction, deforestation & reforestation; conservation; and biodiversity); Energy (fuel transportation impact reduction; green technology; local Biofuels; green disaster relief; greening the entertainment industry; and empower public participation in legislation); and Animals (habitat & extinction; cruelty; empowerment of No Kill shelters; sterilization; and assistive & therapy animals).
There are also separate youth and kids sections focusing on inspiring young activists, as well as a "Get Involved" section. There, the Foundation asks young people to submit their age, interests/passions, and skills, and, if they wish, to become an IS Foundation Youth Catalyst, or to share a project or idea.
"This about being very proactive and engaging," Somerhalder tells Samaritanmag. "This is about engaging youth to create generational shift, generational change. You understand bureaucracy as well as I do, and we're not going to change the politicians; we're not going to change bureaucracy right now, for this generation, but we can change it for the next one.
"And so when I explain to a 12 or a 15-year-old about energy policy or about the fact that a tree left planted in the ground, not cut down, is worth more to them in the ground than it is as a leg on one of their stools, that's when you start seeing that process happening in [these kids'] brains, realizing that protecting their environment is much more valuable to them in the future than watching it waste away. It's such an incredible process."
adidas Yeezy Boost 350 V2 News, Colorways, Releases