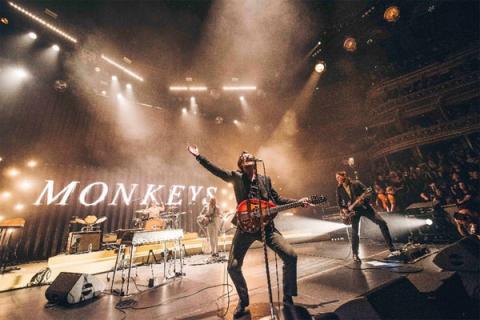 British rock band Arctic Monkeys will be donating all the proceeds from their forthcoming album Arctic Monkeys – Live At The Royal Albert Hall to the War Child UK charity.
The high-profile band made the announcement when they released the new live concert video for "Arabella" in advance of the album's official CD and vinyl release on Dec. 4.
War Child UK calls itself "a specialist charity for children affected by conflict." The organization's broad range of activities include things like emergency food assistance, finding ways to protect children in war-affected areas from sexual and legal abuses, provide medical and psychosocial support, support educational initiatives, advocate for childrens' well-being and look for youth entrepreneur and employment opportunities.
The organization says it's currently active in 15 countries across Africa, Asia and the Middle East, and Latin America and provided assistance for over 100,000 children in 2019. War Child UK says they're facing a £2 million ($3.46 million CAD) deficit in 2021 due to the impact of Covid-19 on their fundraising efforts.
It's fitting then, that the Monkeys' live album would support War Child UK considering the original concert at London's Royal Albert Hall was a benefit show where ticket proceeds went to War Child UK.
"On June 7, 2018 we played a very special show at London's Royal Albert Hall. All the proceeds from that memorable night were donated to War Child UK in support of the vital work they do protecting, educating and rehabilitating children who have experienced the trauma of conflict and the horror of war," said the band in a press release. "The situation that was bad in 2018 is now desperate and those children and their families need our help more than ever. To enable War Child UK to reduce their funding deficit and continue their valuable work, we are happy to be able to release a live album, recorded that evening at The Royal Albert Hall. All proceeds will go direct to the charity. We thank all our fans in advance for their support of this release and in turn for their support of War Child UK."
One of Britain's most popular modern rock bands, Arctic Monkeys have released six full-length albums with their most recent being Tranquility Base Hotel & Casino in 2018. The Albert Hall release will be their second live release after At The Apollo DVD, which was came out in 2008.
Watch Arctic Monkeys' "Arabella (Live At The Royal Albert Hall)"
Air Max