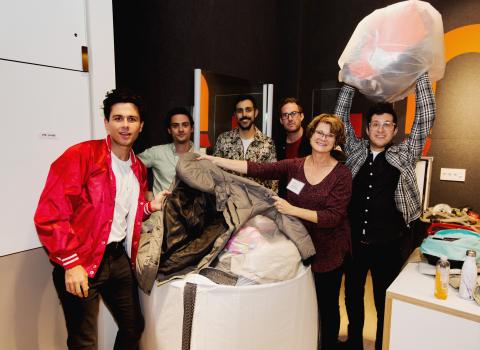 Canadian rock band Arkells has teamed up with the Scotiabank Arena in Toronto to launch a clothing drive for New Circles Community Services as part of this weekend's Feb. 16 concert date. The Hamilton, Ontario-formed five-piece is asking fans ato donate clothing to designated reception points around the arena.  
Gently worn clothing can be donated in the Galleria, at the gate 1 entrance, or at the Maple Leafs Square's gate 6 entrance. Volunteers will be on hand to receive the clothing, which is set to help people in need during Canada's coldest winter months via New Circles' Glow (Gently Loved Outfits to Wear) program.
"We're in the middle of our cross-Canada tour, and, this isn't news, but it's cold out there. Toronto in particular has been in a deep freeze and Arkells are thankful to partner with our friends at New Circles and Scotiabank Arena to collect and distribute warm clothes to our neighbours that need it the most," frontman Max Kerman said in a statement.
"Much love to the incredible staff at New Circles doing the heavy lifting year-round and thank you for your generosity," Kerman added on behalf of the Arkells, who also include guitarists Mike DeAngelis and Anthoy Carone, bassist Nick Dika and drummer Tim Oxford.
The Glow program, which includes a clothing bank for low income families in the five Toronto communities --Thorncliffe Park, Flemingdon Park, Victoria Village, Taylor-Massey, and Oakridge -- also offers employment skills training, especially to work in the retail sector, and settlement support for new Canadian refugees, including from Syria.
"Our core mission is to ensure that local families struggling with poverty can meet their basic need for adequate clothing," New Circles says on its website.
The clothing drive for people seeking warmer clothing and shelter from the deadly Canadian winter temperatures will mark the Arkells' first show at Scotiabank Arena.
"We are thrilled to be working with Arkells and to show our support to New Circles Community Services," said Melissa Bubb-Clarke, vice-president of music and events at Maple Leaf Sports Entertainment.
New Circles' clothing bank serves in particular Canadian newcomers and economically vulnerable families to meet their basic clothing needs. The goal is also to help individuals and families get over employment, language and social barriers to meet their personal and career goals.
"On behalf of the thousands of families who will benefit from this initiative, we say 'Thank you for keeping Toronto warm!' said Diana Gibbs, manager of resource development for New Circles.
The Arkells are no strangers to philanthropy. Last year, the rockers headlined a benefit stadium concert in their hometown of Hamilton with a $1 from each ticket sold going to the Refuge Hamilton Centre for Newcomer Health, via Arcade Fire-associated Plus 1.
The Arkells have once again signed up with Plus 1 for select tour dates to give $1 for every ticket sold to Canadian Council for Refugees, "a national non-profit umbrella organization committed to the rights and protection of refugees and other vulnerable migrants in Canada and around the world and to the settlement of refugees and immigrants in Canada."
(Please support Samaritanmag's original journalism by making a PayPal contribution or EMT transfer using  info@samaritanmag.com so we can increase the amount of content and writers we hire. Samaritanmag is the anti-tabloid, covering good people trying to change bad things. Let's make this thing bigger than TMZ.)
adidas NMD Human Race