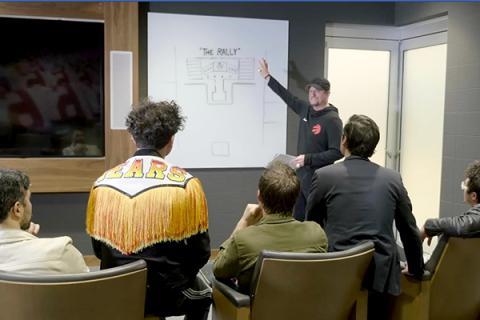 Hamilton, Ont. rock band Arkells will be using their massive upcoming homecoming concert to support affordable housing provider Indwell.
Taking place June 20 at Tim Horton's Field in Hamilton, the second-ever edition of "The Rally" is expected to attract a sellout crowd of 24,000 to the stadium and will feature Arkells headlining in addition to performances from Haviah Mighty, Bleachers and K. Flay.
The Arkells have teamed with charitable support organization Plus1 to collect $1 from every ticket sold to support Indwell. 
Started in 1974, Indwell "creates affordable housing communities that support people seeking health, wellness and belonging." The organization operates 11 apartment buildings in Hamilton and around Southern Ontario with a goal to provide affordable permanent housing for those in precarious living situations.
The band proudly cited all its local partners in a statement about The Rally.
"Our 2018 show at Tim Hortons Field — the inaugural Rally — exceeded our expectations in every way, so we knew we had to do it again. From hand picking the lineup to collabing with so many different local artists, small biz owners, charitable initiatives and local institutions like the HSR, Hamilton's bike share program, Hamilton Flea, and the Ticats — it was a joy to show off some of the best that Hamilton has to offer. And we're counting on all of you to beat the first one! The 2020 Rally features artists we're incredibly honoured to bring to Hamilton: Bleachers, K. Flay and Haviah Mighty.  
 
"To our neighbours: if you're walking, cycling or taking the bus - thank you for helping us host this thing and bringing all the good vibes. 
 
"To everyone making the trip to Hamilton: welcome to town! Whether you're road tripping, or taking the Go Bus or flying in from overseas - we got a good feeling this will be our best one yet. We've been lucky enough to make records, tour around the world and build this thing brick-by-brick with you, and The Rally Weekend is our pride and joy."
Charitable initiatives are nothing new for the band. For the 2018 edition of The Rally the band chose to support the Refuge Hamilton Centre for Newcomer Health. 
The band also used The Rally as an excuse to get a pep talk from Nick Nurse, head coach of the world champion Toronto Raptors basketball team. In a short video with the band Nurse discusses the stage layout at the stadium event and makes a mock setlist for the band which is just their newest single "Years In The Making" played repeatedly.
Watch Toronto Raptors coach Nick Nurse prep Arkells' set-list:
Ben Affleck Wears Kenneth Cole Kicks With Kids Violet, Seraphina & Sam