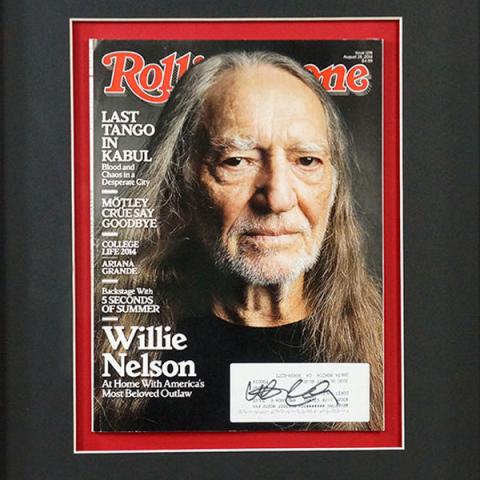 Memorabilia from Beyonce, Kendrick Lamar and Willie Nelson highlights the latest batch of collectibles up for auction to support the MusiCares charity.
The memorabilia became available to coincide with the 13th annual Musicares Map Fund Benefit Concert taking place June 26 at the PlayStation Theater in New York. The event will honour multiple-Grammy winning bassist Adam Clayton from U2.
MusiCares' MAP Fund provides members of the music community access to addiction recovery treatment. MusiCares is the charity operated by the Recording Academy, the same people responsible for the Grammy awards. MusiCares' wide range of programs support musicians and music industry persons in times of financial, health or personal emergency.
It's early going for the auctions, most of which close Friday, June 30, but a number of items have already caught collectors' attention.
An autographed compact disc of Beyoncé Lemonade album already has 33 bids at $525 USD ($695.48 CDN), a signed and framed photo of Willie Nelson on the cover of Rolling Stone magazine has 11 bids for $207.50 USD ($274.88 CDN) and a framed vinyl copy the Bee Gees 1st album signed by Barry Gibb is at $222.44 USD ($294.67 CDN). Other items available include a signed and framed copy of Billboard Magazine by Kendrick Lamar and a Gibson Les Paul electric guitar signed by Stephen Stills.
Clayton, whose band is noted for its work worldwide to raise funds for Amnesty International and to combat AIDS, was happy to attach his name to MusiCares.
"MusiCares does such vital work in helping vulnerable people across our industry," said Clayton in a release. "I know from experience the importance of an accessible, supportive environment in times of need and I'm always happy to do what I can to benefit this important organization."
Supreme