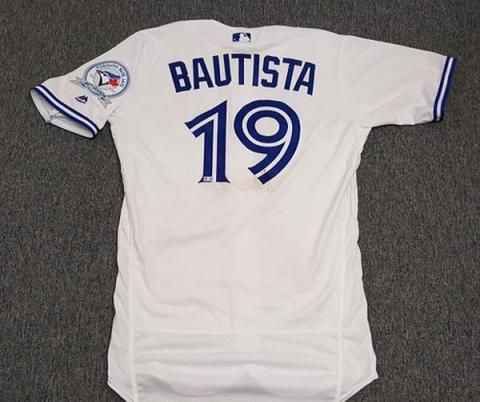 The Toronto Blue Jays are doing their part to help the wildfire-displaced citizens of Fort McMurray, Alberta.
The team has just put game used and autographed items from Jose Bautista and its two Canadian players Russell Martin and Michael Saunders up for auction with the proceeds going to the Canadian Red Cross' Fort McMurray relief efforts.
Donations to the Canadian Red Cross Alberta Fire Appeal provide relief for those affected in the form of emergency food, clothing, shelter, personal services, and other necessities to help assist with recovery and resiliency.
Right now the bidding is at $510 each for two separate autographed Saunders baseball bats that are up for auction. A game used Martin jersey is listing at $1,130 and the bat he used in the team's dramatic May 4 victory versus the Texas Rangers is at $2,001. Bat flip folk hero Bautista's game used hat from May 5 is at $910, his bat is at $1,550 and his jersey from that game is at $2,010. All auctions end on May 15.
As of today wildfires in the area around Fort McMurray currently cover 156,000 hectares. The city of 61,000 is currently on a mandatory evacuation order with the Canadian military having been called in to help escort citizens out of the danger zone. So far at least 1,600 homes in the city have been demolished in the flames and fire officials say that at this point the blaze is so big there's no way they'll be able to stop it until it rains locally. Early estimates suggest the fires have caused $9 billion of damage in the Fort McMurray area, which would rank as the most expensive natural disaster in Canadian history.
Non-baseball playing citizens and companies throughout Canada have also started mobilizing to help those forced to evacuate from the blazes. TD Bank and Aeroplan are just two of the companies to lend support, while last night rock musician Joel Plaskett donated all the merch sales from his Moncton concert to the Red Cross.
Air Jordan 1